Reading Time:
6
minutes
Updated: 5/31/2023 | Best Seattle Hot Pot Restaurants
"Hot pot" in Chinese is huǒguō (火锅) translates literally to "fire pot" and has a history of over 1,000 years. China is regarded as the home of hot pot.
The general concept of hot pot is a boiling pot of broth with fresh ingredients placed into the pot and are cooked at the table.
A big pot filled with simmering broth is placed at the middle of the table, accompanied by plates of various meats, vegetables, noodles, condiments, and dipping sauces. The ingredients are to be placed in the broth, cooked, and then taken out and dipped into the chosen sauce before eating.
Related: How to Make Hot Pot at Home
It is generally assumed that the hotpot tradition came from Mongol warriors and horsemen who camped outside and had dinner together and circled around a pot on the fire. It was a way to keep warm while enjoying a meal together. (Source)
Some sources even claim that these horsemen used their metal helmets to hold and cook the water, as they had little else on them regarding cooking utensils while they were away from home.
Countries including Mongolia, China, Japan, Korea, Vietnam, and Thailand all have their own variations of hot pot. It has become a common style of eating throughout Asia and beyond. Various regions and countries may use different ingredients and broths in their hot pots, but the cooking method remains unchanged.
Best Hot Pot Restaurants in Seattle
#1 Chengdu Memory
Chengdu Memory is one of the most popular hot pot spots in Seattle. They have high-quality ingredients and a well stocked sauce bar.
Their spice levels are a bit deceiving. If you want medium spicy, we recommend going with their mild or extra mild options. We ordered their medium spicy one day and had to take pauses in between each bite because it was that spicy!
We also had issues using the restroom the day after and dubbed our experience as having the Cheng-doodoos.
Address: 520 S Jackson St, Seattle, WA 98104
View this post on Instagram
#2 Gourmet Noodle Bowl
Gourmet Noodle Bowl offers both All You Can Eat (AYCE) and single-person hot spot options.
They have many non-spicy options which we really appreciated. They have many soup options and huge portions.
Along with hot pot, they also offer other Taiwanese dishes such as pork buns, green onion pancakes, and popcorn chicken.
#3 Happy Lamb Hot Pot
Happy Lamb Hot Pot also serves AYCE Mongolian hot pot in a luxurious setting.
Address: 609 S Weller St, Seattle, WA
#4 Boiling Point
Boiling Point is known for having ready-to-eat hot pots brought directly to your table. There is no need for you to cook or prep your food.
Their hot pot combinations are very inventive and include super spicy options. If you're not into cooking your food yet want delicious hot pot, check out Boiling Point.
Address: 610 5th Ave S South, Seattle, WA 98104
#5 Crazy Monk Hot Pot
Crazy Monk Hot Pot offers Qiaojiao beef hotpot in a modern and spacious setting. The Qiaojiao beef soup is a hearty broth that is very flavorful and nonspicy. The broth pairs perfectly with their high-quality meats such as wagyu & Kobe beef slices.
We especially appreciated that you get your own hot pot to cook exactly what you want to eat and avoid what you don't. Their sauce bar is also very impressive.
This place is great for diners who want personalized hot pots. And if you're interested in exotic proteins such as pork brain (watch this video of me trying brain for the first time), intestines, or duck blood cubes, Crazy Monk is definitely for you. Their Qiaojiao beef hot pot has an option to add unlimited offal (already cooked) to your soup.
Watch our full video review of Crazy Monk Hot Pot on Instagram.
Address: 221 5th Ave S, Seattle, WA 98104
#6 Da Long Yi
Da Long Yi is a Chengdu hot pot chain with an outpost in Seattle.
Address: 7119 Woodlawn Ave NE, Seattle, WA 98115
#7 Haidilao
Haidilao is a popular Beijing hot pot chain. They have locations all over the world in major cities.
Their meat quality is excellent, but expect to pay more than your average hot spot joint.
We love that they have dancing noodles where an employee comes tableside and entertainingly pulls the noodles at your table and a robot food delivery system.
Address: 600 Pine St Suite 355, Seattle, WA 98101 (in Pacific Place Mall)
#8 No. 9 Alley Hot Pot
No. 9 Alley Hot Pot offers AYCE Sichuanese hot pot in a fun and bright setting for only $28.99 per person!
Their presentation is also super kawaii. Order kitten-shaped shrimp balls, fortune packs with shrimp, rainbow noodles, and other seasonal offerings.
Address: 930 N 130th St, Seattle, WA 98133
#9 Pipa Mountain Hot Pot
Check out Pipa Mountain Hot Pot for Chengdu-style hot pot.
Their sauce bar is impressive and meats are served on a circular board which makes it super easy for sharing.
Address: Pacific Rim Center, Ste 208, 900 S Jackson St, Seattle, WA 98104
#10 The Dolar Shop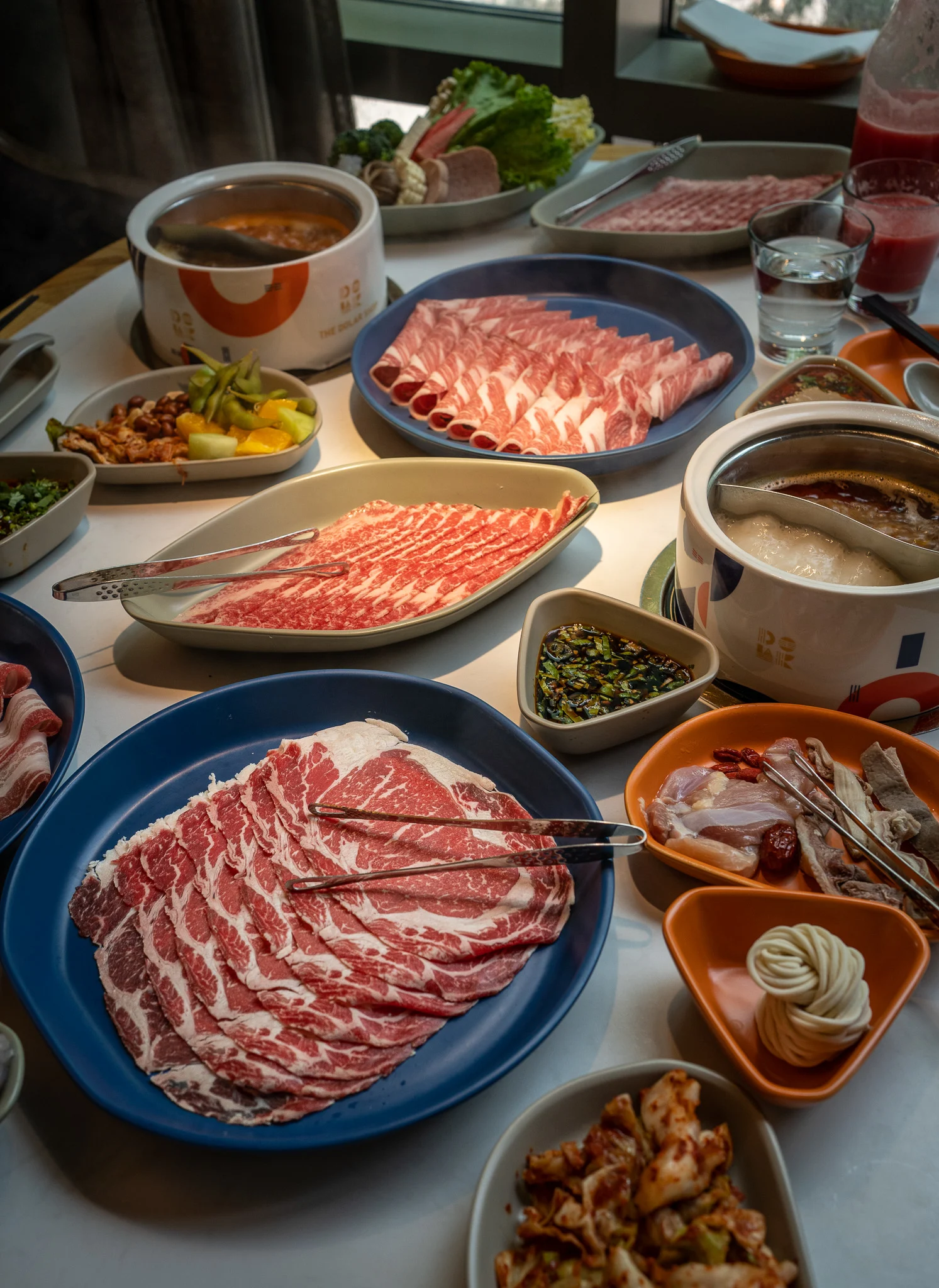 Enjoy a luxury hot pot experience at the Dolar Shop. Their gold interior makes for an elegant dining experience.
This eastside spot offers individual hot pots with flavorful broths and high-end meats such as Wagyu Mountain, Geoduck, A5 Miyazaki Beef, and Dungeness crab. We especially loved their sauce bar and freshly pressed watermelon juice.
Come during lunch where you can buy one of their lunch sets for a great deal. You can get a plate of meat plus veggies for under $40.
Address: 11020 NE 6th Street Suite 90 Bellevue WA 98004
#11 Swish Swish
This shabu-shabu spot in Bellevue provides diners with broths ranging anywhere from the tongue-numbing (mala) Sichuan spicy, to the earthy flavors of the spicy curry.
Their wagyu beef is a popular meat option, served with an accompanying soup base in a pot made entirely out of a piece of paper.
Originally created in Japan, this kami-nabe, helps to absorb some of the oils in the soup, keeping it light as more of the fatty wagyu is added.
Address: 14603 NE 20th St APT 5C, Bellevue, WA 98007
#12 Shabu Shabu Kyoto
For more traditional shabu shabu, we highly recommend this Bellevue spot. Their shabu shabu sets come with a plate of protein of your choice, a basket full of fresh veggies, a side of rice, and dipping sauces (ponzu and sesame sauce).
Happy hour runs through lunch and you can save 20% on appetizers, beers, sake, and wine. We tried the spicy tuna on crispy rice and loved it!
Address: 627 156th Ave SE, Bellevue, WA 98007
View this post on Instagram
#13 Liuyishou
This international chain offers an extensive sauce bar and snacks such as fruit and peanuts.
We highly recommend their perfectly tender marbled beef and the Kung Fu sliced potatoes, which are wafer-thin and easily absorb their flavorful broths.
Address: 1644 140th Ave NE, Bellevue, WA 98005
#14 Morfire
For those wanting a tangy broth option, Morfire offers Thai style hot pot that pairs well with seafood and fresh vegetables.
Try out their Suki Hang plate and get a taste of the crunchiest vegetables and the most tender chicken all mixed in stir-fried glass noodles!
If you want more options, their Son-In-Law Egg Small Plate and Hiyayakko Tofu small plate are two you won't regret. The chilled tofu has that subtle taste that still has a unique flavoring to it. Subtle yet not bland. Just perfect.
And the egg? Phenomenal! It's crispy and warm. Finishing a hot pot wouldn't be complete without it!
Address: 1806 12th Ave Suite 100, Seattle, WA 98122
#15 Shaburina
Shaburina is an AYCE Japanese shabu-shabu hot pot restaurant, a form that emphasizes lighter and more quickly cooked ingredients.
While orders of meat need to be placed with a server, this dining experience is enhanced by the self-service buffet bar in the back which contains various vegetables, noodles, and sauces.
Broths such as soy milk and sukiyaki (a bold, sweet, and salty soy-based Japanese base) offer hot pot fans a different experience.
Address: 2720 152nd Ave NE #130, Redmond, WA 98052
If you found our list of the best Seattle Hot Pot Restaurants helpful, please share it. Thanks for your support!
---
Thank you for visiting today! If you found this encouraging or informative, please connect with us on Instagram, Youtube, Pinterest, Facebook or Twitter. We'd love to meet you!
Sign-up for our monthly newsletter for updates and more. We promise we won't spam you! Feel free to unsubscribe anytime.
For more fitness fashion discounts and offers, please visit our Fitness Instructor Discounts + Brands Directory or favorite brands coupon codes list.
If you're a brand and want to submit a product for us to review, please use this form to get in touch.
This site uses affiliate links. Clicking on or purchasing via an affiliate link may result in commissions for us which help keep the content flowing and lights on at Schimiggy Reviews. You may read more about this in our privacy policy.