Reading Time:
9
minutes
Updated: 8/2/2019 | Guide to Choosing the Best Legging Fit and Style
Leggings have become a long-lasting trend in today's apparel offerings. Leggings were borne out of necessity, to provide warmth and cover skin. Now it a viable option for pants and symbolic of comfort and living an active life. Up next we'll share a brief history of leggings, what leggings are, the types of leggings currently available on the apparel market, and a guide to choosing the best legging fit and style for your body type.
The History of Leggings
Leggings started as garments to keep men's legs warm in 14th century Scotland. They persisted through the medieval time period. In 1959, DuPont scientist Joseph C. Shivers invented a spandex fiber, originally known as Fiber K, which later was dubbed Lycra. Lycra was always blended with other natural and man-made fibers such as cotton, wool, silk, and linen. This blend allowed spandex products to be long lasting, lightweight, stretchy, and comfortable.
In the '60s, leggings made their resurgence when worn by actress and icon Audrey Hepburn. In the 70's, people began doing aerobics and wearing synthetic clothing. The movie Grease debuted in 1978 and popularized spandex even further after Olivia New John and John Travolta are seen dancing and singing while wearing leggings.
Today, leggings are officially suitable for everyday wear for men and women. Celebrities such as Kim Kardashian, Gigi Hadid, Rhianna, and more are seen donning leggings while doing just about everything and anything.
Leggings can also be functional to keep you warm during winter sports or as motorbike riding apparel.
The leggings trend is here to stay and I am all for it!
What Are Leggings?
Leggings are a form-fitting and stretchy garment worn around the legs. Leggings are intended to be tight fitting and typically worn by women to cover their legs. Leggings can be worn as pants while lounging, working out, and more.
The term leggings, yoga pants, and tights are used interchangeably.
What are the Different Types of Leggings?
When we think of leggings, our minds immediately go to the ankle length footless styles that you see most yogis wearing (see #1 below). There are actually several types of leggings that exist in today's marketplace and they are quite different from each other. Here's a quick overview of the types of legging styles and when you would need to wear them.
1. The Ankle Length or Footless Legging
These are the most common type of legging. Your imagination will immediately default to this silhouette when you think about what leggings should look like. The footless style usually sits at your ankles but can sometimes fit over your ankle. Leggings are like hosiery but without the feet. The waist opening usually sits at the natural waistline (high waist), at your hips (medium rise), or below your hips (low rise). They can me made with an elastic band or tall waistband to hold the pant up. The higher the waistband height, the better the leggings will stay up throughout the day.
Visit this guide if you experience your leggings sliding down throughout the day. Slippage most likely will be a sizing or material issue.
We recommend footless leggings by SPANX, Lululemon, and Carbon38.
2. The Capri, Cropped, or Calf Length Legging
This shorter version of the legging is known as a capri, cropped leggings, or calf length legging. Some brands are specific to name their crop leggings 7/8 leggings to indicate that they are just a little longer than traditional crop leggings. Crop leggings usually have a 22-24″ inseam. 7/8 length leggings have a 25-26″ inseam. This type of legging will reach mid-calf or just above the ankle. They are also great for wearing in warmer weather when you want your ankles room to breathe. Some petite women prefer this length over full-length leggings because they won't bunch up at the ankles and look more appealing for their height.
Crop legging brands we recommend are Carbon38, Lululemon, and Zella.
3. Knicker or Knee-Length Legging
Knee-length leggings start just above or below the knees. Knee-length leggings are perfect for bicycling, dance, yoga, working out or gymnastics. They offer even more breathability for the legs. I love wearing biker shorts to the beach because I don't have to roll my pants up when dipping my feet into the ocean.
4. The Stirrup Legging
Stirrup leggings feature a connected strap that sits across the arch of the foot and comes up to the ankles. The heel and toes are always exposed. Stirrup leggings are for people who want to keep their leggings from rolling up their ankles and for keeping leggings in place. You'll see mostly ballet dancers or those who don't love that the leggings keep running up their leg all the time wearing this type of legging. The foot arch strap prevents leggings from rolling up which keeps the ankles warm and the leg hem from bunching up at the ankles.
Popular stirrup legging brands include Free People Movement and Lululemon.
4. Footed Leggings
Footed leggings are VERY similar to tights, but they are usually made of thicker fabric and cinched at the waistband for a more compressive stay-put fit. Footed leggings are usually 100% opaque (not see-through) and cover the entire foot exactly like tights. Footed leggings should be worn like regular pants and are great for costumes, dance, ballet, theatre, or just keeping your entire leg covered without exposing any skin. I recommend wearing footed tights in colder weather with boots.
Popular footed legging brands include Danskin and Capezio.
What Fabrics are Leggings Made Out Of?
Leggings can be made in a variety of fabrics, with each type having its own function and performance. Everyone has a particular preference in fabric feel and fit. I recommend trying on various types of fabrics to determine which one fits your lifestyle and preferences best.
Leggings can be made with spandex, cotton, lycra, nylon, latex, mesh, wool, and many other variations and blends. Fabrics can be mix and matched to create a unique feel and look. There are over hundreds of types of fabrics that would make suitable leggings. Ultimately, you want a flexible fabric that moves when you do and provides enough coverage to prevent your undergarments from showing.
Here are fabric details that you may see used to make leggings:
Printed or Patterned (usually on white fabric)
Leather-Look or Faux Leather
Cire or Shiny
Matté (not shiny)
Denim Textured
Sequined
Color Blocked (multiple panels of colored fabric stitched together)
Moto (pleated panels)
Screen Printed (may chip off and fade over time)
Seamless
How to Determine Your Perfect Size in Leggings
Finding the perfect legging size is dependent on your preference and use of the leggings. Use the chart below to determine which size leggings you need. Be mindful that different legging brands and fabrics will fit and perform differently.
Leggings also tend to have a lot of stretch. If you're in between sizes, you can size down for a more compressive fit or size up for a more comfortable fit.
| | | | |
| --- | --- | --- | --- |
| Number Size | Letter Size | Waist (in inches) | Hip (in inches) |
| 0 | XXS – Women | 21″ – 23″ | 30″ – 32″ |
| 2 | XS – Women | 24″ – 26″ | 31″ – 33″ |
| 4-6 | S – Women | 27″ – 30″ | 34″ – 37″ |
| 8-10 | M – Women | 31″ – 34″ | 38″ – 41″ |
| 12-14 | L – Women | 35″ – 38″ | 42″ – 45″ |
| 16-18 | XL – Women | 39″ – 42″ | 46″ – 48″ |
If you need more fit details about a particular brand, I recommend going to the brand's website and using their size chart (after you get your measurements).
You can also use Google to find product and brand fit reviews. For example, if I wanted to see how ALO Yoga leggings fit, I would search "ALO Yoga Moto legging reviews" on Google. Most reviews will offer sizing tips, product images, and applicable discounts. It's always worth it to check for blogger reviews before making a purchase.
How to Measure Your Legging Size
Before you head over to view a brand's size chart, I recommend taking your legging measurements using the instructions below.
When you want to know your legging size, you should measure three parts of your lower body. These parts are the waist, hips, and inseam. I use a retractable measuring tape that comes in really handy for other projects too.
How to Measure Your Waist: Use a measuring tape and place one end of the tape at your navel. Wrap it around your natural waistline and back to the starting end of the measuring tape. Your natural waistline is the thinnest part of your torso, usually just around the navel.
How to Measure Your Hips: Place one end of the measuring tape just below your hip bone and wrap the measuring tape around your buttocks. Go all the way around and connect the measuring tape back to the starting end of the tape. Keep both feet flat on the floor when you measure.
How to Measure Your Inseam: An inseam is the length between the base of your crotch down to the inner ankle of your leg. Place the measuring tape on the inner section of the base of your crotch, and then lengthen the measuring tape all the way down to the base of your ankle bone. This is where your ankle hem or legging opening should sit. The opposite of that is the outseam (or length) and is measured from the waistline all the way down to the outer ankle.
After you determine your measurements, this should give you a good idea of what size you would need in a particular brand. You can then use your measurements and refer to a brand's size chart to determine the best legging size for you.
Guide to Choosing the Best Legging Fit and Style
How Should Leggings Fit?
When trying on leggings, you should always remember these pointers to ensure the fit is right. When putting on leggings, they should feel like a second skin. Leggings should be tight around your buttocks, thighs, and calves. They should never feel too constrictive (unless it is intentional). They should also not feel too loose like trousers. If your leggings bunch up, that usually means your leggings are too big. If your leggings restrict movement, then they are too tight.
You Know Your Leggings are the Wrong Size When…
1. The fabric is see-through or too sheer. If your leggings are not opaque (or see-through), you may need to size up or try a different type of fabric altogether. A great way to test fabric opacity is by employing the squat or bend test. I use a camera timer to snap an image of me in a squat to determine if I should return or keep a pair of leggings.
2. The case of the muffin top. You look above the legging waistband and it creates a "muffin top." The leggings are too tight and you should size up. Another solution for the muffin top is to wear high-waist leggings. High waist leggings typically have a waistband measuring 5 or more inches and sits above your navel.
3. Check your crotch. If you notice excessive fabric around your crotch, you should size down. If your crotch displays a camel toe, it's a sign that you should size up one to two sizes. Read this article on how to prevent camel toe.
4. Leggings keep sliding down. If your leggings are constantly slipping down, you may need to size down. Visit this article for tips on how to keep your leggings from falling down.
5. The fabric is bunching up. If the fabric is bunching up at your knees, hips, or ankles, that usually means your leggings are too loose and that you should size down. Leggings should feel stretched yet comfortable throughout the body, like a second skin.
Many retailers will offer free shipping and returns, allowing you ample time to try on and find your favorite leggings. Never settle for a pair that is cheap, because they will most likely be ill-fitting and come apart within months. Ultimately, in the spandex world, you will get what you pay for.
I hope these tips were helpful. A lot goes into finding the perfect legging fit, but the process should be fun. If you have any questions, feel free to contact me anytime!
Thank you for visiting today! If you found this encouraging or informative, please connect with us on Instagram or TikTok.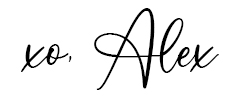 Sign up for our monthly newsletter for updates and more. We promise we won't spam you! Feel free to unsubscribe anytime.
If you're a brand and want to work with us, please visit this page to get in touch.