Reading Time:
4
minutes


About Flexi Lexi
Flexi Lexi is an activewear brand based out of Bangkok, Thailand. They offer cute and bright colored bralettes and leggings. I was attracted to the brand via Instagram. I fell in love with their ombre leggings and had to give it a try. They created very popular ballerina wrap leggings that can be seen on popular IG yogis and are constantly adding more items to their store – including hedgehog printed leggings! Some of their best-selling items include their Flexi Yoga Pants, Flexi Dancer Leggings (wrap leggings), Scrunchy Shorts, Mermaid Tails and Flexi Ballerina Tutus.
https://www.instagram.com/p/BIji1NxA1o3/
Flexi Lexi Review: Aztec Long Yoga Pants
I am reviewing Flexi Lexi's Aztec long yoga pants. I purchased the leggings in a size medium after viewing their size chart.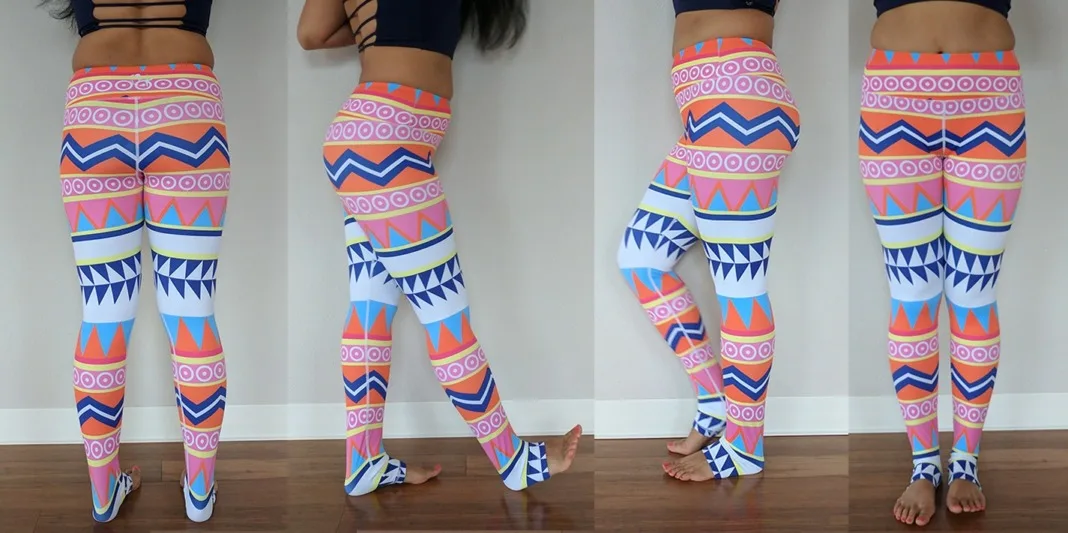 #1 Size: Flexi Lexi sizing runs small. I wear a size 6 in lululemon and the Flexi Lexi medium fits comfortably. The version of the Aztec leggings that I have are written as size Medium. Their newer production of their leggings now run in-between and are listed on their website as:
Size S/M (Labeled as S): Waist 22-27″, Hip 30-35″
Size M/L (Labeled as M): Waist 27-33″, Hip 35-40″
#2 Style: Flexi Lexi makes long leggings, ballerina wrap leggings, and shorts.
#3 Inseam: The inseam on the medium leggings were 28″ and the leg opening could be worn over my heel and sits at the middle of my foot arch. It could be hemmed if needed.
#4 Rise: The rise is high and sits just on top of my navel.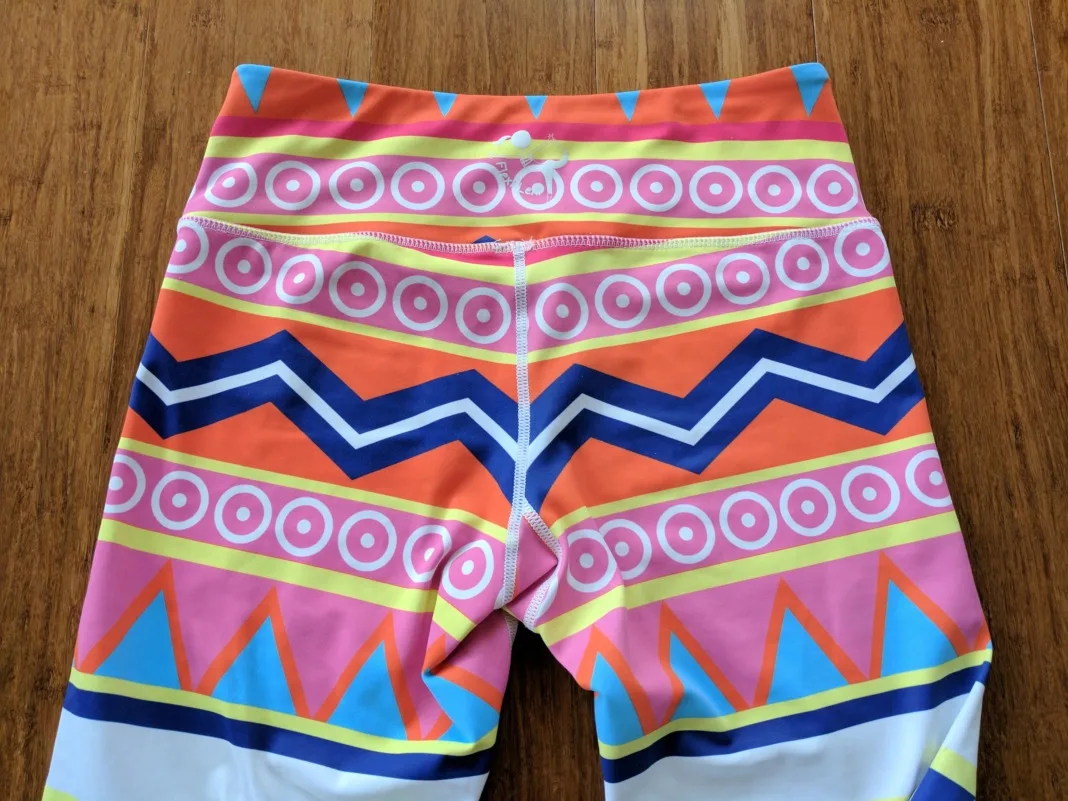 #5 Waistband: Flexi Lexi has a tall waistband on all their bottoms. The waistband measures 4″ tall. The waistband does fit a little tight and creates a muffin top, however it's still comfortable.
#6 Fabric:
Fabric content: 27% Spandex 73% Polyester
The fabric is quick drying and light-weight.
The fabric's 4-way stretch contours to the body and looks amazing in photos and when worn.
The fabric is white backed but does not stretch to white when worn. Their prints do not stretch and look vivid.
The fabric feels like Inner Fire leggings. The fabric is thick but not see through. It's 100% opaque. See my review of Inner Fire here.
The patterns on the back of the fabric were aligned.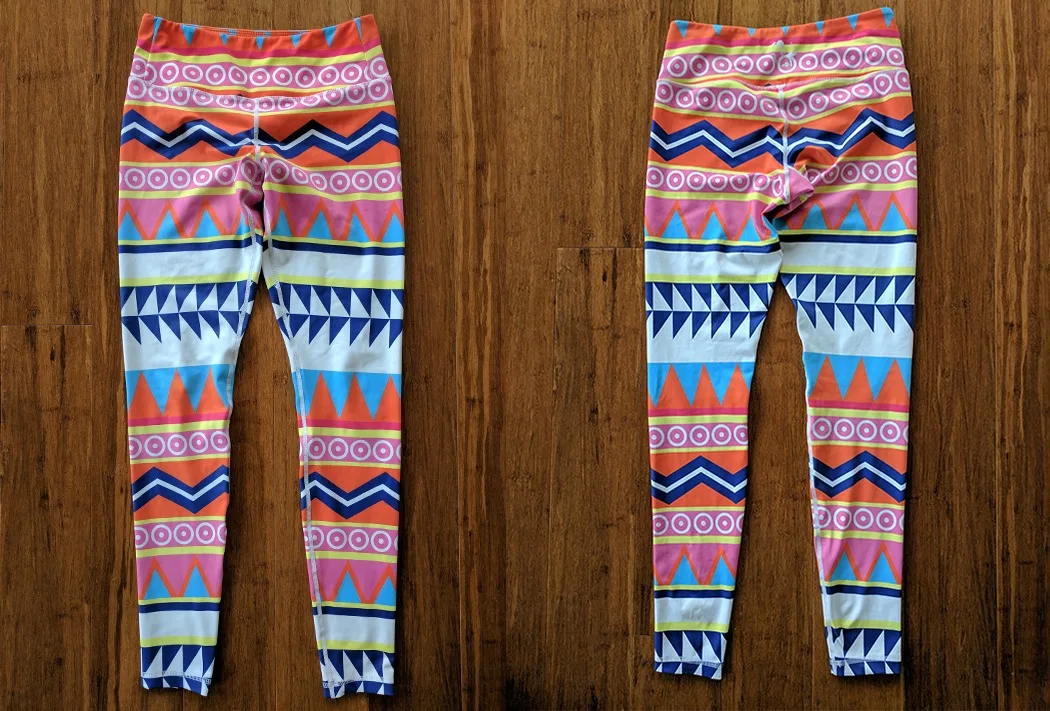 #7 When to Wear: Flexi Lexi is perfect for all styles of yoga, SUP boarding, high intensity workouts, walking running and much more. The fabric is thick but dries fast.
#8 Cost: Long yoga pants cost $79 USD. Shipping from Thailand costs a flat $15 via DHL Express. You can buy it through Oregon based Evolve Fit Wear as well.
#9 Gusset: The leggings are constructed with a single layer triangle gusset.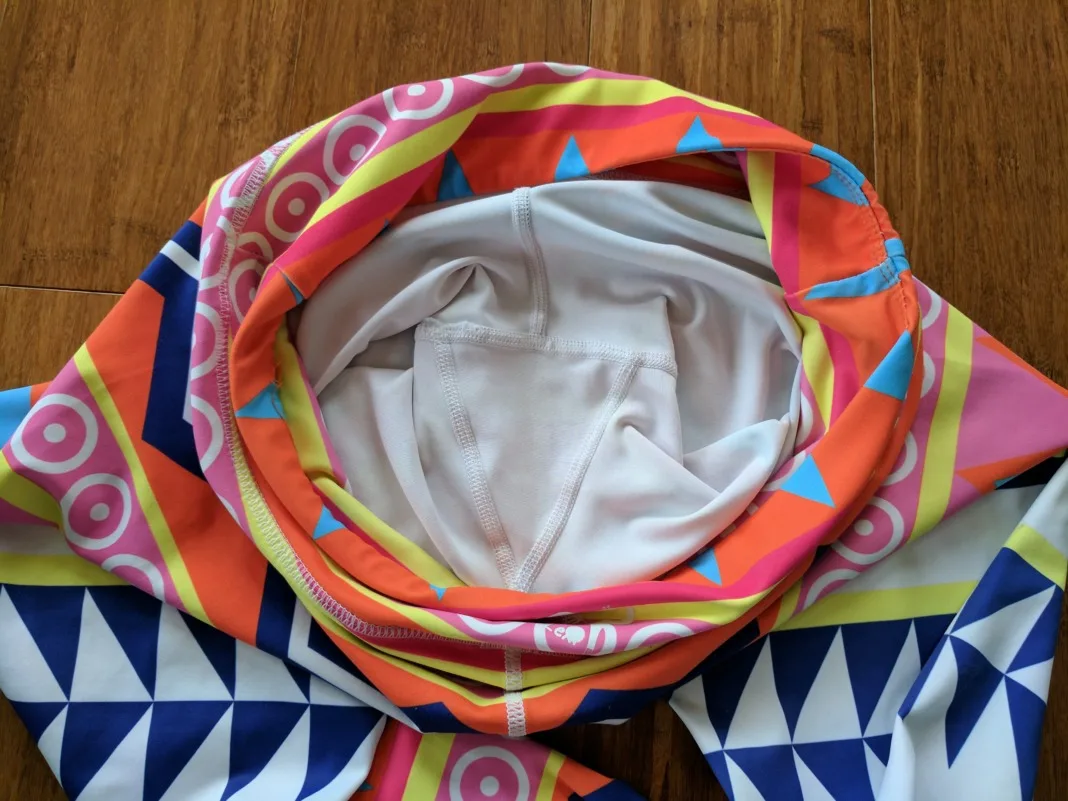 #10 Stitch Seam: Flat seams are used throughout the leggings.
#11 UPF Protection: Not disclosed
#12 Designed and made in Thailand.
#13 Care Instructions: Wash your Flexi Lexi products in cold water with gentle detergent. I hang dry my leggings but you can also tumble dry on low temperature as well. After 7 washes the colors are still vivid. The white on the leggings remains bright.
Should I Buy Flexi Lexi?
I highly recommend this brand. The colors and fit is fabulous. I love the high-quality of the leggings. The only gripe I have about Flexi Lexi is their odd sizing and lack of plus size products. Their small leggings will remind you of children's leggings. You'll definitely have to size up, but it'll be worth it if you like fun prints!
Where to Buy Flexi Lexi
Have you tried Flexi Lexi? Let me know your thoughts in the comments below. Thanks for tuning in!