Reading Time:
5
minutes
Who is Emily Hsu Designs (EHD)?
Emily Hsu is first and foremost a professional dancer, singer, and actress who has appeared in over a dozen Broadway musicals in addition to television and film. She is a yogi with a passion for fashion. In 2014, Emily began sewing leggings for herself and her daughters when she couldn't find anything on the market that appealed to her. Today she seeks to create activewear with high performance, attitude, playfulness, and sophistication.
Emily Hsu Designs Leggings Review
I was on the hunt for pineapple leggings when my search landed me back onto EHD's e-commerce site. Since her inaugural debut in 2014, I noticed that her business has grown! Her leggings have increased in price (from $46 to $54) and she added more unique designs.
I decided to buy not ONE but THREE leggings. I ended up buying the sunset, pineapple and mountain leggings. I figure I could try all three and return the ones I did not want.
#1 Size: After much debating and reviewing the size chart, I decided on a size small (I am a size 6 in Lululemon for size reference). I wanted my leggings to have a more compressive fit. EHD encourages people to choose their size based on the desired fit (compressive or non-compressive). I purchased leggings from EHD in their earlier days (2015) and due to the thick nature of the fabric, I felt the leggings were too compressive and unbreathable. I put the newer version of EHD leggings on and had to squeeze my hips and bum through the waistband. Once it was on, it was form fitting around the waist. The leg, however, was not as compressive as I had hoped in the Mountain leggings. However, the pineapple leggings were a compressive fit all-around.
Here is the Emily Hsu Design size chart for reference:
x-small: 0-2
small: 2-6
medium: 6-10
large: 10-14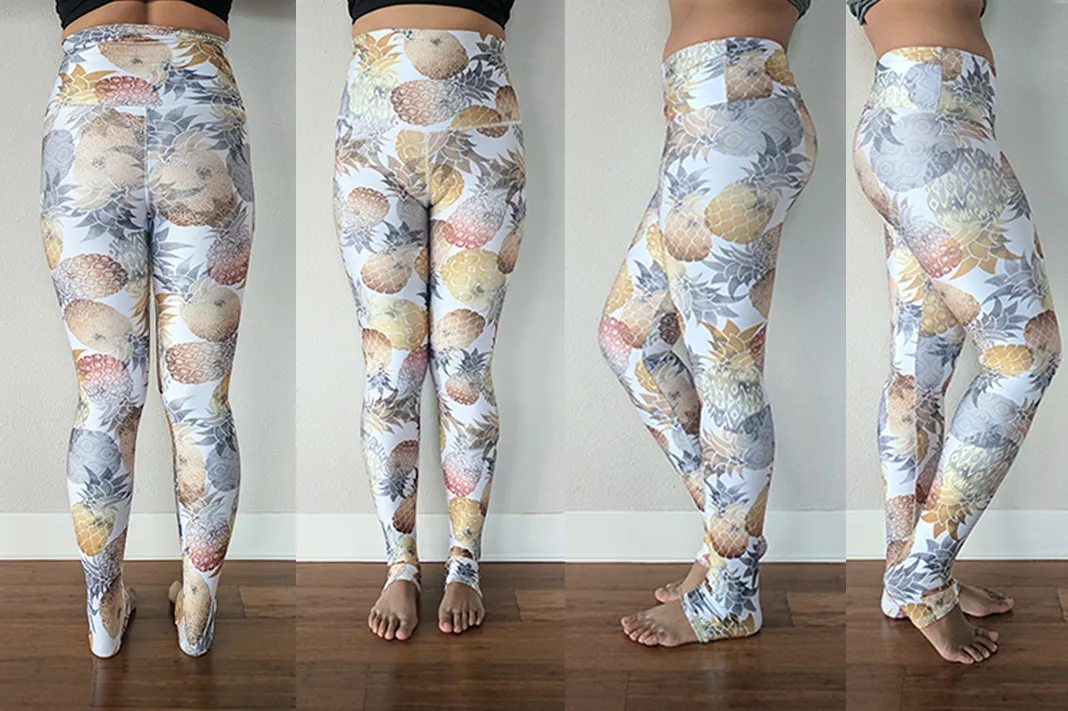 #2 Style: I reviewed EHD's signature legging that features a high-waist and long length leg. EHD also offers crop pants, shorts, bras and bralettes, various tops and tanks as well as products for girls.
#3 Inseam: The inseam of EHD's signature leggings is 31″. EHD crop pant inseam is 20″.
#4 Rise: All EHD bottoms have a high-rise fit with the top of the waistband landing 2″ above the navel.
#5 Waistband: Tall waistband measuring 6.5″. The waistband can be folded over (for a mid-rise fit) or worn high-waisted depending on preference. I love that it's very soft and hugs around the stomach.
#6 Fabric:
The designs are eye-catching and fun. EHD's choice of prints reflects her belief that your clothing should compliment your many moods and personalities.
EHD fabric content is 82% Polyester and 18% spandex, making it dry wicking and lightweight. The fabric is comparable to Onzie.
The fabric has a sheen to it, making the fabric somewhat shiny and reflective in certain lights.
Fabric has 4-way stretch, allowing the fit to contour to the body. It felt like wearing a second skin.
Fabric is very breathable. The newer fabric is much thinner than it was in 2015.
I experienced good compression in my pineapple leggings. The sunset and mountain leggings were less compressive. It may be due to the nature of how these prints were processed.
The mountain and sunset leggings are white backed and stretch in the bum when worn. The pineapple leggings are white backed, however they were not see through.
#7 When to Wear: EHD leggings are made for dancing, yoga and casual wear. I'll definitely be wearing mine for yoga and going out (aka clubbing).
#8 Cost: EHD leggings range from $54-60, making them very affordable!
#9 Gusset: EHD leggings do not come with a gusset, only a + seam. (pictured below)
#10 Stitch Seam: EHD leggings are constructed with both overlocked and flat-fell seams (depending on the pant). The pineapple pant above is constructed with an overlock seam in the inner thigh, while the mountain leggings are constructed with flat fell seams throughout.
#11 UPF Protection: Not disclosed.
#12 Made in the USA.
#13 Care Instructions: Wash your leggings inside out and in cold water. Hang or lay flat to dry. Avoid ironing and beaching. I found my leggings dried quickly (within 3-4 hours) due to the dry wicking material.
To Buy or Not to Buy?
I would recommend these leggings if you're looking for eye-catching designs. The designs are unique and fun, so you'll definitely get lots of compliments. I would not buy them if you were looking for better quality leggings in terms of how the leggings are constructed. There are some things that could be improved upon (listed in the cons).
Pros
Love the variety of designs and cuts.
Price point is excellent with bottoms ranging from $52-$60.
Slimming tall waistband
Offers an assortment of activewear for women and girls.
Cons
Sizing and size preference is well explained on EHD's site, but I wish the sizing were more straightforward and TTS. If she offered a sizing option in between small and medium, the fit would have been perfect for me.
No Gusset/ + Seam at Crotch. Seams at crotch are also sewn using overlock seams.
Fabric fit is inconsistent between prints. The Mountain print was significantly looser than the pineapple print.
Bum stretches to white on certain designs (especially on the Mountain print despite it being a looser fit).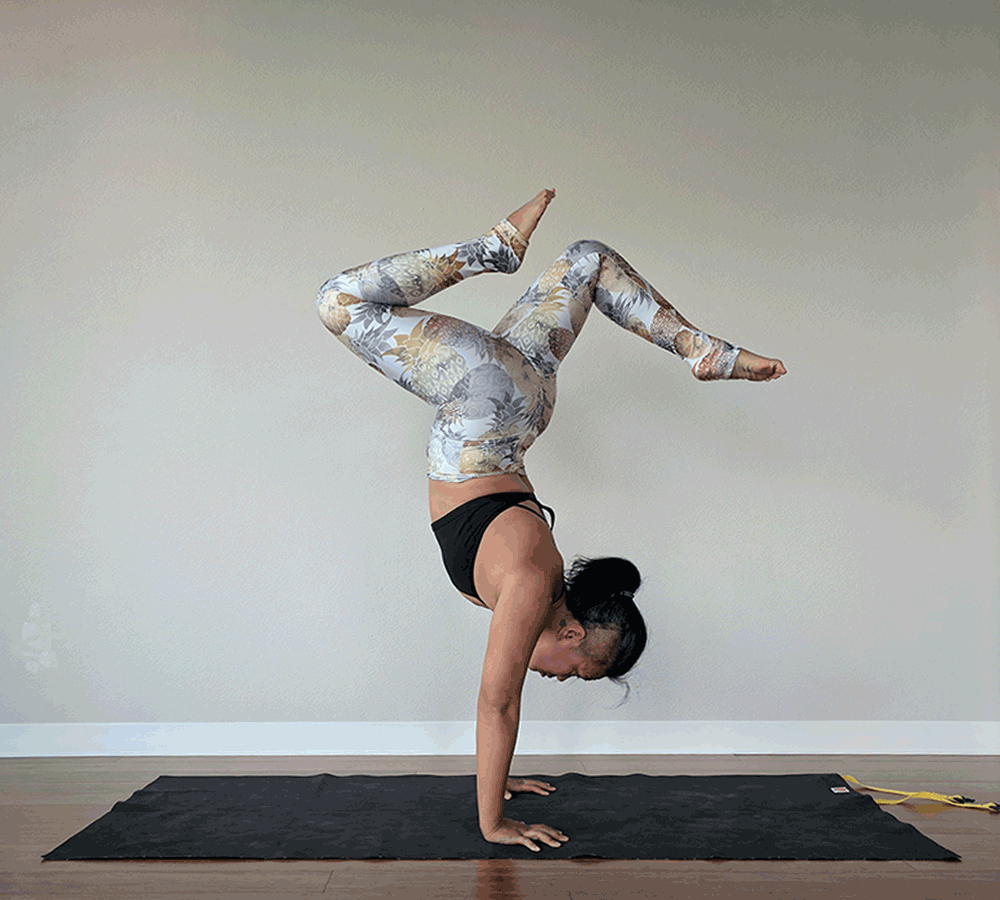 Where to Buy?
You can purchase Emily Hsu Designs from the following sites:
Emily Hsu Designs

Get FREE SHIPPING on all orders $75+ with code: FREESHIP (US ONLY)!
If you're an instructor, EHD offers a 20% teacher discount. Just drop them a line here.

Evolve Fitwear – Use code SCHIMIGGY for 10% off your orders.
Level 3 Active
SimplyWORKOUT – Use code SCHIMIGGY for 20% off.
I was not compensated for this review. All opinions and observations are purely my own.
Thank you for visiting today! If you found this encouraging or informative, please connect with us on Instagram or TikTok.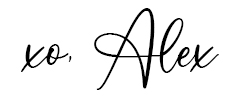 Sign up for our monthly newsletter for updates and more. We promise we won't spam you! Feel free to unsubscribe anytime.
If you're a brand and want to work with us, please visit this page to get in touch.