Reading Time:
6
minutes
Updated: 8/8/2022 | Day Owl Review

Disclaimer: I received my Day Owl backpack to review in this post. As always, all thoughts and opinions are my own and 100% honest.
About Day Owl
Day Owl is a Kickstarter funded company that offers backpacks and small accessories made for everyday life. Their commuter backpack is designed with all your daily essentials in mind.
The backpack is packed with pockets and details that make it a perfect candidate for work or play. A few examples include their water repellant neoprene compartment for wet belongings and hidden luggage strap.
The company is currently based in Pittsburgh, Pennsylvania USA.
Day Owl Backpack Review
We received the Day Owl backpack to review on Schimiggy.
We chose the smaller backpack in nickel grey. The color looks just as amazing in person as it does online.
We loved that the packaging was 100% recyclable. The backpack came with a shaper inside to help keep its structure.
The backpack fits comfortably over my shoulders. I am 5'5″ for sizing reference.
What I really appreciated was the spacious main compartment that unzips all the way. This allowed me to easily access and see all my belongings. I did not have to dig around to find stuff.
The padded laptop of the smaller backpack fits my 13″ Macbook Pro laptop perfectly.
Below we'll go over the notable pros and cons of the Day Owl backpack.
Pros of Day Owl Backpacks
Multiple compartments for all your belongings.
Large front pocket with zipper closure.
Hidden water bottle pocket lined with water repellant Neoprene. It's perfect for your soaked belongings and beverages. It also keeps your water bottle from being in your way.
Top zipper pocket to stow your sunglasses and other small goods.
Side zipper pocket to store more small goods.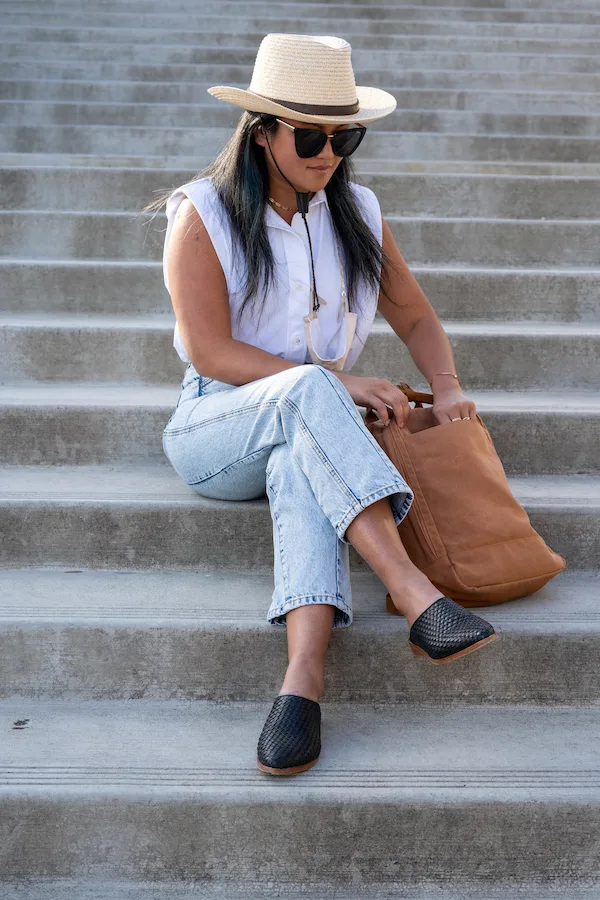 Eco-friendly and ethically made from durable First Mile waxed canvas, 100% recycled polyester and uses conflict-free metal YKK zippers. Each backpack diverts 25 plastic bottles from the ocean. You can feel good about what you wear on your back.
The First Mile waxed canvas is water-resistant.
Convertible style – Turn your backpack into a tote or slide it onto the handle of your suitcase.
No slack straps mean that your backpack won't dangle or get stuck.
Additionally, the contoured backpack straps ensures your pack stays put and won't slip around during wear.
A cleverly placed luggage strap allows you to attach your backpack to your suitcase.
Day Owl backpacks are currently offered in 5 colors and come in two sizes:
Smaller | 15.5″H x 11.5″W x 5.5″D | fits 14″ laptops
Larger | 17.5"H x 12.5"W x 5.5"D | fits 15″ laptops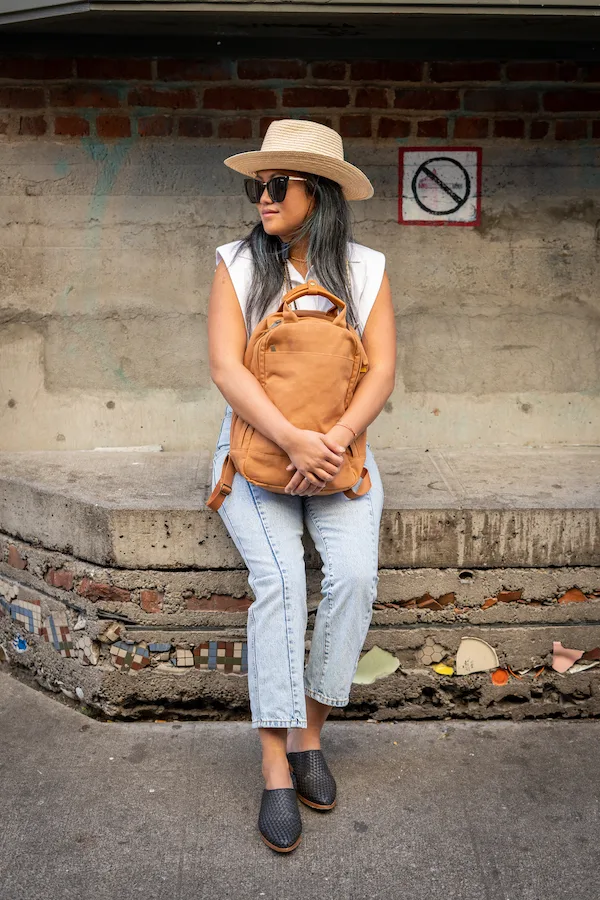 Each backpack is imprinted with a production number so that you can easily identify which backpack is yours in a sea of Day Owl bags. It also indicates the order in which the backpack was made, making your bag uniquely yours.
Leather trims and handles are made with sustainably sourced and LWG certified leather.
All backpacks come with a lifetime guarantee! If your backpack tears or gets damaged due to regular wear and tear, send it in and they'll fix it for you at no charge.

Cons of Day Owl Backpacks
The Day Owl backpack is the same price for both sizes. Some people may feel that the smaller bag should be cheaper because less material was used.
Top leather handles are a bit bulky. They are well constructed but also slightly obstruct access to the main compartment.
Top handle snap button closure slides around. I've experienced the button sliding left to right, which slightly makes it difficult too close unless looking you're looking directly at the backpack.
Inner pocket is very thin and deep. The pockets along the back of the main compartment were a nice feature, however, the thinner pocket was very hard to access. I could barely slide my hand into the sleeve. The sleeve is very deep so I had to empty and turn my backpack upside down to shake my belongings out.
The neoprene pocket cuts into the main compartment when in use. This leaves less room in the main compartment. If you need more space, go for the larger size backpack.
Should I Buy It? Are Day Owl Backpacks Worth It?
Each Day Owl backpack is made to wear and tear naturally. The backpacks are designed to become more vintage and distressed looking with each wear. It is guaranteed to still function as originally intended.
We also love that each backpack comes with a lifetime guarantee. If your backpack tears or becomes damaged, send it in and they'll do their best to return your backpack to pristine condition.
If you're looking for a gym bag, we recommend going with the larger size to fit all your gym essentials. The smaller size is better for traveling, commuting to and from work and wearing casually.
Ultimately, we recommend Day Owl backpacks based on their sustainable practices, durability, style and functionality.
To preserve the leather handles and bottom of the backpack, we use a mini Heroclip to hang our backpack wherever we go. It also makes a great purse hook!
Where to Buy Day Owl
You can purchase a Day Owl backpack directly from their webstore.
If you're ready for your new Day Owl bag, make sure to use our link to save 20% off your first purchase on Day Owl!
Alternatively, you can also use code SCHIMIGGY for $15 off your purchase at Day Owl!
I am also giving out $20 to $25 gift cards to shop at Day Owl. If you'd like one, please follow me on Instagram and let me know you'd like a code!
More Day Owl Deals
Day Owl makes buying their products pretty easy and affordable They have a misfits section where you can buy Day Owl bags that have not passed QC. Instead of throwing them away, they sell the bags at a discounted price of $99!
They also have a secondhand Day Owl shop where you can buy renewed and used bags for only $89. When you're ready to donate your bag, simply send it to Day Owl and receive a $25 off coupon code towards your next bag.
And lastly, check out their bundle deals where you can buy a backpack and multiple accessories and receive a discount when you buy more and save!
If you enjoyed our Day Owl review, please share it on Pinterest. Thank you for your support!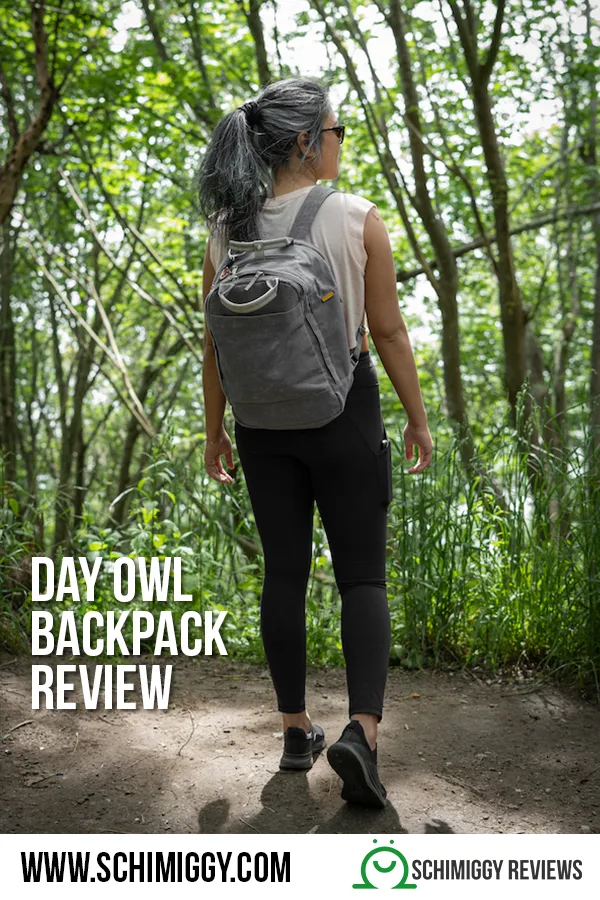 ---
Thank you for visiting today! If you found this encouraging or informative, please connect with us on Instagram, Youtube, Pinterest, Facebook or Twitter. We'd love to meet you!
Sign-up for our monthly newsletter for updates and more. We promise we won't spam you! Feel free to unsubscribe anytime.
For more fitness fashion discounts and offers, please visit our Fitness Instructor Discounts + Brands Directory or favorite brands coupon codes list.
If you're a brand and want to submit a product for us to review, please use this form to get in touch.
This site uses affiliate links. Clicking on or purchasing via an affiliate link may result in commissions for us which help keep the content flowing and lights on at Schimiggy Reviews. You may read more about this in our privacy policy.