Reading Time:
7
minutes
Updated: 8/9/2022 | Costa Rica Travel Guide
This Costa Rica Travel Guide was originally published on We Love Eat Travel (my other travel blog). I have now also published it on Schimiggy for my audience here.
Costa Rica is a bio-diverse country with adventures every turn you take. To sum it up, Costa Rica is an ADVENTURE.
On our 10-day trip, we went to three different regions to explore the variety that Costa Rica has to offer. We were there for a little over a week but I still felt that it was not enough to fully explore all of Costa Rica. We have already decided to go back in the near future.
Here is where we went during our 10 days in Costa Rica.
3 days in Tamarindo (Fly into Liberia)
3 days in Arenal
3 Days in Puerto Viejo (Carribean Side)
1 Day in San Jose (Fly out from San Jose)
View this post on Instagram
Costa Rica Travel Guide
Things to Do
Visit the Volcanos
There are 60 volcanos throughout Costa Rica. How do you narrow down the choices? We decided to go with the most popular – Arenal. The Arenal is absolutely beautiful.
Here are some other volcanos you can check out.
Arenal Volcano – Most popular and located in the northern section of CR. Visit the hanging bridges for an amazing view of the Blue Morpho waterfall.
Póas Volcano
Rincón de la Vieja Volcano
Irazu Volcano
Turrialba Volcano
Go Ziplining
You can pretty much find a ziplining adventure in every area you visit. The west coast seemed to have more sightseeing to offer than the Caribbean coast. We went to Ecoglide and it was one of the best experiences of our lives. For $75 we did a combination package that included 12 zip lines and a Tarzan jump, which was personally my favorite.
Hike to the Waterfalls
There are SO MANY waterfalls. Here are some popular ones you should check out:
La Fortuna is the most popular waterfall in the Arenal region. The 230 ft waterfall takes over 400 steps to descend into a pool that flows into the hot springs. You can swim at the bottom. It costs $15 USD to visit.
La Paz, Cloud Forest – Privately owned and includes a hike, animal exhibits, and 5 waterfalls. La Paz is located in the Cloud Forest near the San Jose area.
Rio Celeste, Guanacaste – Located in Tenorio Volcano National Park in the northwestern Guanacaste region is known for its hypnotic blue color and tropical surroundings. The water that flows through the park is the product of a chemical reaction between minerals from the volcano and rainforest.
Bajos del Toro Waterfall, Cloud Forest – This is the largest waterfall in Costa Rica at over 300 ft tall. It's located 1.5 hours from San Jose.
Visit a Sloth Sanctuary
We visited the Sloth Sanctuary on the Caribbean side in Limon. It cost $30 USD per adult and included a boat ride. I did not think the Boat Ride was worth it but the guide does speak English. We did get to see one wild sloth during the ride. I would ask them to skip the boat ride and just visit the cages.
Visit Costa Rica's famous coffee farms
Costa Rica is known for its coffee! The best ones are near the Arenal Volcano. I recommend the North Fields Coffee Tour.
Check out both coasts
Caribbean Coast – The Carribean Coast offered a better and more flavorful cuisine and beach scene. There is a lot of fishing, boating, and snorkeling to be done on the East side.
West Coast – The West Coast is relaxed and more touristy. Come here to surf, beach bum around, and party with people from around the world.
https://www.instagram.com/p/Bp17rL1gZog/
What to Eat in Costa Rica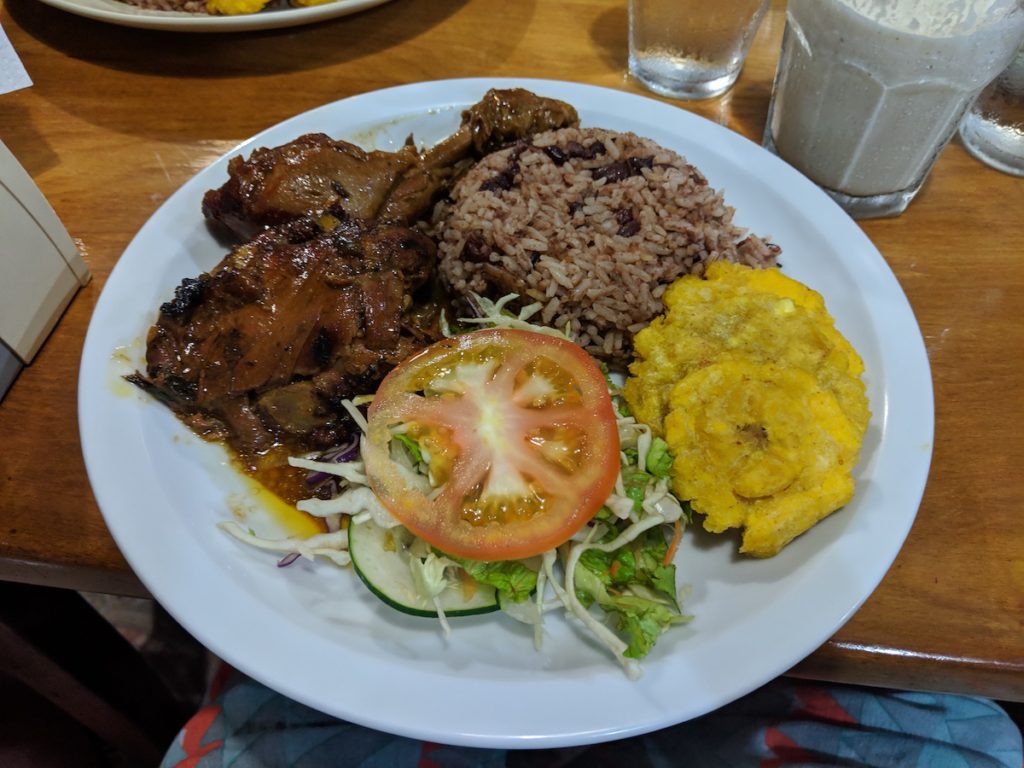 Eat all the delicious Costa Rican food. No seriously. The food in the Carribean Coast was definitely better than what we had on the West Coast. Food seemed to get tastier as we moved from West to East.
Traditional Costa Rican dishes that we recommend trying are:
Casados – Casado means marriage. It's a dish made of many food items and each area serves casado in their unique way. Most coastal casado will be made with fish and seafood while casado near the volcanoes and in-land area made with pork or steak.
Ceviche – Ceviche is sold almost everywhere in Costa Rica. It was not my favorite but worth trying at least a few times during your trip.
Chifrijos – This dish is a rice and bean bowl topped with crispy pork (chicharrones) and salsa. It's eaten with tortilla chips and was my favorite. It definitely reminded me of a Chipotle bowl. I ate like 20 of these.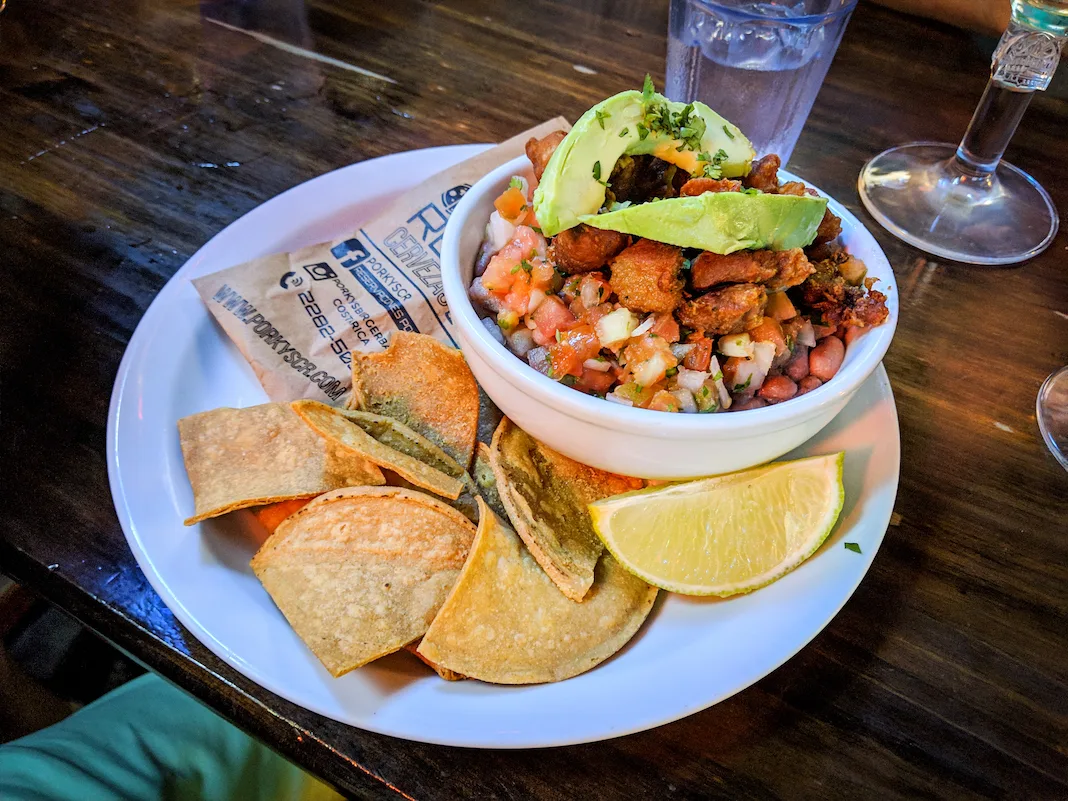 Naturales – Naturales are fruit beverages that are can be made with milk or water. Fruits that are used include soursop (guanabana), banana, passion fruit, mango, papaya, orange, and papaya. Most places will let you choose up to 2 fruits in your naturales.
Patacones – Fried, flattened plantains that can be eaten alone, with salsa or topped with a variety of toppings.
Rambutan – Known as mamon chino, this hairy fruit is the lychee's formidable cousin. They're sold on the roadsides and are really cheap. You can get 1 kilogram (2.2 pounds) for 1,000 colónes ($1.70 USD). In the US, a 1/2 pound of Rambutan will cost $10 USD.
Rice and Beans – This is a staple and almost every restaurant and hotel will serve it throughout the day. Many places will serve rice and beans in a traditional breakfast with cheese.
Steak – We found the BEST steak at La Fortuna Pub. It's a special on the chalkboard so you might not experience it year-round. We tried steaks at other establishments but the one at La Fortuna was beyond remarkable. Always ask for chimichurri when you order your steaks. The chimichurri is wildly fresh in Costa Rica.
Seafood – The seafood on both coasts was delicious. Our favorite places in Tamarindo were Dragonfly and The Shrimp Hole. On the Caribbean Coast, we loved Stashus Con Fusion. When we left San Jose, we ate a Caribbean fare one last time at Gilligan's and we were BLOWN away. Food is fresh and made to order everywhere you go.
Sopa Negra – Black bean soup that is served with a side of rice. It was tasty but nothing remarkable.
Winston Churchill – This is a Costa Rican dessert that looks like a snow cone topped with condensed milk. It was named after a man who created the dessert and also resembled Winston Churchill. You can get this dessert on the street or at McDonald's.
Caribbean Food – Head over to the east coast to dine on the Caribbean influenced fare. I loved Soda Lidia's and Stashus.
https://www.instagram.com/p/BpnWDWqh6nv/
Travel Tips
Use the term "Pura Vida" everywhere you go. It translates to "pure life" in English and is utilized like the word "Aloha" in Hawaii. Saying Pura Vida brings a smile to my face each time I hear it.
The currency in Costa Rica is the colón(es). $1 USD is equivalent to ~600 colones.
Most establishments will include a 10% service charge or tip in your bill, which is considered generous in Costa Rica. Do not tip more, especially if you're paying with credit card, because it will not go to the employees but to the owner.
Most places take credit cards, but bring some cash just in case. We withdrew money from a bank ATM. Banks that you can withdraw from are Banco de Costa Rica, Banco National de Costa Rica, and Citibank Costa Rica.
There will be poor people who will beg you for money. Do not give them money. Instead, give money to organizations that help low-income people in Costa Rica. UNICEF is a great organization. You can also choose to donate to a local organization such as Amigos of Costa Rica or the Costa Rica Humanitarian Foundation.
If you don't have money to give, consider volunteering to help children or animals in the sanctuaries. Certain organizations will require a 2-4 week commitment. Email the organizations to see what their requirements are.
People warned me that the Caribbean Coast would be a little less safe, but I did not experience anything out of the ordinary during my trip. I would still be mindful of my belongings while traveling.
Transportation
Airports: Fly into Daniel Oduber Quirós International Airport AKA Liberia Airport (LIB) or Juan Santamaria International Airport (SJO). Tickets from Seattle to Costa Rica were $1,200 for two people. We used our Alaska Airlines companion fare to reduce our tickets to $890.
Once in Costa Rica, I recommend renting a four-wheel drive car to get around. Explore the beaches of both coasts, Volcano areas and spend a few days in San Jose. We booked with Economy Rent a Car. From coast to coast, it will take you about 6.5 hours of driving to complete.
You can also book a private driver which ranges from $80-$100 for a 2-3 hour ride to a destination of your choice. You can also book a driver for the entire duration of your trip if you prefer.
Lastly, you can opt to take a bus via Bookaway from destination to destination. This is the cheapest but also takes the longest. I have heard some rides taking as long as 15 hours.
Accommodation
We used Booking and Agoda to book our accommodations. In Costa Rica we stayed at AND recommend the following resorts:
Tamarindo Diria Condos – Easy access to the beach and cost $180 a night.
Hotel Mountain Paradise – We had the deluxe unit with a waterfall shower and a private heated pool. The only thing it lacked was a living room area but we hung out by the pool most of the day.
Are you ready to book your Costa Rican adventure? Thanks for tuning in! We can't wait to revisit Costa Rica again.
If you found our Costa Rica travel guide helpful, please share it on Pinterest. Thanks for your support!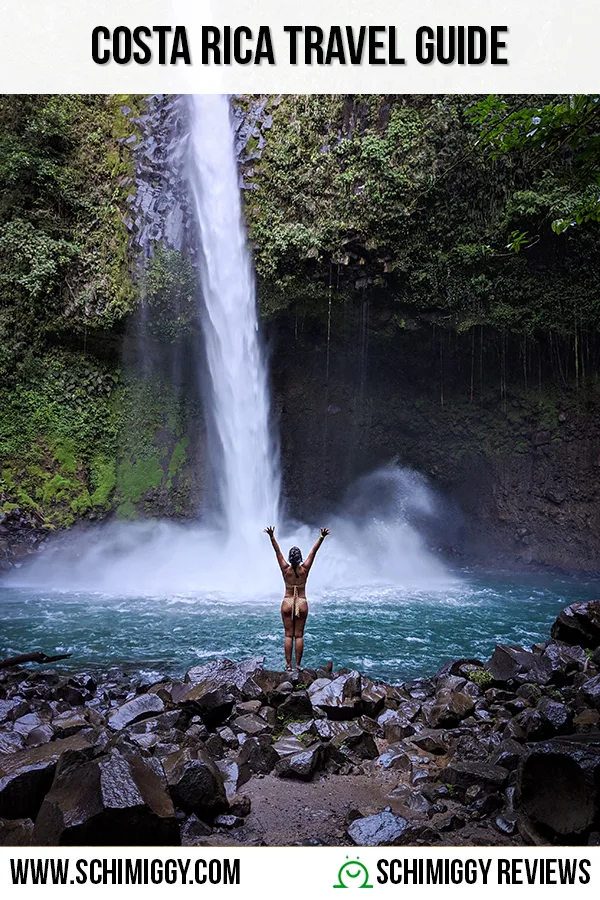 ---
Thank you for visiting today! If you found this encouraging or informative, please connect with us on Instagram, Youtube, Pinterest, Facebook or Twitter. We'd love to meet you!
Sign-up for our monthly newsletter for updates and more. We promise we won't spam you! Feel free to unsubscribe anytime.
For more fitness fashion discounts and offers, please visit our Fitness Instructor Discounts + Brands Directory or favorite brands coupon codes list.
If you're a brand and want to submit a product for us to review, please use this form to get in touch.
This site uses affiliate links. Clicking on or purchasing via an affiliate link may result in commissions for us which help keep the content flowing and lights on at Schimiggy Reviews. You may read more about this in our privacy policy.