Reading Time:
2
minutes
Here is our super quick and delicious beef and chicken pho recipe. If you're strapped for time, this recipe will allow you to have pho all week long without cooking for an entire day.
We use chicken as our base because it takes less time to cook and is just as yummy as 100% beef pho. And if you're not into beef, you can also leave out the beef ingredients and make a simple chicken pho broth.
We love using these ingredients in our pho recipe.
You can find this pho seasoning at Viet Wah in Seattle, Washington. Alternatively, you can also use this Pho seasoning which is easier to find online and in Asian markets.
Yield: 10 bowls
Chicken and Beef Pho | Vietnamese Noodle Soup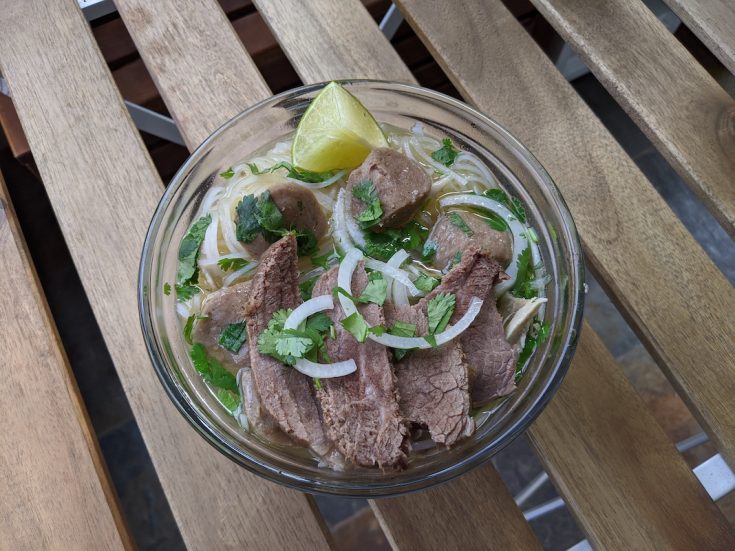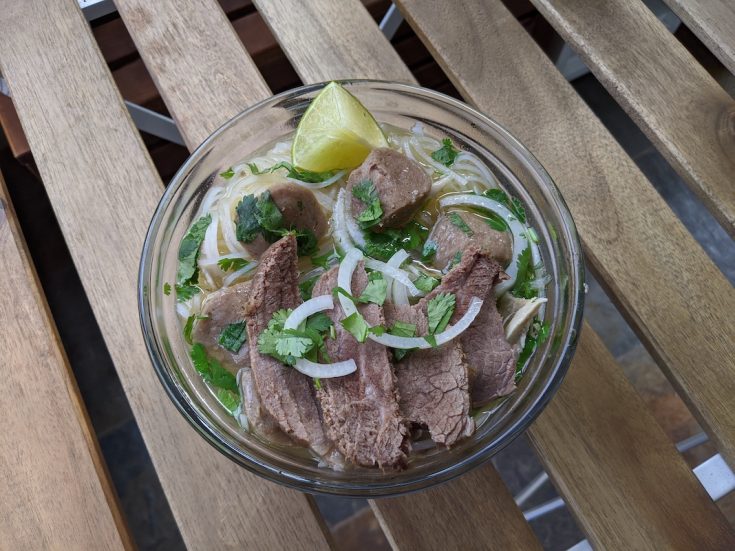 Beef pho can take a long time to cook (approximately 8 hours). If you're looking for something that is quicker yet just as delicious, try out our Chicken and Beef pho recipe!
Additional Time
10 minutes
Total Time
3 hours
30 minutes
Ingredients
Pho Broth
1 Whole Chicken
2 pound Brisket OR 2-3 pound Chuck Roast
1 pouch Pho Seasoning
2 bags Beef Meatballs
1 Yellow Onion
Rock Sugar (to taste)
Salt (to taste)
Fish Sauce (to taste)
Garnishes
1/2 Sliced Onion
Chopped Cilantro
1/4 sliced Onion in White Vinegar (chilled)
Hoisin Sauce
Sriracha Hot Sauce
Thai Basil
Bean Sprouts
Sliced Jalapenos
Pho Noodles (can be fresh or dry)
Lime Wedges
Instructions
Pho Broth
In a large 20 quart pot, add the chicken, whole onion (peeled), pho seasoning packet, brisket OR chuck roast, and fill with water until the ingredients are covered.
Bring the water to a boil and turn it down to medium heat. Set timer to cook for 2 hours.
At the 2 hour mark, use tongs to remove the chicken and place it aside to cool down. Turn the pot down to low-medium heat to continue cooking the brisket/chuck roast for another hour.
When the chicken has cooled (about 20 minutes), use your hands to shred the chicken meat off the bones. Throw the chicken bones back into the broth to continue cooking.
Slice the beef meatballs in half and add them to the pot.
Turn the heat to low and remove the Brisket/Chuck Roast and let it cool down. Once cooled, slice it thinly and set aside.
Remove and toss the seasoning packet, onion and chicken bones.
Season with salt, rock sugar and fish sauce.
Prepare the Bowls
Cook the pho noodles and add them to the bowl.
Top with beef and chicken meats, cilantro and sliced onions.
Use a ladel to cover with pho broth and serve with garnishes.
Notes
The brisket or chuck roast will impart the beef flavor that you'll typically find in traditional beef pho. The only difference is that this recipe takes 3 hours instead of 8.
You can add fish sauce to the stock pot or add it individually into your bowls while serving.
When using fresh pho noodles, use a strainer to dunk the noodles into the broth to cook prior to serving. You can also microwave the noodles for 1 minute, but we prefer to infuse the noodles with the broth by dunking it.
Did you enjoy our beef and chicken pho recipe? Please share it on Pinterest!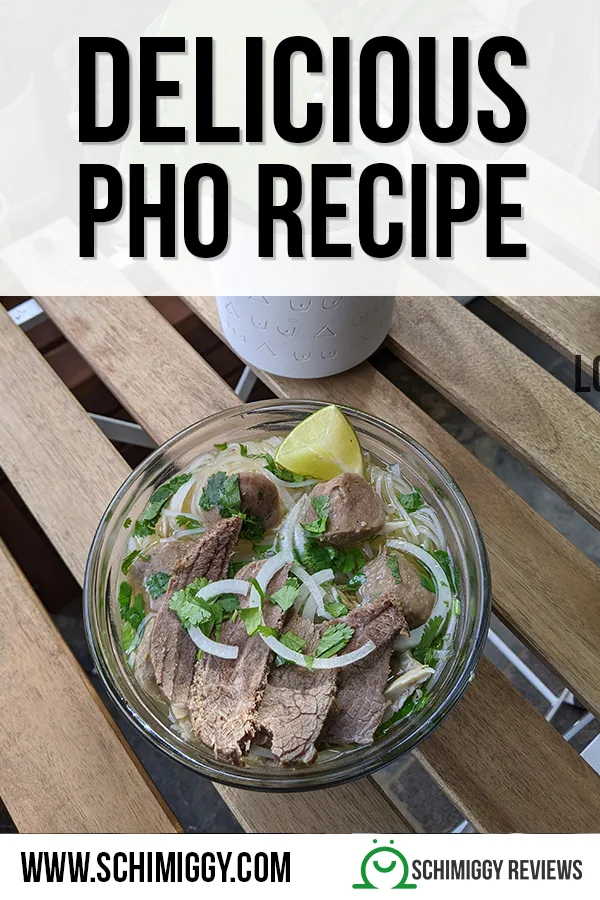 ---
Thank you for visiting today! If you found this encouraging or informative, please connect with us on Instagram, Youtube, Pinterest, Facebook or Twitter. We'd love to meet you!
Sign-up for our monthly newsletter for updates and more. We promise we won't spam you! Feel free to unsubscribe anytime.
For more fitness fashion discounts and offers, please visit our Fitness Instructor Discounts + Brands Directory or favorite brands coupon codes list.
If you're a brand and want to submit a product for us to review, please use this form to get in touch.
This site uses affiliate links. Clicking on or purchasing via an affiliate link may result in commissions for us which help keep the content flowing and lights on at Schimiggy Reviews. You may read more about this in our privacy policy.