Reading Time:
5
minutes
Current Carbon38 Deals
You can use discount code SHMGY25 for 15% off your first two orders. Shop now→

You can also check their sales section for regularly added products. Shop Carbon38 deals!
Updated: 6/5/2020 | Carbon38 Ribbed Leggings Review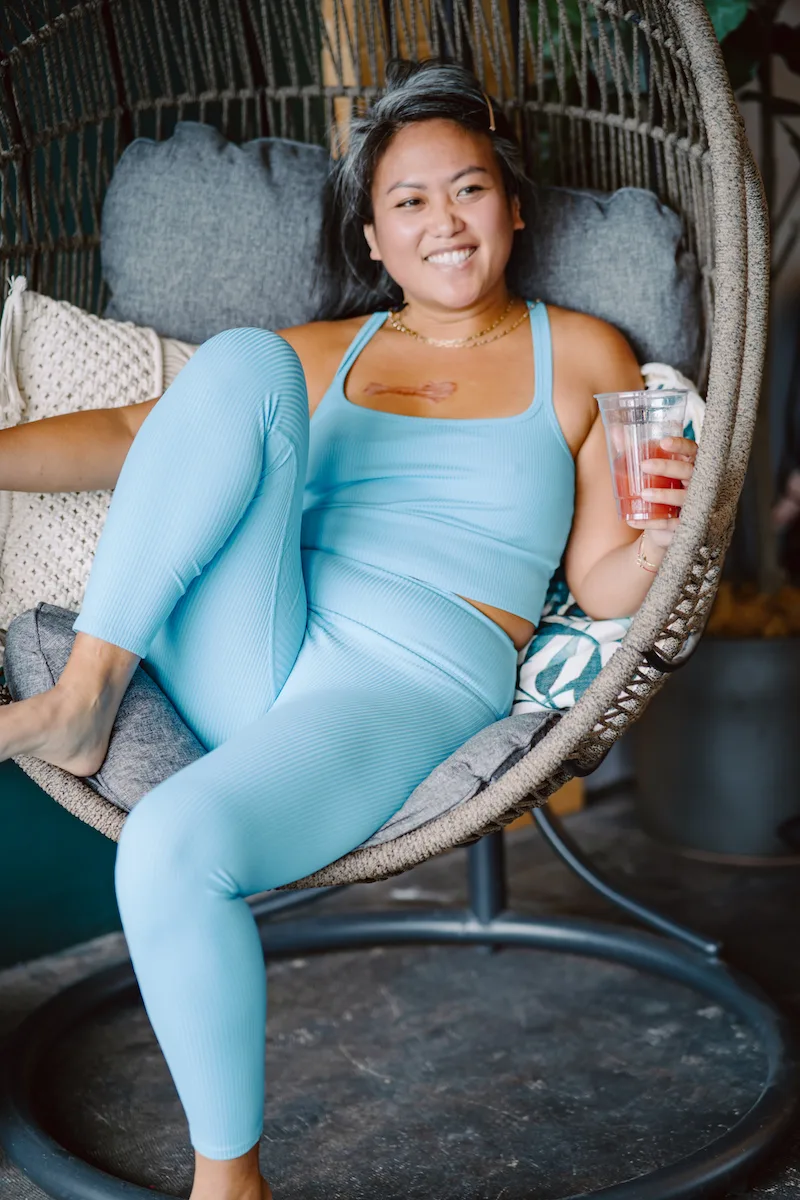 About Carbon38
Carbon38 is a women's high-end online athletic wear retailer that stocks fashion-forward fitness brands that include Alo Yoga, Lucas Hugh, Michi, K-Deer and more. They quickly become a fashion hub for the active woman looking for an alternative to lululemon or Nike.
Carbon38 also offers an in-house line of activewear and apparel and have quickly become popular with their own cult following of fitness instructors and enthusiasts. They also opened two physical stores in Bridgehampton, New York and Pacific Palisades, California.
Carbon38 Ribbed Leggings Review
Carbon38's ribbed collection has always been on my radar. When they released the Saffron (yellow) hue, I definitely had to add it to my closet. I was gifted the tank top and 7/8 leggings to review on the blog.
Let's see if their Ribbed collection is worth buying!
How do Carbon38 Ribbed leggings fit?
Based on their size chart, I went with a size medium in the Ribbed leggings. The medium was too big. I had to size down to my true size, a small. I am a size 6 in lululemon for reference.
We recommend going with you TRUE SIZE in the Ribbed collection.
The tank tops run small, so we recommend sizing up. I wear a medium in Carbon38 tops and bras.
What are Ribbed leggings designed for?
Ribbed leggings are made for high-impact workouts but can be worn for low impact workouts as well. They come with two side pockets to stow your belongings.
We wear our ribbed leggings for yoga and casual wear. It is not good for high-impact workouts which typically require more compression.
What is the inseam on Ribbed leggings?
The 7/8 ribbed leggings come with a 23″ inseam. The pant hem sits 2.25″ above my ankle and offers a lot of breathing room. I am 5'5″ for reference.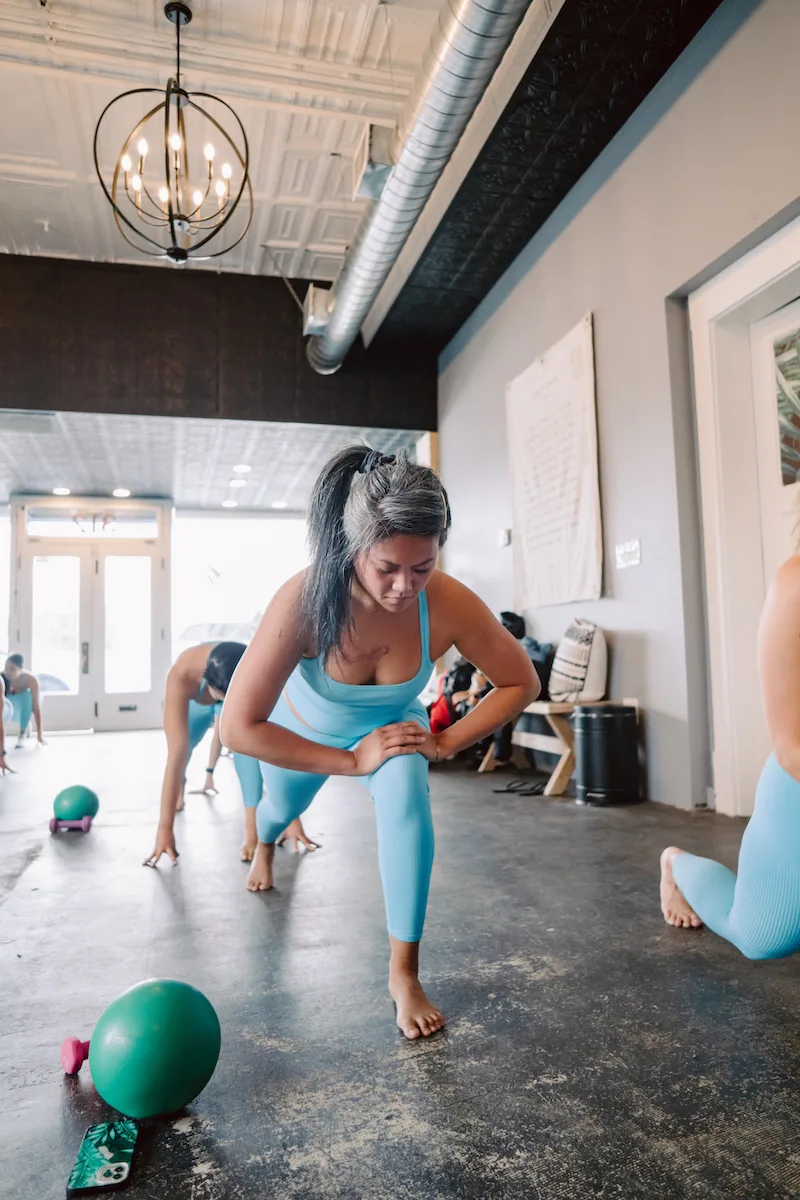 What is the rise of Ribbed pants?
Ribbed leggings come with a very high rise. The front rise is 11″ and the back rise is 12″.
How tall is the waistband of Ribbed leggings?
The waistband is very tall and measures 4.25″ and sits 2.25″ inches above my navel.
The waistband is constructed with a top seam to prevent slippage during wear. The top seam ensures that the leggings will stay put all day long.
Because the waistband is so tall, it may be unappealing for ladies with shorter torsos, as the waistband may ride up into the ribcage.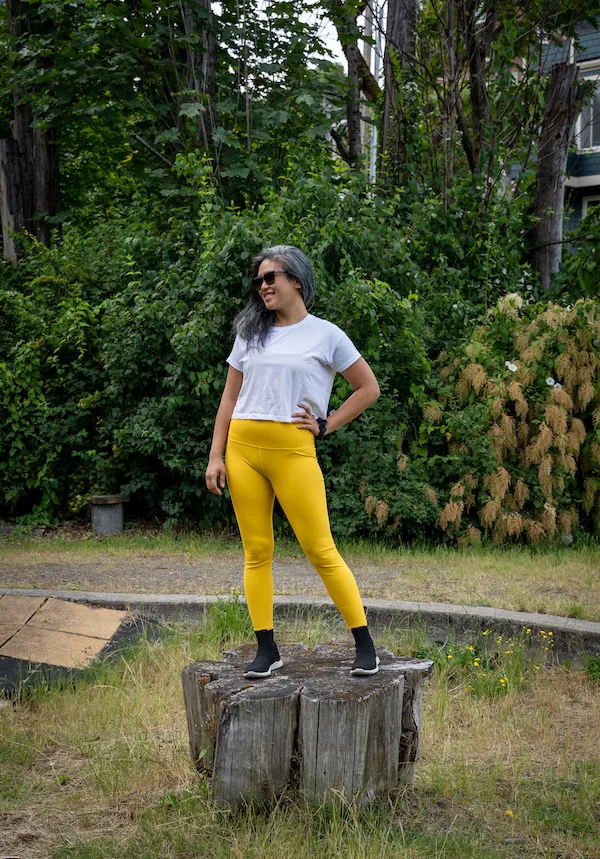 Carbon38 Ribbed Fabric Details and Features
Fabric Content: 79% Polyester, 21% Elastane – Made from sustainable materials.
Fabric Feel:

The fabric has a matte finish.
The fabric feels brushed, soft and smooth.

Fabric Performance:

Compressive performance fabric. Great for high-impact workouts and lend to their stay-put fit.
Durable fabric that will not pill.

Opacity: Leggings are unfortunately not opaque! The fabric is somewhat thin and shows the Visible Panty Line (VPL).
Fabric Features:
When should I wear Ribbed leggings?
Ribbed bottoms are perfect for low to high impact exercises. I also wear my Ribbed leggings casually.
The Ribbed collection also comes in different lengths with complementing products such as jackets, tanks and bras.
How much do Ribbed leggings cost?
Ribbed leggings cost $98. Tank top cost $78.
Do Ribbed leggings have a gusset?
Ribbed leggings come with a triangle-shaped, single-layered gusset.
The triangle is actually pretty large and provides a lot of coverage and movement.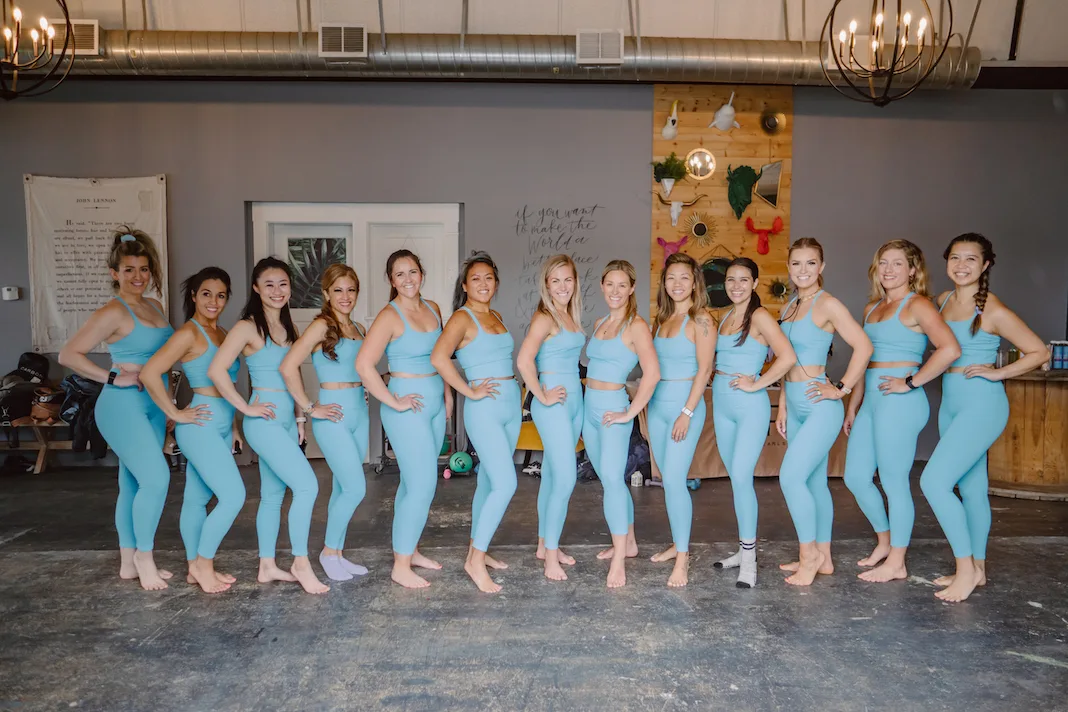 What type of seams are used on Ribbed leggings?
Flat seams are used throughout the pant including on one side of the bound elastic waistband.
Do the leggings have UPF protection?
Not disclosed.
Where are Ribbed leggings made?
Made in the USA. Designed in Los Angeles, California.
What are the care instructions for Ribbed pants?
Machine wash your pants in cold water and gentle cycle using gentle or sport friendly detergent. Wash with like colors.
Always hang or lay flat to dry. We hang dry on a foldable drying rack such as this one. We recommend avoiding drying in sunlight as well, as it may damage the fibers of the performance fabric.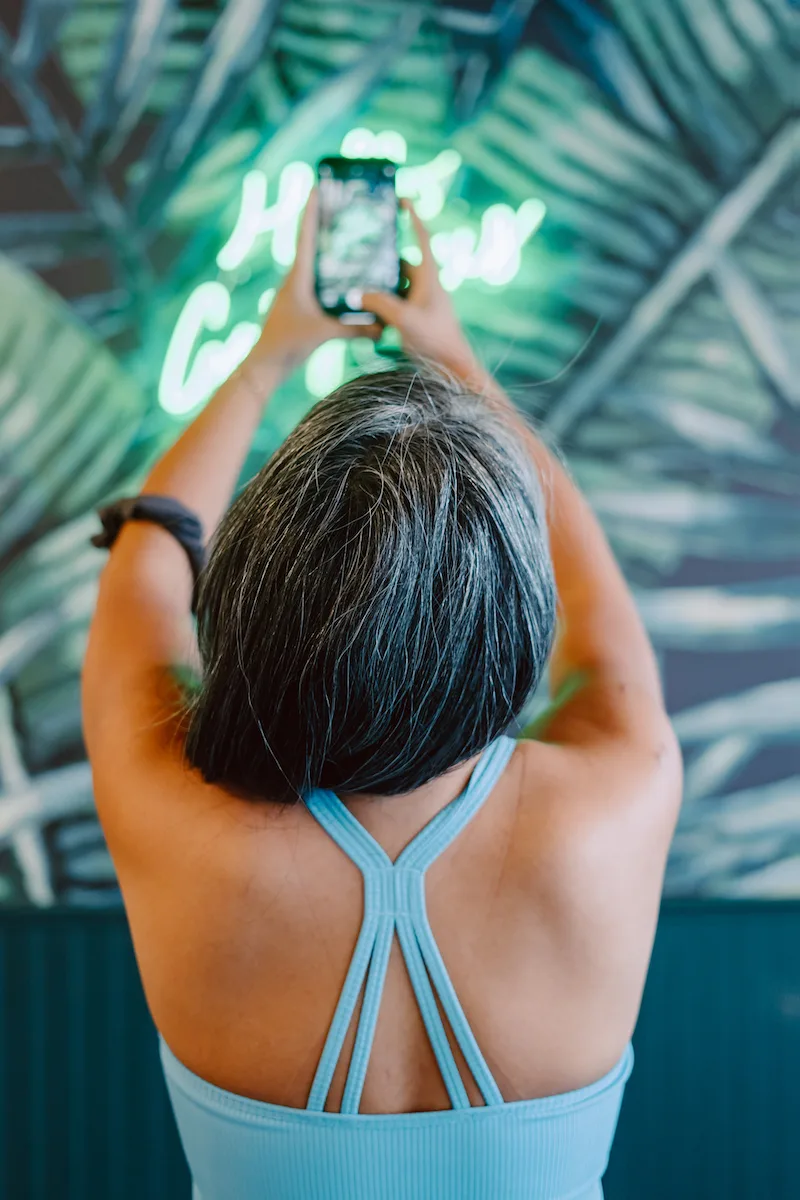 Should I Buy Carbon38?
YES! I love my Ribbed leggings. They're lightweight and feel cool to the touch, making them great Spring and Summer pants. The ribbed detail is also super subtle and I get compliments on my outfit all the time. The bright yellow color is also super fun to wear.
I wish the leggings did have pockets and that the fabric were more compressive. The outfit still looks very flattering. I feel happy wearing the bright yellow color.
The only gripe I have are that the leggings are see-through and can expose your VPL.
Carbon38 has released multiple collections that you should definitely check out. They create a select number of styles within each collection. The quality is excellent and everything looks absolutely sexy, strong and feminine.
Where to Buy Carbon38
Shop at Carbon38 and use code SHMGY25 for 15% off your first two orders. Enjoy free shipping AND returns on purchases of $200+.
You can also check out their sales section for awesome deals on Carbon38 apparel and other brands.
You can also find great Carbon38 deals on the following third-party marketplaces such as:
Mercari - Use code SYVFUT for $10 off your first purchase.
Poshmark - Use code SCHIMIGGY for $5 off your first purchase.
If you found our Carbon38 ribbed leggings review helpful, please share it on Pinterest. Thanks for your support!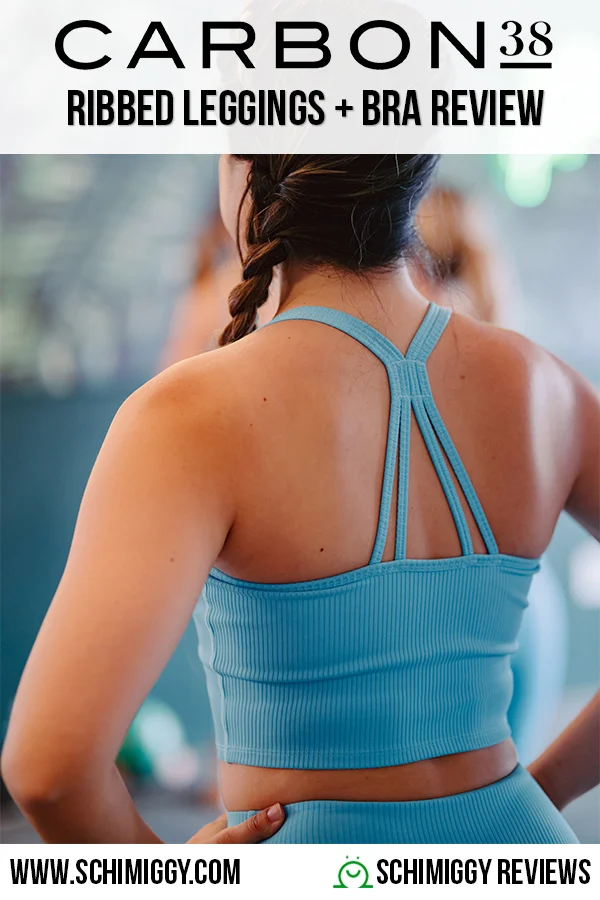 Thank you for visiting today! If you found this encouraging or informative, please connect with us on Instagram or TikTok.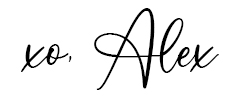 Sign up for our monthly newsletter for updates and more. We promise we won't spam you! Feel free to unsubscribe anytime.
If you're a brand and want to work with us, please visit this page to get in touch.