Reading Time:
10
minutes
Updated: 1/8/2020 | Best SUP Yoga Boards
Stand Up Paddleboard Yoga also referred to as SUP yoga is becoming more and more popular and it can be a great way to take your yoga practice outdoors.
SUP yoga takes your regular indoor yoga practice and makes the practice more challenging by taking your yoga onto the water and working on your balance.
Over the last few years, the price of stand up paddleboards has been decreasing, making it more affordable to own. To make it more portable and easier to transport, many brands also started offering inflatable SUP boards that come with storage bags and deconstructable oars.
In this article, we'll discuss the following topics around SUP Yoga:
Types of Stand Up Paddleboards
What are SUP Boards Made of?
What Size Paddleboard Do I need?
How to Care for your SUP Board
Types of Stand Up Paddleboards
Surf

Typically shorter with a narrow nose and tail.
Surf paddle boards are perfect if you are always going to spend your time in the surf.
The narrow shape makes the board much more maneuverable on a wave, but the trade off is that is that they are slower and don't track in a straight line on flatwater and are also often less stable.

Allround

These boards are typically thicker, wider and longer.
Are versatile and multi-purpose boards, making them great for first-timers.
Are wide enough to be very stable.
Has decent glide and tracking for flatwater paddling or open ocean touring, but also enough rocker and sidecut for decent surf performance.
Have a windsurf option on certain allround boards. Which means a mast foot fitting can sometimes be built into the board so that a sailing rig can be mounted.

Flatwater

Most flatwater boards are wide and long enough to be stable for beginners.
These boards are optimized for both flatwater and open ocean paddling.
They are typically longer than allround boards.
The boards have a nose that is pointed to help the board slice through the water smoothly.
The boards usually have rounded edges to increase glide and speed.

Race

Are narrower to increase the board's speed.
The narrow width of the board makes riding more challenging.
Not recommended for beginner paddlers.
What are Stand Up Paddle Boards Made Of?
#1 Solid Stand Up Paddle Boards (sSUPs)
Solid stand up paddleboards (sSUPs) are built of many different materials from foam, fiberglass, kevlar, plastics, and wood. Your board performance depends on what your board is made of.
Benefits of sSUPs:
No inflation time required. Take your board directly into the water and paddle!
Super stable on stronger wind or choppy water.
Provides the best performance regarding speed and agility or for doing tricks.
#2 Inflatable SUP Boards (iSUPs)
Inflatable stand up paddleboards (iSUPs) are manufactured from layers of military grade PVC plastic with woven fibers connecting to the top, bottom and sides of the board. Once inflated, the boards are surprisingly rigid.
Inflatable SUPs tend to be a little lighter than many sSUPs due to being comprised of mostly air.
Benefits of iSUPs:
Minimal storage space required as iSUPs pack-down into the size of a backpack.
Easily fit into the airplane, train and even small cars allowing you to travel abroad with your board.
Perfect for paddling in destinations that are not easily reachable by car or road. Some bags even have backpack straps for easy carrying.
More affordable than sSUPs.
What Size Paddleboard Do I Need?
Board volume and length are key factors when selecting the right size stand up paddleboard.
#1 SUP Volume
Use the formula below to estimate how much Volume you need in a board.
Beginners – your weight in (kg) x 2 (e.g. 90kg x 2 = 180 litres)
Intermediates – your weight in (kg) x 1.7
Advanced – your weight in (kg) x 1.3
#2 SUP LENGTH
Please use our SUP board length size guides below to find the best suited stand up paddleboard to you.
Surf Stand Up Paddle Board Size Guide
#3 COMPONENTS OF A PADDLE
A paddle for stand up paddle boarding consist of three parts:
Handle
SUP paddle handles are either ergonomically designed to fit the palm of your hand or offer a more straight "T-bar" feel.
The ergonomic handle design is more popular, but some people do prefer the traditional 'T bar' grip.
Shaft
The shaft is considered the most important part of the paddle, it can be made of Aluminium, Glass fibre, Carbon, and sometimes Kevlar.
The material of a paddle makes a big difference to the performance.
Carbon – Most common material, which provides the paddle with stiffness and memory.
Glass fibre – Budget material, which can bend more making a paddle softer in the stroke.
Aluminium – Rigid material, which can be heavy.
Kevlar – High impact resistance, which performs very similar to Carbon.
Blade
Stand up paddle blade sizes can vary from large to small. A large blade will displace more water in the paddle stroke and offer more power on demand.
However, in the hands of a beginner paddler, the larger blade size may disable them with shoulder pain over time.
As a rule of thumb, smaller blades are generally preferred in the surf and are gentler for all users, ladies especially. Larger blades are used more in distance or downwind paddling.
HEIGHT OF PADDLE
To maximize your performance and comfort on water, you need to have the correct stand-up paddle length and height. The type of paddling you choose to do will determine your paddle height.
Surf SUP paddles: Usually between 6-8 inches above the paddlers' height due to lower stance taken in surfing.
Flatwater SUP paddles: Usually between 8-10 inches above the paddlers' height for better reach and power in each stroke.
Racing SUP paddles: Usually between 10-12 inches above the paddlers' height for maximum reach and power in each paddle stroke needed to increase speed.
If you want to stand up paddleboard in both the surf and on the flat water, you can either buy two paddles or buy an adjustable one.
Best SUP Yoga Boards…as Chosen by Teachers!
#1 BOGA | Georgina Shaffer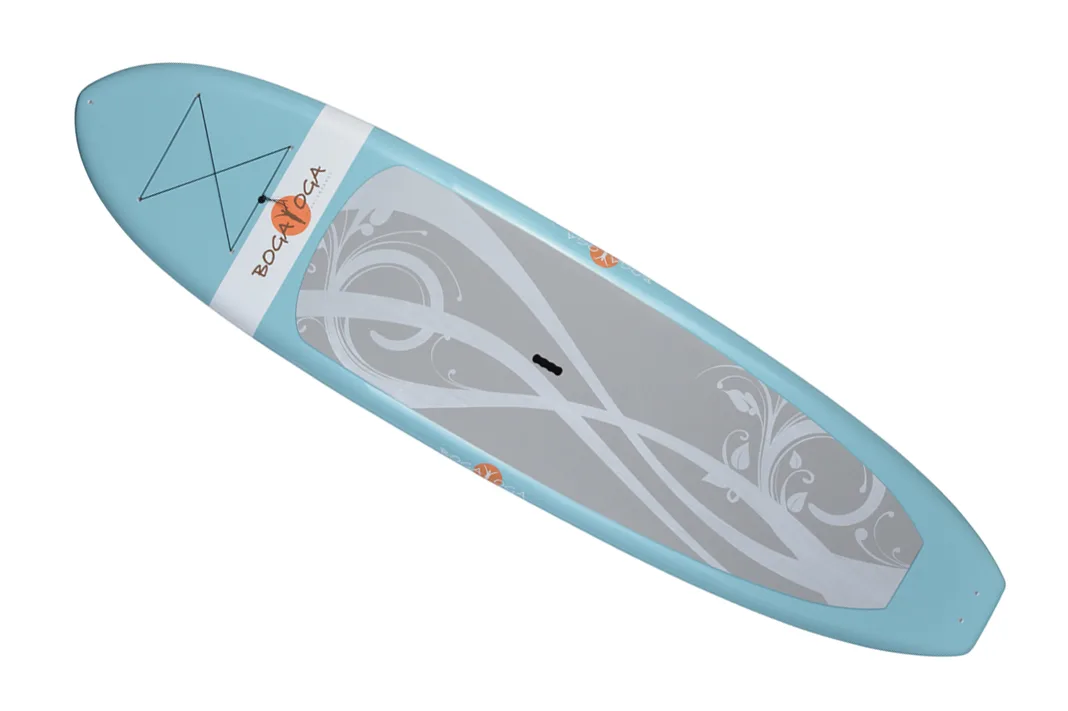 Georgina Steaches not only SUP Yoga but also an Indo Board and yoga wheel expert in Northern Washington state.
She highly recommends BOGA YOGA boards and uses the YOGA BLUE board to teach her SUP Yoga classes. She recommends this board because it's stable and durable.
She is also a BOGA YOGA ambassador.
Connect with Georgina: Instagram
---
#2 Jimmy Styks Scout Paradise Surf Hybrid | Valerie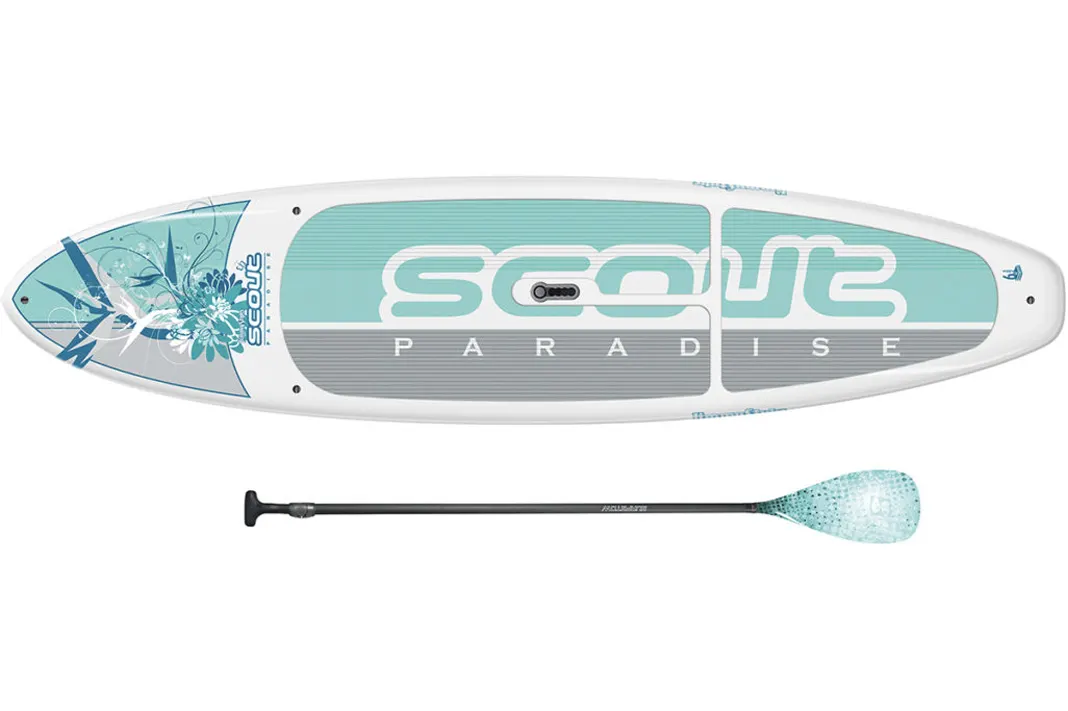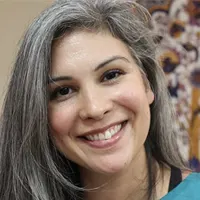 Valerie is a SUP yoga teacher and teaches SUP basics. She is also the owner of Transcending Yoga in North Carolina. Her board of choice is Jimmy Styks Scout Paradise Surf Hybrid.
Valerie also recommends Isle inflatables for SUP yoga, as they have a very good reputation for affordability and durability. However, she does mention that BOGA inflatables are the best for SUP yoga.
Connect with Valerie: Website | Facebook
---
#3 Red Paddle Co. | Keely Maroney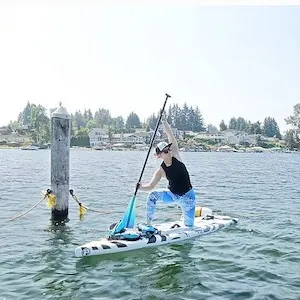 Keely Maroney is a SUP yoga and paddleboard instructor based in Seattle, Washington.
She recommends the Red Paddle Co for inflatable SUP boards and Pau Hana for hard-bodied SUP boards. She states that Red Paddle is her favorite because they're lightweight and easy to transport.
You can practice various forms of fitness with Keely. Catch one of her Tabata, yoga or HIIT classes!
Connect with Keely: Instagram
---
#4 Blue Planet Polynesian Voyager SUP | Kelsey Barden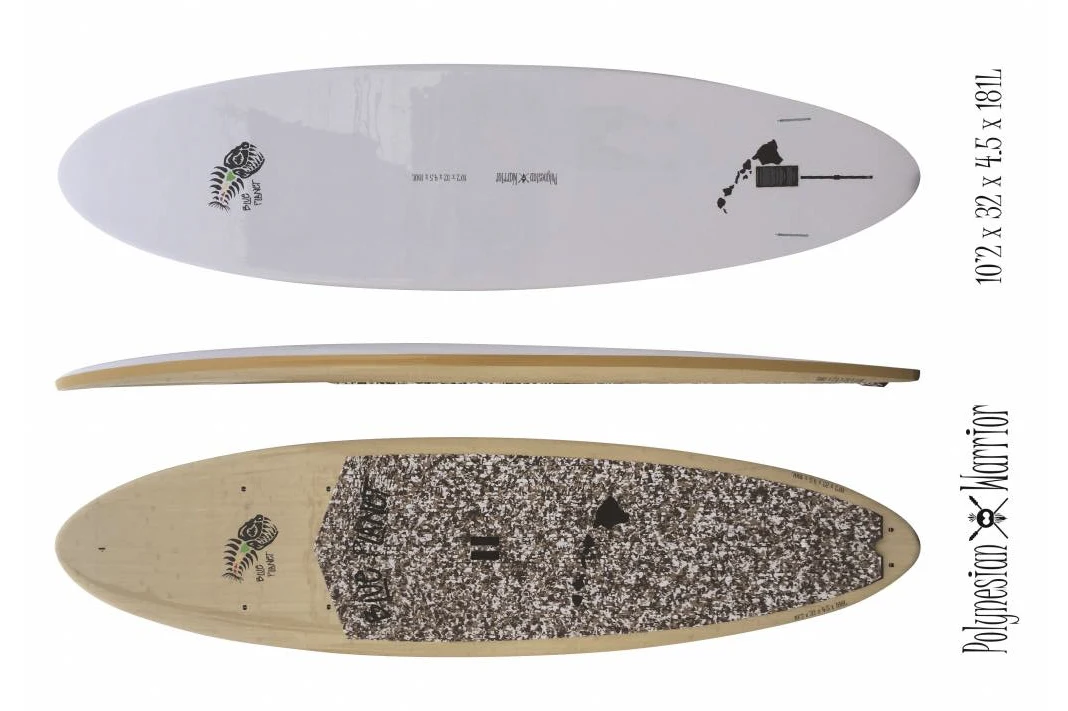 Kelsey Barden is the founder of Yoga Floats, a SUP yoga business located in Honolulu, Hawaii. Kelsey uses boards from a local company, Blue Planet. Kelsey states that "Since we focus on SUP yoga, we use their largest and most stable board, the Polynesian Voyager."
She highly recommends these boards because they use a Tuf Tech coating, which makes the boards very durable and great for a rental fleet. If customers accidentally drop the board, they remain undamaged.
You can buy a the Polynesian Voyager SUP board ($999) directly from
Blue Planet
.
Connect with Kelsey
:
Website
|
Facebook
|
Instagram
---
#5 Pau Hana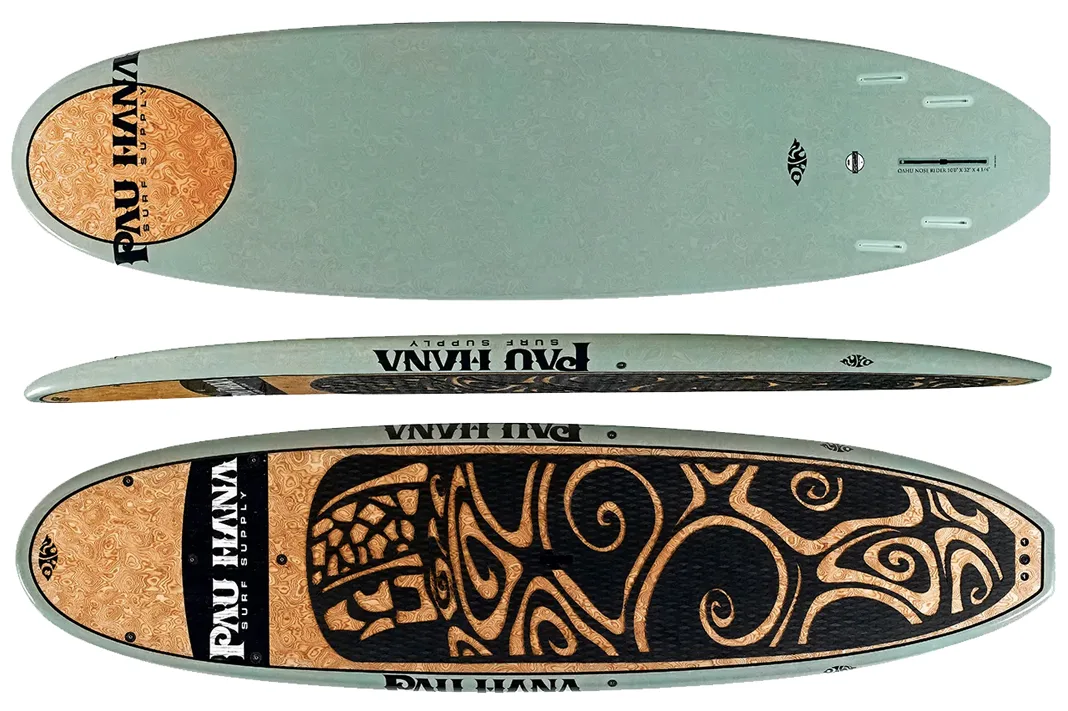 Carly Norwood of Catalyst Yoga NW teaches SUP and indoor yoga in Northern Seattle. She recommends the Pau Hana Oahu board because it's sturdy and handles great on lakes and the ocean. Not to mention the design is also beautiful.
It displays a tribal Maori design that is is representative of Pau Hana or the "time after work." Pau Hana is considered a time for relaxation and socializing with friends and family, which is what most of us do when we get home from work.
Connect with Carly: Website | Facebook | Instagram
---
#6 Hala Asana | Lindsay Lambert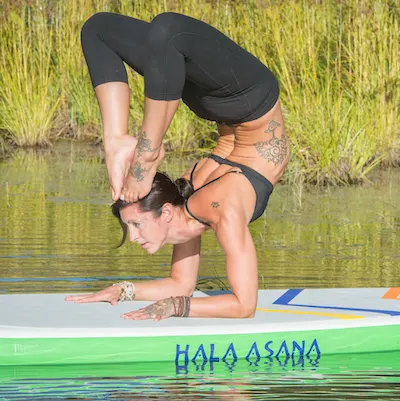 Lindsay Lambert is a SUP yoga instructor based in Seattle. Her favorite SUP board is the inflatable Hala Asana.
Quality inflatables are my go-to since the PNW weather is quite cold and dreary 9 months of the year. They can be deflated then rolled up to be stored in a backpack.
Hala puts out only high-quality and durable inflatable paddle boards that are created to last many seasons on the water.
Fitness has always been apart of my life from a very young age, especially water fitness. Then I began my yoga journey about 10 years and fell in love with vinyasa. 5 years ago I certified in SUP Yoga and Paddle Fitness so I could start offering water-based classes to my community. I love having this balance of land & water fitness to my students!
---
#7 Blue Fin Inflatable SUP Board | Alex Tran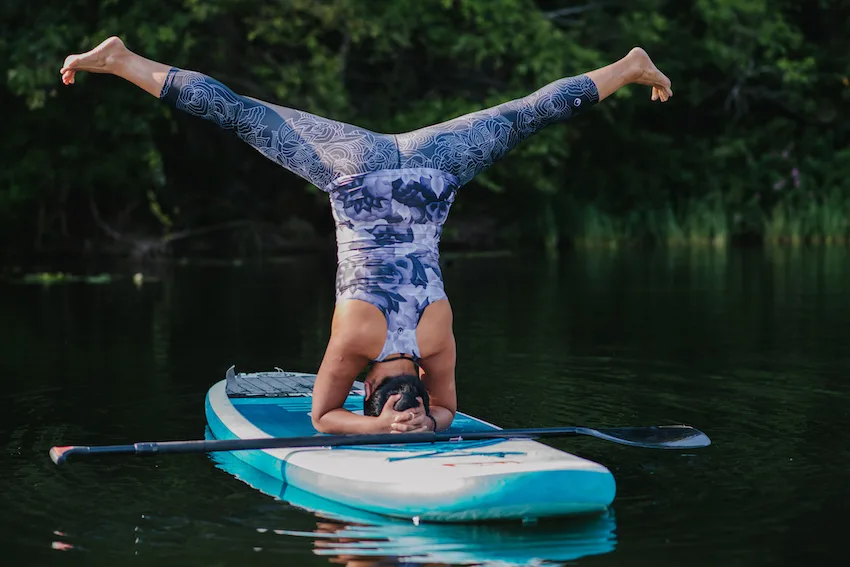 Alex Tran has been teaching yoga since 2015. She fell in love with SUP Yoga and got her certification in 2017.
Her board of choice is the Bluefin inflatable SUP board. Living in Downtown Seattle, she finds that inflatable boards are easy to transport as well as store.
Read her full review of the Bluefin SUP board.
Alex also manages the Schimiggy Reviews website!
Connect with Alex: Website | Instagram | Facebook
---
SUP Board Accessories
So you already have a sup board? You should consider these accessories too!
#1 SUP Leashes
While not always required, a leash is a good idea as it is what keeps you attached to the board if you fall off. Stand up paddleboard leashes are especially useful in choppy conditions or when catching waves.
There are two types of leashes:
Coil: This leash is designed to stretch out when under tension (ensures your board is at safe distance when you fall off) and to coil up compactly when paddling. This helps prevent the leash from dragging in the water.
Standard: This is a regular cord leash similar to surfboard leashes. These are less likely to tangle if you are moving around on the board. They will drag in the water but are usually lighter than a coil leash.
Leash Length
A general rule of thumb is to have a leash as long as your board. For stand up paddle that can get pretty long. Depending on your skill level and paddle style this can vary. A leash that is within a couple of feet of the length of your board will usually do the trick.
Longer: Allows the board to float further away reducing risk of the board hitting you. Good in choppy or surf conditions.
Shorter: Keeps the board closer to you if you fall off. Often preferred in flat water as there is a much lower risk of a wave pushing the board into you.
Shop for SUP leashes.
#2 Buoyancy Aids
A buoyancy aid is important even for experienced paddlers.
Conditions can change quickly and you always want to be prepared. In some areas, paddlers are legally required to have aids or you can get fined. Check local laws prior to boarding.
Buoyancy aids should also always be coast guard approved to ensure that they meet safety standards.
#3 Wetsuits
A good wetsuit can allow you to extend the paddle season well past the warm days of summer and even into the cold winter. You can add booties, gloves and a hood to still get out even in the winter conditions.
The warmth of a wetsuit is determined by its thickness which is measured in millimeters.
You will want to know the water and air temperature you will be in to help determine what is right for you.
Shop for Men's SUP Wetsuits and Women's SUP Wetsuits on Amazon.
How to Care for Your SUP Yoga Boards
Once you have bought your new stand up paddleboard equipment, the guidelines below will help you maintain and extend the life of your gear.
Store your SUP equipment out of the sun, in a dry and shaded area.
Transport your SUP board and paddle in a protective bag to prevent damage.
Be careful putting the board in the water and taking it out. There may be rocks or other sharp objects when putting your board down.
Be careful when you are paddling and avoid any obstructions that can damage your board, paddle, or fin.
If you have a vent plug, close it when you go out on the water. This will stop water from getting into your solid SUP board and damaging the foam core.
If you have a vent plug, open it when you are storing your solid SUP board. This will stop pressure building up inside and prevent your board from blowing up.
Wash your SUP equipment after going in salt water, be sure to get the fin boxes, slider nut and screw, as well as the deck pad.
Regularly check for dings and cracks on your board and paddle.
Be especially aware of your board's nose and rails. Those are the two most common areas that get damaged.
If you find anything that has the potential to let water into your SUP board, get it taken care of immediately. We offer products like ding tape that provide a temporary patch if it is not serious damage or if you are not able to repair it right away.
Final Thoughts
We hope this article was helpful in helping you choose the best SUP yoga boards for your practice.
While there are many factors to consider, it is helpful to know which ones are chosen and vouched for by the SUP yoga community.
What boards are you considering? Let us know in the comments section! We'd love to hear your thoughts as well as which SUP yoga boards you decide on.
Did you enjoy our Best SUP Yoga Boards post? Please share it on Pinterest!
Thank you for visiting today! If you found this encouraging or informative, please connect with us on Instagram or TikTok.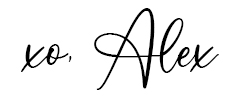 Sign up for our monthly newsletter for updates and more. We promise we won't spam you! Feel free to unsubscribe anytime.
If you're a brand and want to work with us, please visit this page to get in touch.