Reading Time:
3
minutes
Updated: 5/29/2023 | Best Places to Get Boba in Seattle
Those squishy brown and warm balls go by many names such as "QQ" in Chinese, boba, and tapioca pearls or pearls, or bubble tea.
There is something about sipping these chewy balls through an oversized straw. This Taiwanese beverage has become a favorite pastime for many worldwide.
Since it's induction in the 1980s, boba teas have evolved and can now be fund in novel flavors, toppings, additions and forms including: milk tea, fruit teas, cheese tea, smoothies, and slushes.
Here is our list of the best places to get boba drinks in Seattle.
Best Places to Get Boba in Seattle
#1 Don't Yell at Me
Address: 4511 University way NE, Seattle, WA 98105
#2 Oasis Tea Zone
Oasis Tea Zone opened in 2001 as a family-run business in Seattle's Chinatown/International District. Now Oasis Tea Zone has 5 locations and is known for their hip and late-night boba tea scene.
Pair their teas and smoothies with their crunchy popcorn chicken or chicken tenders and fries.
Join their loyal-tea program to earn free drinks and don't forget to come in for a free drink on your birthday!
Address: 519 6th Ave S, Seattle, WA 98104
#3 Rabbit Rabbit Tea
Address:
#4 Happy Lemon
Happy Lemon makes a huge variety of boba beverages. They are known for their fresh lemon, milk tea, fruit tea, and smoothies which use natural ingredients. They also make amazing bubble waffles that can be eaten with various sauces.
Watch our Happy Lemon video to see the awesome beverages and bubble waffle we got to taste.
Address: Various locations in Seattle, Bellevue, Kirkland, and beyond.
View this post on Instagram
#5 Boba Bar
Address:
#6 Tea Addict
Address:
#7 Sharetea
With over 300 stores internationally, Sharetea isn't exactly local, but each of its nine area storefronts benefits from ingredients imported directly from Taiwan.
Seasonal and specialty rotations keep things fresh, too. Their menus vary across locations, but the QQ happy family milk tea is an indulgent staple where you can choose six toppings, like jellies, lychee, boba, pudding, or red bean.
Address: 4730 University Way NE Suite #109-110, Seattle, WA 98105
#8 Ding Tea
Address: 4725 University Way NE, Seattle, WA 98105
#9 Tea King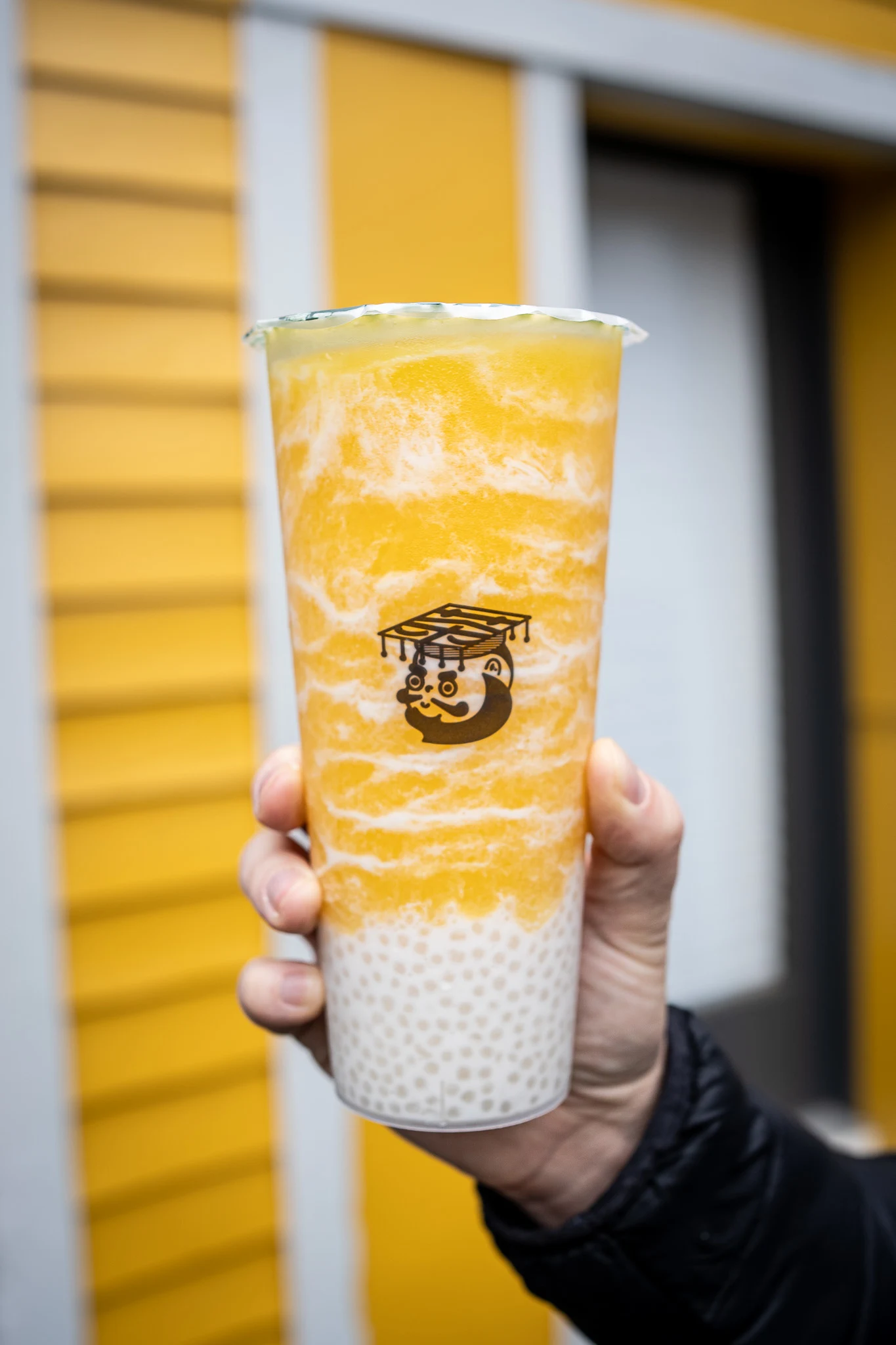 Tea King takes their boba game seriously and only offers teas and blended drinks made with real fruit and house-made syrups. You can also customize the ice and sugar levels to your liking.
We highly recommend trying their Mango Coco Sago (chewy tapioca balls), Matcha Match In the Clouds, Rose Milk Tea, Fresh Fruit Teas, and blended Just Watermelon slush when it's in season. Boba can be added to any beverage at an additional cost.
Address: 1600 Dexter Ave N Unit 202, Seattle, WA 98109
View this post on Instagram
#10 BobaBucha
Address: 1424 E Pine St, Seattle, WA 98122
#11 Atulea
Atulea is probably one of the cutest tea and coffee shops you'll ever step foot in.
Cofounded by husband and wife Vince Shi and Kathy Wang, this verdant spot prides itself on using local, natural ingredients. Cheese teas like peach jasmine and rose oolong are light and creamy with subtle fruity notes. Atulea's white tiles, leaf-print wallpaper, pink accents, and trendy wicker chairs make for a great photo backdrop, all the better for sipping one of the many masterful matcha beverages.
Address: 1715 12th Ave #100, Seattle, WA 98122
#12 DIY Tea
Address:
#13 Seattle Best Tea
Address:
And if you're up for it, try making your own boba milk tea at home. Use our delicious boba milk tea recipe. You'll be surprised at how easy it is to make your favorite beverages at home.
---
Thank you for visiting today! If you found this encouraging or informative, please connect with us on Instagram, Youtube, Pinterest, Facebook or Twitter. We'd love to meet you!
Sign-up for our monthly newsletter for updates and more. We promise we won't spam you! Feel free to unsubscribe anytime.
For more fitness fashion discounts and offers, please visit our Fitness Instructor Discounts + Brands Directory or favorite brands coupon codes list.
If you're a brand and want to submit a product for us to review, please use this form to get in touch.
This site uses affiliate links. Clicking on or purchasing via an affiliate link may result in commissions for us which help keep the content flowing and lights on at Schimiggy Reviews. You may read more about this in our privacy policy.