Reading Time:
5
minutes
Updated: 8/24/2022 | Best Aviator Sunglasses
What Are Aviator Sunglasses?
Aviator sunglasses have an iconic shape characterized by dark, sometimes reflective teardrop shaped lenses housed in thin monel, steel, or titanium metal frames with double (or triple bridge) and flexible cable temples that hook and can be bent to fit more securely behind the ears. Aviators are also referred to as the "pilot" frames.
Created by Bausch & Lomb (the creators of Ray Ban), the brand having already created special lenses designed to limit glare experienced by pilots in the Army Air Corps, began to create similar glasses for use by the general public.
In 1937, aviator-style metal sunglasses were introduced to the market and became very prominent in fashion and pop culture. Aviators have never gone out of style and remain a prominent sunglass silhouette to this day.
Below, we'll go over the best aviator sunglass brands that you should try.
Best Aviator Sunglasses
#1 Ray-Ban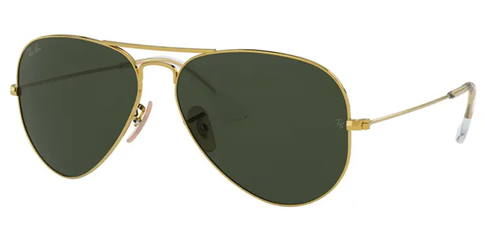 Ray-Ban has been in the eyewear game since 1936. They created frames that were initially used to limit glare and what we now call Aviator frames.
The design that helped Ray-Ban come to be, the Aviator, or otherwise known as the Pilot style, remains one of the brand's best sellers. The original Aviators featured the brand's signature G15 green lenses designed to reduce glare without obstructing the pilot's vision.
Shop the Standard Original 58mm Aviator Sunglasses ($161)
#2 Adidas Originals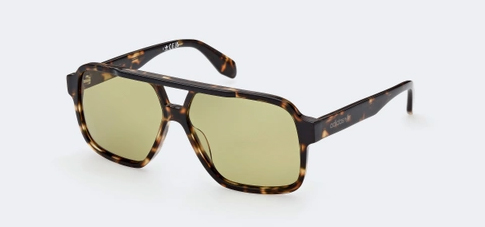 Adidas Originals creates unisex frames that are very high quality.
#3 Quay Australia
Quay is an Australian eyewear brand that is popular worldwide. Their sunglasses are affordable, fashionable, and a blogger and celebrity favorite.
Popular aviator styles from Quay include the High Key and All In frames.
#4 Gucci
Gucci is an Italian fashion brand that also makes amazing aviator sunglasses. Many of their frames will be decorated in their signature red and green pattern.
#5 Diff Eyewear
Diff Eyewear makes some of the most flattering and durable eyewear for women. Diff donates a pair of sunglasses with each pair of sunglasses purchased.
Popular aviator styles from Diff Eyewear include the Dash and Tate frames. See all their aviator style sunglasses here.
#6 Tom Ford
Tom Ford is an iconic American fashion designer. He is known for his sleek menswear and eyewear which includes aviator glasses and sunglasses.
#7 Michael Kors
Michael Kors is another American fashion designer who creates affordable aviator sunglasses.
They recently launched a pre-loved store where you can buy discounted and gently used MK products and keep fashion out of landfills.
#8 Dior
Dior is a French fashion brand that makes super chic sunglasses, apparel, designer handbags, and more.
We recommend Dior's mirror aviators which are their most popular silhouette.
#9 Carrera
Carrera is an Italian brand that is vary popular with race car drivers and car enthusiasts. Their bold aviator frames come in bright and fun colors.
#10 Warby Parker
#11 Persol
Persol is an Italian eyewear brand that is popular in pop culture and fashion. They were featured in James Bond movies. Some styles are foldable and super compact, making them great for travel.
Popular frames include the 649 original and Steve McQueen silhouettes.
#12 Randolph Engineering
Randolph Engineering makes aviator frames for men and women. Their styles are classic and the quality is reliable.
#13 Maui Jim
Maui Jim is a very popular eyewear brand. They have tons of aviator sunglasses to choose from.
#14 Prada
Prada is an Italian fashion brand that is known for their apparel, handbags, eyewear, and shoes.
#15 Top Foxx
Top Foxx is a sustainable eyewear brand. A pair of sunglasses is donated for each pair purchased. Their styles are bold and edgy.
Use this link to save 20% off your first order at Top Foxx.
#16 Saint Laurent
Saint Laurent (formerly known as Yves Saint Laurent) is a famous French fashion brand. Their Aviator frames are lightweight and look extremely chic.
#17 Giorgio Armani
Giorgio Armani is a classic Italian brand. They are known for their bold patterns and silhouettes.
And before you leave, check out this list of retailers where you'll be likely to find aviator sunglasses.
EZ Contacts – Use code SCHIMIGGY for 10% off.
WebEyeCare – Use code SCHIMIGGY to save 10% off of purchases of $150+
If you found our list of best aviator sunglasses helpful, please share it on Pinterest. Thanks for your support!
---
Thank you for visiting today! If you found this encouraging or informative, please connect with us on Instagram, Youtube, Pinterest, Facebook or Twitter. We'd love to meet you!
Sign-up for our monthly newsletter for updates and more. We promise we won't spam you! Feel free to unsubscribe anytime.
For more fitness fashion discounts and offers, please visit our Fitness Instructor Discounts + Brands Directory or favorite brands coupon codes list.
If you're a brand and want to submit a product for us to review, please use this form to get in touch.
This site uses affiliate links. Clicking on or purchasing via an affiliate link may result in commissions for us which help keep the content flowing and lights on at Schimiggy Reviews. You may read more about this in our privacy policy.