Reading Time:
4
minutes
Phở Bò (pronounced fuh-baw), or Vietnamese beef noodle soup, is iconic and delicious. It's traditionally a breakfast dish eaten in Vietnam. Many Phở restaurants in Vietnam will close by 2PM because people only eat it for breakfast. You may find certain vendors selling Phở later in the day but it is not common.
In my family, everyone has their own way of making Phở. People have different meat and seasoning preferences. Ultimately, it's really up to you and how you like your Phở to taste.
I love my Phở Bò with oxtail, brisket (chin) and meatballs (bò vien).
Here's our beef Phở recipe!
Yield: 12-15 bowls
Beef Pho with Ox Tail, Brisket and Meatballs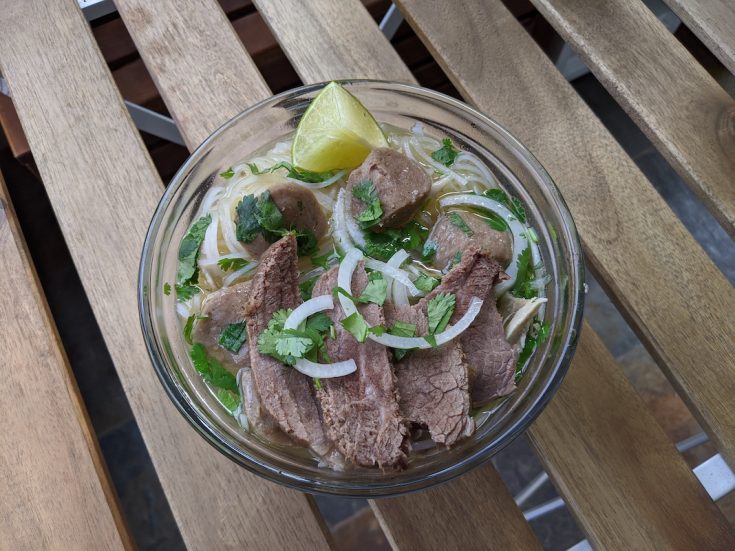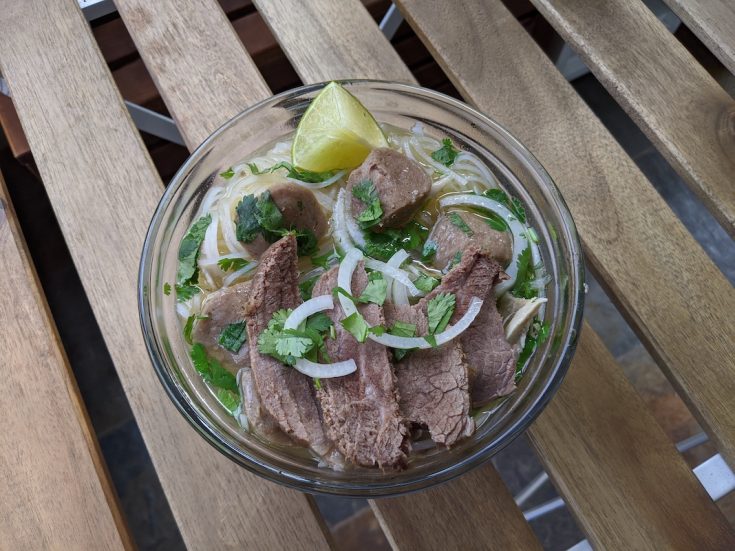 Enjoy this beef pho recipe on a cold day. We love eating our beef pho with brisket, ox tail and beef meatballs. The recipe is easy but the wait for the broth and brisket is worth it. We hope you enjoy our recipe!
Total Time
7 hours
50 minutes
Ingredients
Beef Pho Broth/Stock + Noodles
4 pounds Beef Bones (to make stock)
6-8 Oxtails (approximately 4 pounds)
2 pounds Brisket
1 whole Yellow Onion (peeled and head and tail cut off)
1 package of Pho Seasoning (Gia Vi)
2 bags of Beef Meatballs cut into halves
2 1/2 gallons of water
1/3 cup Rock Sugar
1 cup Fish Sauce
4 tablespoons of Salt
10 pound bag of fresh Pho Noodles
Garnish for Pho
1/2 peeled and sliced Onion
1 bunch chopped Cilantro
1 bunch chopped Green Onions
Vinegar Onions (optional pho garnish)
1/2 peeled and sliced Onion
3/4 cup White Vinegar
Other Garnishes/Sauces
Sriracha Hot Sauce (to taste)
Hoisin Sauce (to taste)
1 bag of Bean Sprouts
6 Limes cut into quarters or eighths
1 bunch Thai Basil
Instructions
How to Make the Beef Pho Stock
Preheat the oven to 425 degrees Farenheit (218 Celcius).
Place the beef bones and oxtail onto two separate baking pans and sprinkle with 2 tablespoons of salt.
Transfer the pan of bones and oxtail into the oven and cook for 1 hour. Set a timer.
Remove beef bones and place them in a large stockpot.
Add the pho seasoning satchel, brisket meat, onion, fish sauce, rock sugar, 2 tablespoons of salt and water to the pot.
Bring the pot to a boil on high heat.
When broth begins to boil, reduce the heat to low and continue to cook the broth for another 5 hours.
At the 5 hour mark, the pho broth should be pretty much ready. Turn the heat down to low.
Remove the brisket, let it cool down and slice it. Set the brisket aside.
Turn the heat off and let it cool down for at least 20 minutes.
Using a strainer or tongs, remove the onion and beef bones.
Leave the oxtail inside the stockpot and remove them only when you start serving your pho.
Add the beef meatballs and turn the heat back on to low. Cook for another 10 minutes.

Preparing the Pho Bowls
We use fresh pho noodles that you will have to blanch prior to serving.
Boil a pot of water. Add a handful of noodies into a strainer and blanch them for 30 seconds.
Remove the noodles and shake out excess water. Add to bowl.
Top the noodles with meat and garnish.
Using a ladel, add beef pho broth to the bowl.
Top the bowl with sriracha, hoisin sauce, vinegar onions and bean sprouts. Enjoy!
Notes
You can also make chicken pho using the same seasoning package. Chicken pho takes less time and is just as delicious. The chicken is typically cooled then shredded and added to the pho bowl when being served.
The longer you cook the soup, the more tender the brisket will become and the more flavorful your soup will be.
This serves at least 15 people. You can also refrigerate or freeze the broth to be eaten later.
Recommended Products
As an Amazon Associate and member of other affiliate programs, I earn from qualifying purchases.
Nutrition Information:
Yield:
15
Serving Size:
1
Amount Per Serving:
Calories:

935
Total Fat:

54g
Saturated Fat:

21g
Trans Fat:

0g
Unsaturated Fat:

25g
Cholesterol:

268mg
Sodium:

4768mg
Carbohydrates:

26g
Fiber:

2g
Sugar:

11g
Protein:

83g
Here are the ingredients that I use in my Phở Bò. You can find most of these ingredients in any Vietnamese grocery store (Siêu thị pronounced "seww tea").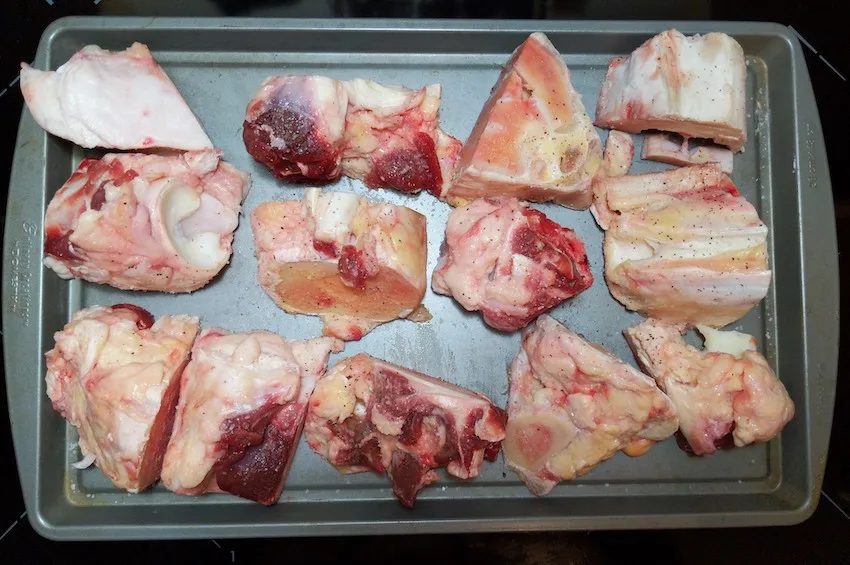 Place beef bones and oxtail on a baking tray and season with salt and pepper. Brown them in the oven at 425 degrees Farenheit for 1 hour.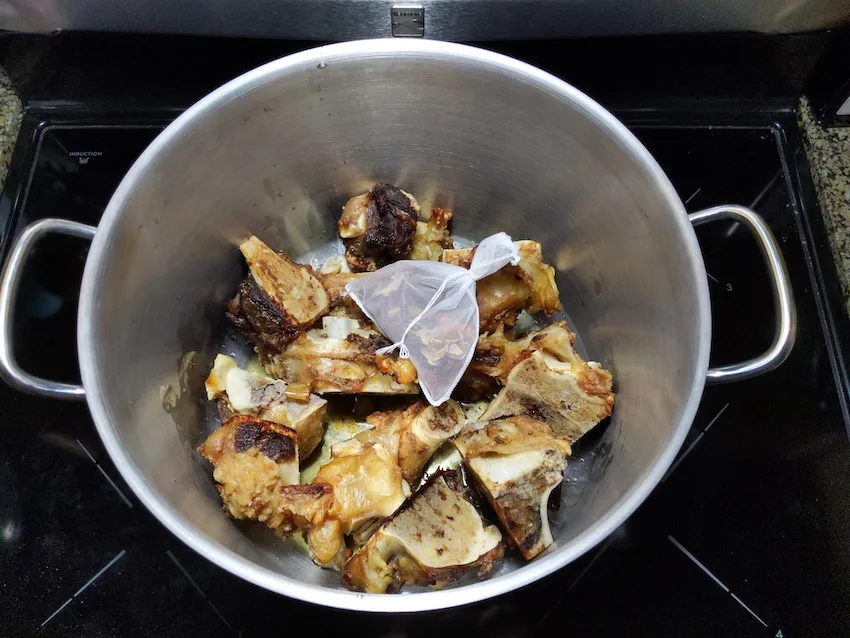 Place the browned bones, oxtail, seasoning packet, onion, fish sauce and pepper into a large stock pot. Fill with water and boil for 1 hour.
There are many seasonings, but this one is my favorite. You can also buy the seasonings separately and use fresh ginger.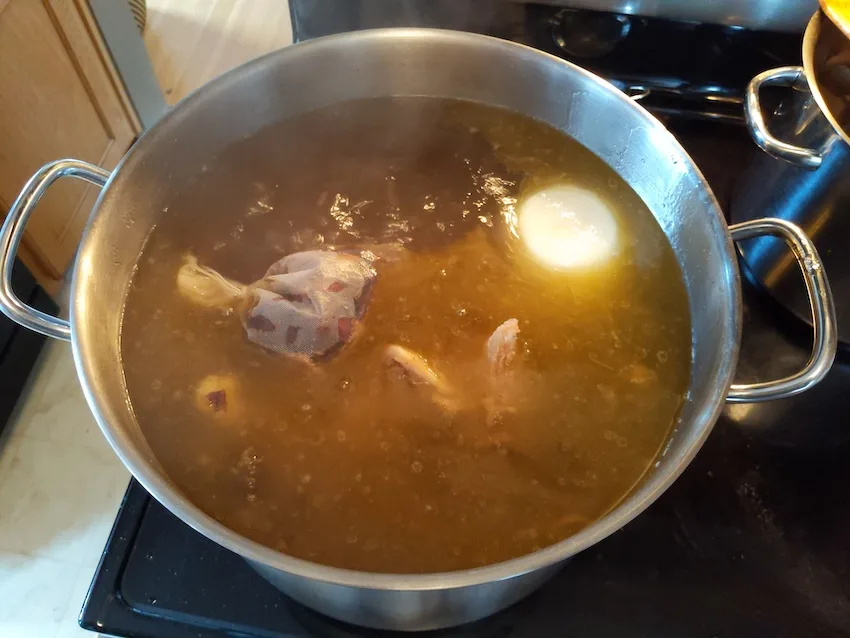 Once the pot has come to a boil, lower the temperature to medium and cook for another 5 hours. The broth will become more brown and flavorful as it continues to cook. If you want the broth saltier, add more salt and/or fish sauce and taste test throughout the next 5 hours.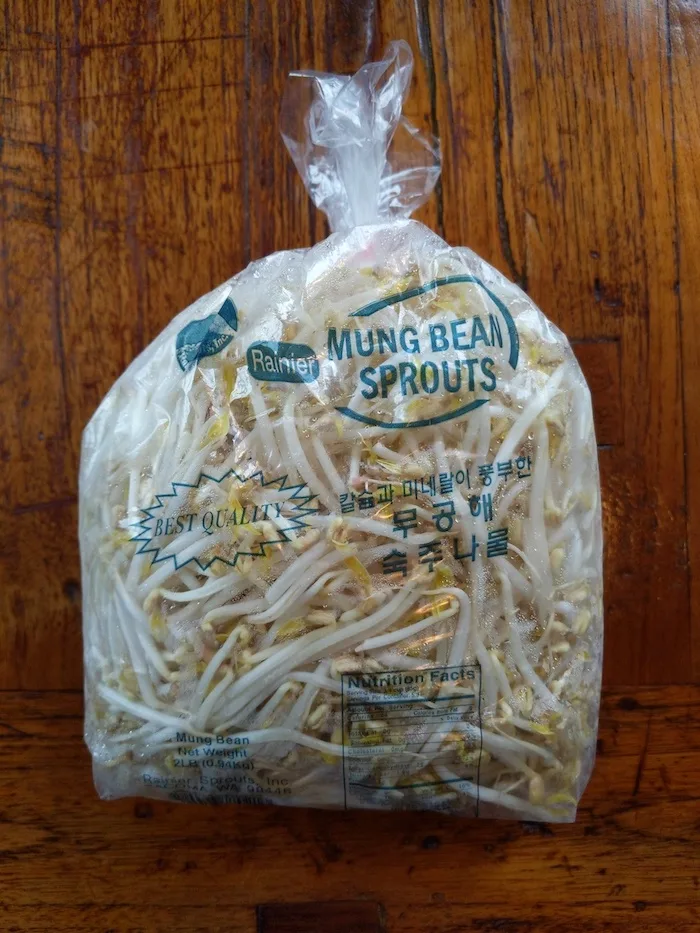 Bean sprouts are sold in a bag like this. You can also blanch the bean sprouts and serve them hot. Be sure to finish your bean sprouts ASAP becuase they can go bad very fast.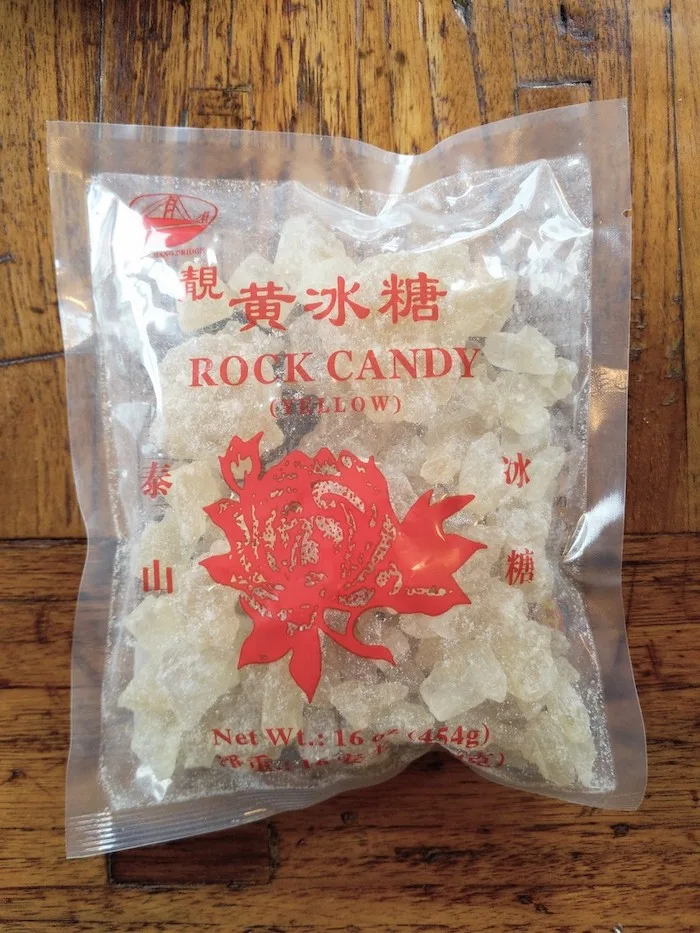 I use this rock sugar to sweeten my broth. You can also use very ripe pears or apples as a rock sugar substitute for the broth.
If you can't find this brand in your grocery store, you can opt for this brand instead.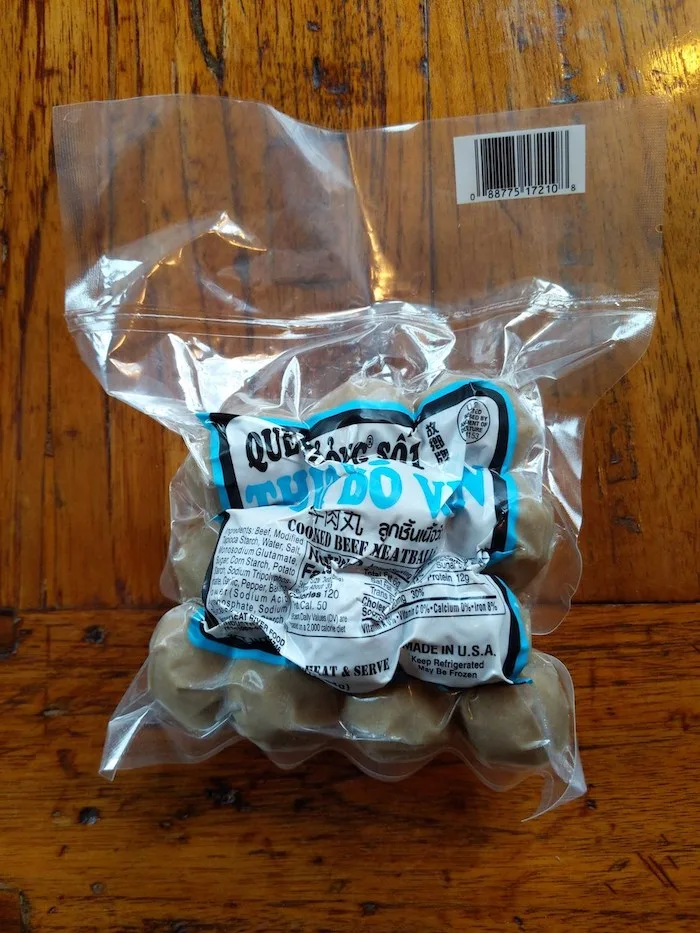 We don't make our own meatballs. Instead, we use these pre-made meatballs that puff up when you cook them.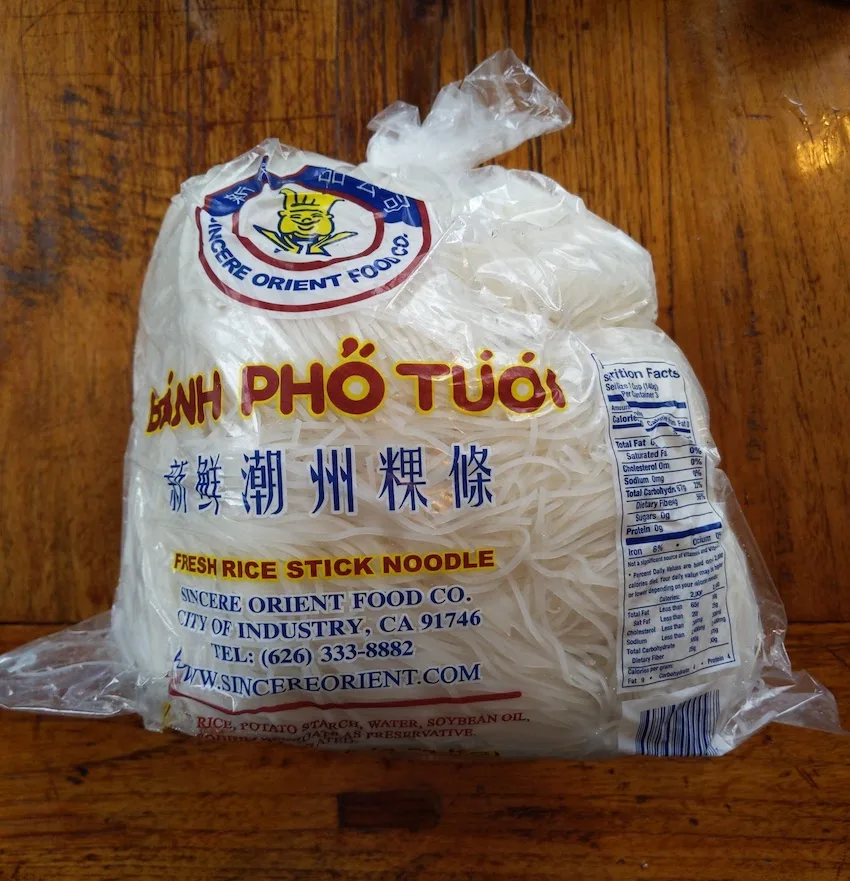 I love using fresh pho noodles! Just boil water and use a noodle strainer to blanch and soften the noodles prior to serving. You can find these noodles in most Vietnamese grocers. If fresh pho noodles are not available in your area, you can opt for dry pho noodles instead.
Fresh noodles are sold in different sizes. When cooking the noodles, take a grip full of noodles and cook them in the strainer.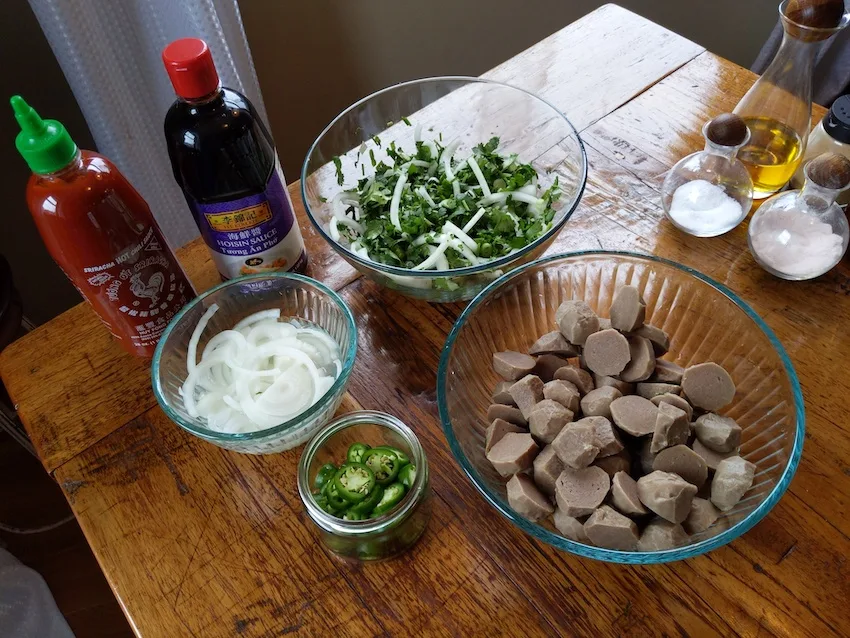 Here are some garnishes you'll be adding to your pho bowl once it's ready. Use hoisin sauce and Sriracha to add some flavor to your bowl. We forgot to include the Thai basil and bean sprouts in our spread above.
We hope you enjoyed our Phở Bò recipe. It will take some time to make, but we promise it will be worth it!
If you enjoyed this post, please share it on Pinterest. Thank you!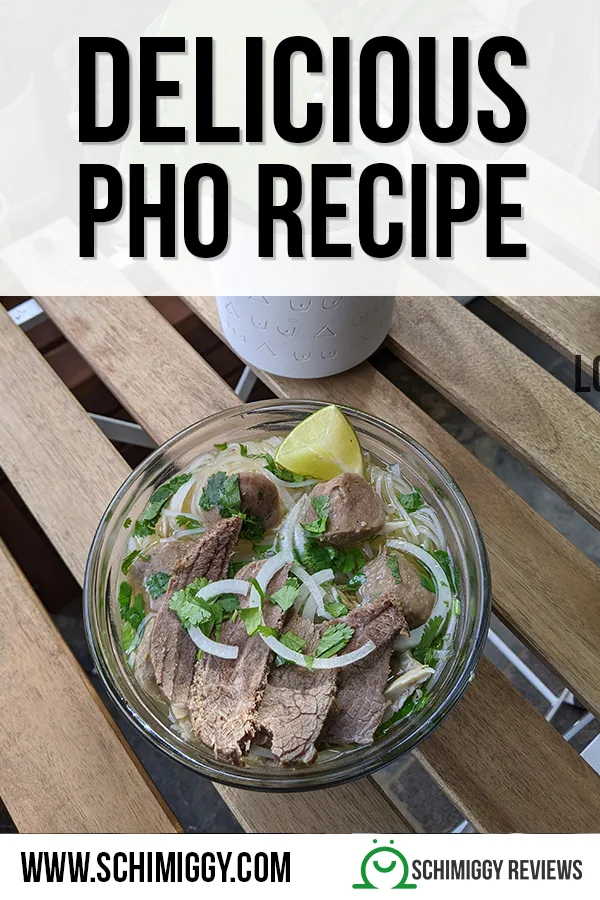 ---
Thank you for visiting today! If you found this encouraging or informative, please connect with us on Instagram, Youtube, Pinterest, Facebook or Twitter. We'd love to meet you!
Sign-up for our monthly newsletter for updates and more. We promise we won't spam you! Feel free to unsubscribe anytime.
For more fitness fashion discounts and offers, please visit our Fitness Instructor Discounts + Brands Directory or favorite brands coupon codes list.
If you're a brand and want to submit a product for us to review, please use this form to get in touch.
This site uses affiliate links. Clicking on or purchasing via an affiliate link may result in commissions for us which help keep the content flowing and lights on at Schimiggy Reviews. You may read more about this in our privacy policy.