Reading Time:
2
minutes
Updated: 10/27/2019 | Air Fryer Chicken Nuggets Recipe
We bought an air fryer in 2018 and my life has never been the same. The air fryer has allowed me to eat more chicken nuggets than I could have imagined. The best part is that this chicken nugget recipe is low calorie and super easy to make.
I've been eating chicken nuggets all my life. My favorites are from Shake Shack and McDonald's. I'm not saying this recipe totally replaces my favorite nuggets, but it does come pretty close to the real deal.
Here is my quick chicken nugget PLUS my bomb dipping sauce recipe. I hope you enjoy it!
Yield: 6 servings
Air Fryer Chicken Nuggets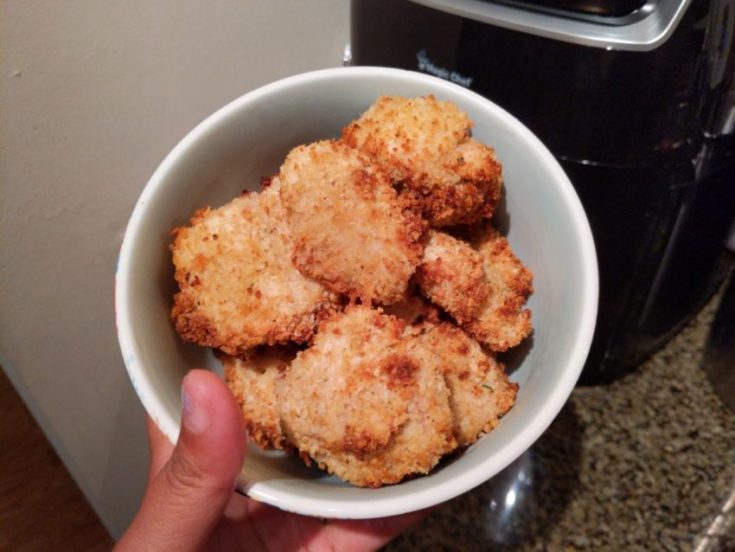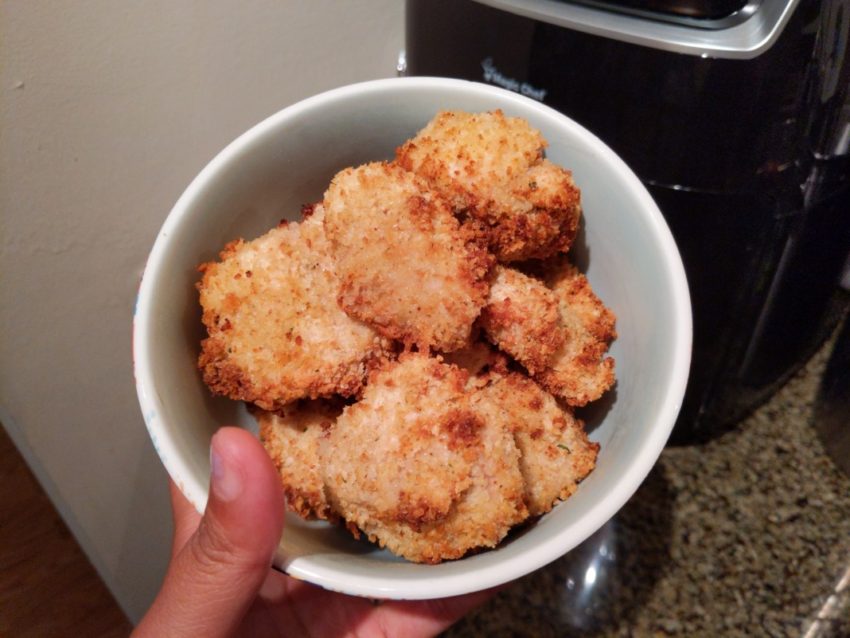 I made chicken nuggets using my air fryer! I also included my delicious garlic dipping sauce. Please enjoy this easy and healthier version of the chicken nugget.
Ingredients
Chicken Nuggets Coating
1 1/2 pounds raw chicken breast or thigh meat
1 egg (beaten)
salt and pepper
Magic Garlic Dipping Sauce
1-2 garlic cloved minced
salt and pepper to taste
Instructions
Prepare the ingredients
Cut the chicken into little cubes and set in a medium bowl.
Mix the panko and Italian bread crumbs in a medium sized bowl.
Crack and beat the eggs in a small bowl. Add salt and pepper (a few shakes) for some flavor and mix.
Coat and Cook the Chicken
Dip the chicken cube into egg bowl and then transfer it into the bread crumb bowl. Roll the chicken around until it is evenly coated.
Place the coated chicken onto the air fryer tray.
Continue coatiing the chicken until the air fryer basket or tray is full.
Put the chicken into the air fryer and use the Misto to spray olive oil onto the chicken.
Cook on 380 degrees for 14 minutes. Flip at the 7 minute mark and continue cooking until done.
Once done, empty air fryer tray or basket onto a large plate and service with sauce.
Bomb Not-So-Secret-Sauce
I just started throwing sauces together and came up with this sauce. I took it a party and everyone loved it. Here is my best recipe for this magical sauce!
Mince the garlic into a small bowl.
Add all other ingredients and mix it up.
Serve into a little bowls and enjoy!
Nutrition Information:
Yield:
6
Serving Size:
1 cup
Amount Per Serving:
Calories:

411
Total Fat:

20g
Saturated Fat:

4g
Trans Fat:

0g
Unsaturated Fat:

14g
Cholesterol:

198mg
Sodium:

459mg
Carbohydrates:

12g
Fiber:

1g
Sugar:

1g
Protein:

43g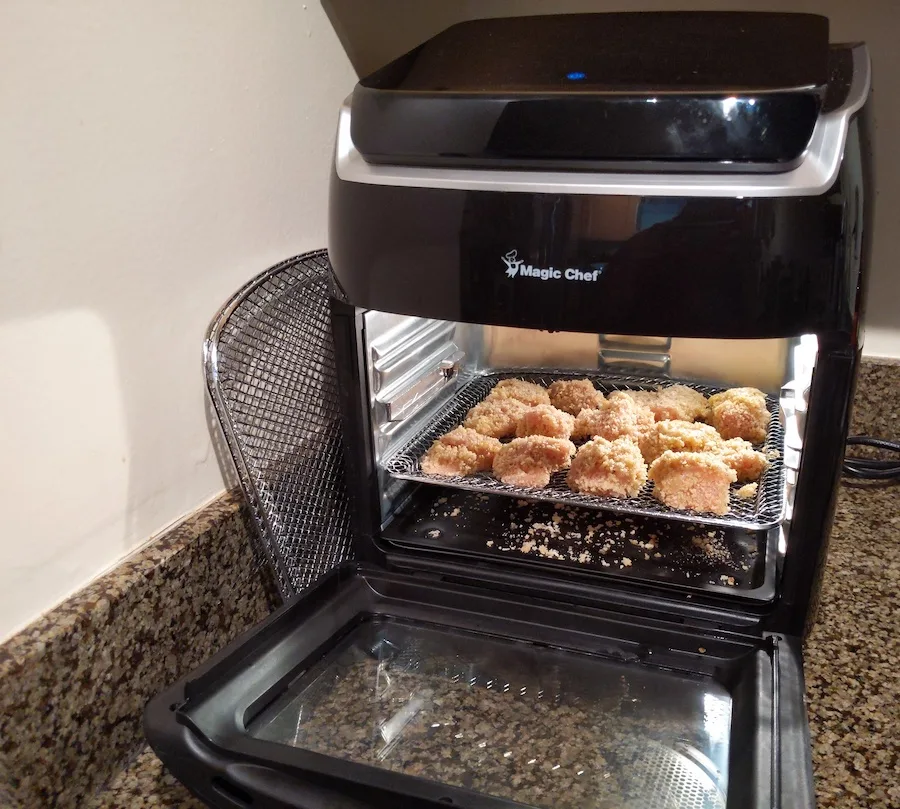 We use this air fryer by Magic Chef.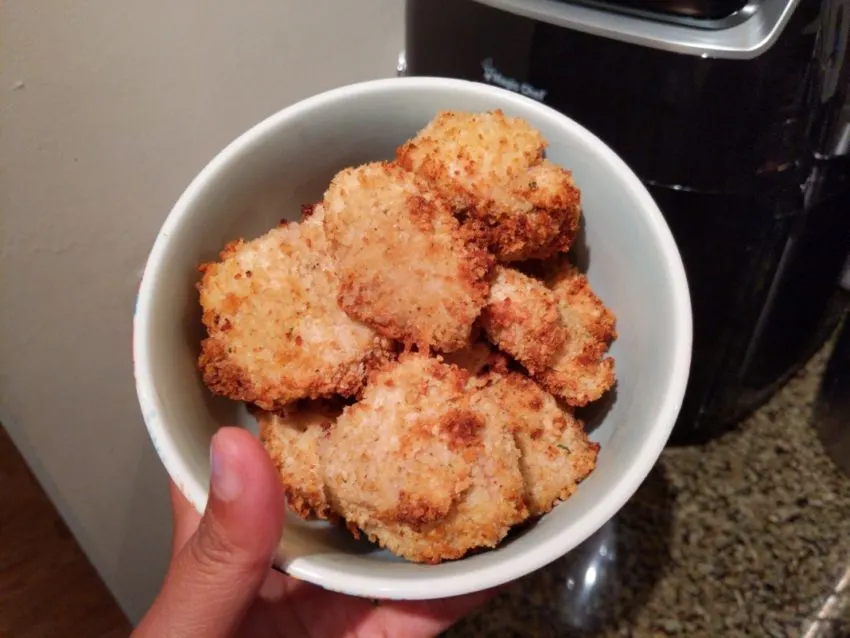 I'll be trying these sausage balls recipe in my air fryer next! It'll make a great Summer appetizer and will go perfectly with my magic dipping sauce!
We hope you enjoyed our Air Fryer Chicken Nuggets Recipe!
Got any awesome air fryer recipes? Please let me know in the comments. I'd love to try them!
Thank you for visiting today! If you found this encouraging or informative, please connect with us on Instagram or TikTok.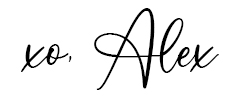 Sign up for our monthly newsletter for updates and more. We promise we won't spam you! Feel free to unsubscribe anytime.
If you're a brand and want to work with us, please visit this page to get in touch.