Reading Time:
4
minutes
Updated: 3/25/2021 | Marketing Toolbox – Marketing Tools You Should Use
This page lists all of the various marketing tools and software that I use as a Digital Marketer.
I've tried hundreds of programs and I've narrowed it down to a list of tools and programs that I use on a daily basis. When looking for tools, I tend to gravitate towards tools that maximize my time and output. These tools are user-friendly, cost-effective (sometimes FREE!), and provide tons of benefits that allow me to expedite my workload.
I aim to use as few tools as possible, so I look for robust tools that can be easily integrated into many processes. I'm always working towards being more efficient and effective on the web so I'll be updating this page often as my process evolves.
Social Media
Sprout Social is easily the tool I get most excited about. It saves me several hours a day and it's robust enough to be the only social media tool I need. I can do everything from post scheduling, keyword tracking, to content curation, to reporting—all within the same platform. The user interface is also fantastic (especially important if you manage multiple accounts), and new features get added all the time based on customer feedback.
SemRush
WOW! I started using SemRush for social posts and it has changed my life. Get both your social and SEO analytics in one platform. Just a heads up, SemRush is pretty costly.
For a more manual method of sharing on social media, I use this Share Link Generator.
Content
Canva (Free option)
Canva is another tool that I love to talk about. Design is becoming more and more important every day. Canva is like Photoshop for non-designers. It makes it incredibly easy to use create beautiful graphics for just about anything. It's also completely free to use unless you want to use their fancy editing tools.
If you have some basic skills, I highly recommend Photoshop. Photoshop allows me to edit photos and images that I use for my blog and social media posts.
I love LightRoom! It makes editing photos on mobile or desktop super easy. Always edit in Lightroom first then refine the details in Photoshop afterward.
Hosting
I've tried a few different hosts over the years, but I've been using Bluehost for quite a while now. It's very easy to use. I can access the control panel easily and make any account updates from any computer. Bluehost also has receptive support via Live Chat. Another reason I love Bluehost is that I have the option to choose my server location. If you ever do location-based SEO, you'll know that the location of your server can have an impact. You can use this feature to ensure your local customers have the best site loading time.
Domains
Bluehost
I also use Bluehost for my domain registration. It's simple to use and comes with free WhoisGuard privacy protection.
Content Management System (CMS)
I always recommend that people use WordPress. As your site grows, you'll discover how robust WordPress' platform is. There are thousands of integrations and plugins that will solve just about every problem you encounter. Getting your first site up and running does take some getting used to, but that is easily found on YouTube or other blogs. WordPress will need to be downloaded and then uploaded after you establish your hosting provider (ie. Bluehost, Siteground, etc.)
SEO
The SEO world is big on tools. There are a lot of good ones, but I probably use Ahrefs and SemRush the most. Although they're both a bit pricey, these powerful tools are very useful and allows me to track my marketing campaigns, find new opportunities, rank for keywords, and manage offsite SEO campaigns very effectively.
It's the only SEO tool I need and is worth paying for. The benefits go way beyond the monthly fees.
Many developers don't set up Google Webmaster Tools on their clients. This means you are missing out on valuable data analysis that is completely FREE!
If you haven't delved into SEO yet and plan to in the future, Google Analytics and Search Console are a must. Install it right now so it collects your website data. All you need to do is place a line of code in your website header and what you need to grow your business will be at your fingertips.
In the future, you can use this valuable data to grow your content and business.
Outreach and Collaborations
Buzzstream is a tool that allows me to keep all my media and partnership contacts in one place. Imagine a web-based phonebook that holds contact and relationship data about your current and potential clients. It's a CRM for building relationships and reaching out to people who may want to work with and collaborate with your brand.
Email
Mailchimp
You know how it's important for landing pages and email opt-in forms to look good if you want people to actually sign up? And you know it's very expensive to have these professionally designed? Enter Leadpages. Leadpages make it much easier and cheaper to collect email addresses. You can change it up your designs as often as you want, and they'll track your conversion rate so you can quickly find out what's working, and what's not.
Password Management
If you don't already use a password management software, do yourself a favor and start using one! You're probably using the same passwords over and over again, putting your Internet security at risk. On top of that, you probably have forgotten which password to use, and as a result, are getting locked out of accounts or creating multiple accounts. Last Pass is a major convenience in terms of increasing your internet security and will save you a lot of time and frustration with remembering login information.
Google Password Manager (FREE)
The Google Password Manager (GPM) is built into Google's Chrome browser. If you're using an iPhone, I recommend downloading the Chrome browser so that you have access to GPM. GPM allows you to save and generate passwords on the fly. It's awesome!
Accounting
If you're running any type of business, it's important to have a good accounting process. There are a lot of robust and expensive tools around, but if all you're doing is providing services or running a simple web business, Wave is all you need. It's web-based, so you can access it from anywhere, and very simple to use. There are also some awesome features like the ability to see if your invoices have been viewed, and the option upload digital copies of receipts so you don't have to worry about printing and managing paperwork.
Some products may contain an affiliate link so that I get a kickback from referring awesome products to you. Affiliate links do not change the cost of the product for you.
Thank you for visiting today! If you found this encouraging or informative, please connect with us on Instagram or TikTok.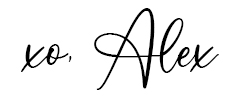 Sign up for our monthly newsletter for updates and more. We promise we won't spam you! Feel free to unsubscribe anytime.
If you're a brand and want to work with us, please visit this page to get in touch.