Reading Time:
5
minutes
Updated: 4/15/2020 | North Face Review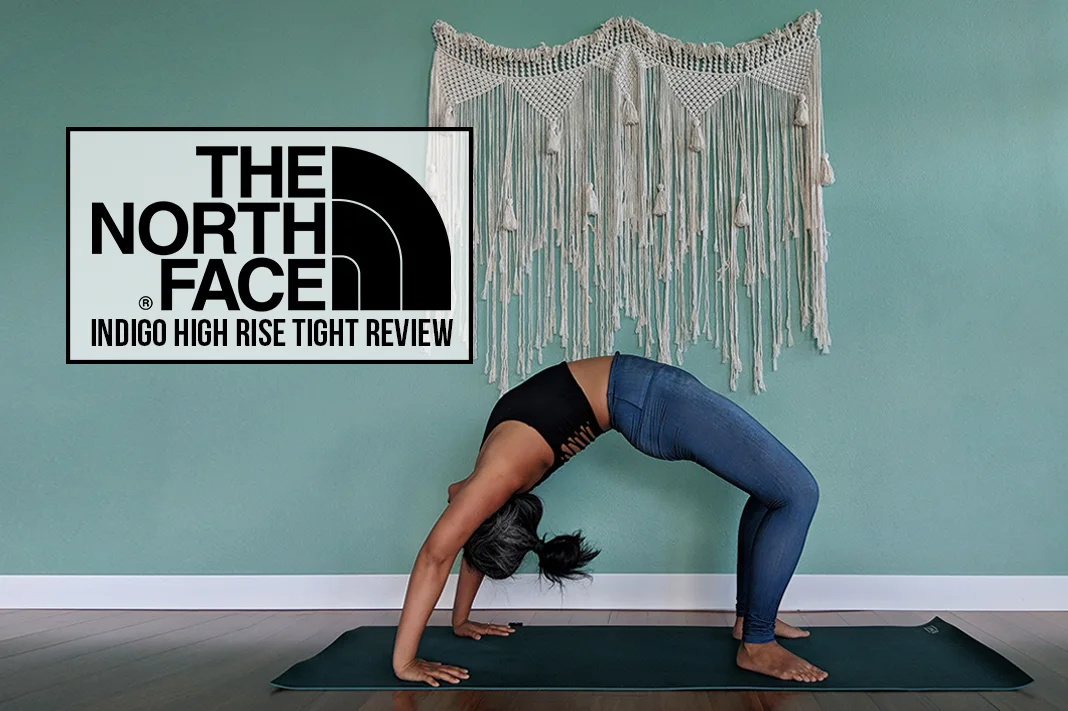 About The North Face
In 1966, two hiking enthusiasts from San Francisco's North Beach neighborhood created a mountaineering retail store. They met while hitchhiking and decided to make a life out of doing what they love – adventuring.
In two years, Douglas Tompkins and Susie Tompkins Buell, creators of The North Face (TNF), began to create their own label of technical mountain gear which included tents, backpacks and insulated gear.
To this day, The North Face (TNF) brand is committed to preparing their patrons with the best outdoor gear so that you can conquer any mountain in your way. 50 years later, The North Face is known for quality, preserving the environment and continues to outfit people in gear that performs and lasts.
The North Face Review: Indigo High Rise Tights
My experience with TNF is typically with insulated puffy jackets and mobile touch gloves. I never thought to try on their leggings until recently when I saw a pair of DENIM LEGGINGS in store. I purchased them immediately to try at home.
I was very impressed with the look of the pant. It was very slimming and the print could easily transfer from office, to gym, to happy hour. I've been wanting denim leggings for a while now. My only concern about the pant was its opacity. If you look at the image below and all the way to the right, you can see the label through the pant at my hip. Otherwise, the leggings made me look ridiculously amazing!
#1 Size: TNF runs true to size (TTS). I wear a size 6 in lululemon a size small in TNF. If you're in between sizes, go a size down as the fabric has a bit of stretch to them.
#2 Style: I tested the high waisted tights. TNF also offers a wide range of clothing and gear for women, men, girls and boys. The brand is known for their insulated jackets, adventure tents and backpacks.
#3 Inseam: The inseam of the tights were 28″ and could be worn over my ankle. I am 5'5″ for reference and felt the leggings were very long.
#4 Rise: The pants have a high rise fit with the top of the waistband fitting 1.25″ above my navel.
#5 Waistband: The tall waistband measures 5.25″ and covers EVERYTHING. If you are looking to slim down your waist and cover your muffin top, these pants would be excellent. The waistband can be worn folded over for a mid to low-rise look.
#6 Fabric
Fabric Content: 88% polyester/12% spandex made with FlashDry™
Fabric Feel: The fabric feels thick and very durable. The fabric was also very stretchy. These leggings are very comfortable and the contoured pattern really allows my legs to stand out. I would compare it to Dharma Bums or Inner Fire fabric. Both are also white backed.
Fabric Performance:

Quick Drying
Dry Wicking
4-Way Stretch
Pill resistant! I am all about this.
I have a feeling that with wear, the printed denim color and pattern will fade.

Opacity: The leggings are white backed and are unfortunately see-through (not opaque). Parts of the pants do stretch to white. When worn I could see the product tag through the pant.
Fabric Features:

Inner waistband pocket at front of the pant
Reflective TNF logo at top left hip side
#7 When to Wear: TNF designed these leggings for both casual and activewear. The denim print allows the wearer to shift from workout to city life seamlessly.
#8 Cost: The indigo leggings are expensive and cost $130. They do not offer any discounts for instructors and rarely have in-store or online sales.
#9 Gusset: The leggings are constructed with a triangle, double-layered gusset.
#10 Stitch Seam: The leggings are made with flat fell seams throughout the pant. This allows for a chafe free and form-fitting fit.
#11 UPF Protection: Not disclosed.
#12 Made in China. Designed in the Bay Area.
#13 Care Instructions: I recommend washing this pant separately and inside out. I would hang to dry on a foldable drying rack such as this one.
Should I Buy North Face?
I do not recommend this particular TNF tight due to the fabric being see-through. I would have totally kept the pant had it been opaque. If you decide to buy this particular pant, make sure you wear a long shirt or jacket over the bum for coverage.
The fabric itself is very durable, soft and comfortable. I was very impressed with the fit and look of the pant. The only issue I had with the silhouette was the tall waistband that was too tall for my height. It made my torso look short.
I am willing to invest in the pant if the price point were a little lower. $130 for a see-through pant is too much in my honest opinion. I look forward to what TNF will release in their next denim tight variation.
Where to Buy North Face
Here are our favorite retailers selling North Face apparel.
If you enjoyed our North Face review, please share it on Pinterest. Thank you!
---
Thank you for visiting today! If you found this encouraging or informative, please connect with us on Instagram, Youtube, Pinterest, Facebook or Twitter. We'd love to meet you!
Sign-up for our monthly newsletter for updates and more. We promise we won't spam you! Feel free to unsubscribe anytime.
For more fitness fashion discounts and offers, please visit our Fitness Instructor Discounts + Brands Directory or favorite brands coupon codes list.
If you're a brand and want to submit a product for us to review, please use this form to get in touch.
This site uses affiliate links. Clicking on or purchasing via an affiliate link may result in commissions for us which help keep the content flowing and lights on at Schimiggy Reviews. You may read more about this in our privacy policy.