Reading Time:
6
minutes
Updated 11/22/2019: Sweaty Betty Review
About Sweaty Betty
Sweaty Betty is a London-based brand that's been around for over 20 years (since 1998). Created by Tamara Hill-Norton, Founder and Creative Director, Sweaty Betty offers an entire assortment of sports luxe activewear for the active woman. One thing that makes Sweaty Betty stand out from the rest of the activewear purveyors is their offering of luxe ski-gear and streetwear.
A "Sweaty Betty" is a term of endearment for a female who is fit, fashionable and self-confident. She is what every woman should aspire to be.
Selling clothing on both their online and brick-and-mortar stores throughout the world, in 2015, Sweaty Betty made their mark in Los Angeles, California. I stepped into the Abbot Kinney Boulevard shop in December 2017. Things I loved most about my visit were being able to try the clothes on, seeing and feeling their products in person and the free kombucha dispenser in the back. Way to make a gal feel welcome!
Take a peek at some photos from my visit to the store!
How awesome is the store layout and offerings? It was definitely busy and very welcoming. On to my review!
Sweaty Betty Review: Chandrasana 7/8 Leggings
I tried on their signature Chandrasa leggings. The Chandrasana leggings come in a variety of prints, colorways and designs. It was hard to pick just ONE but eventually, I decided on the Chandrasana 7/8 leggings in an ombre teal, reversible with mesh and strappy details. It was on sale for only $60 (originally $120) and I loved that they were reversible.
https://www.instagram.com/p/BdAyeNqHejB/
#1 Size: When I consulted with the store associate, she recommended that I try a medium in Sweaty Betty. The pair I had my eyes on only had a size small and large left. From handling the large, I knew it would not fit. I decided to give the small a try.
I also tried the medium in another style just for size. Both sizes fit me. The small was more compressive and the medium was good for layering or wearing casually.
I decided to go with my normal size (small) to confirm that Sweaty Betty runs true to size. I usually wear a size 6 in lululemon for size reference.
#2 Style: Sweaty Betty makes shorts, crops, leggings, ski wear, outerwear, casual wear. They also offer accessories and footwear.
#3 Inseam: The Chandrasana 7/8 leggings have a 24″ inseam. The leg opening sits 3 inches above my ankles.
#4 Rise: The leggings have a high rise fit. The rise measures 9.75″.
#5 Waistband: The Chandrasana leggings have a high waist fit. The top of the waistband sits at my navel. The waistband measures 3″.
#6 Fabric
Fabric Content: Polyester Elastane (interlock knit fabric used to create the reversible feature)
Fabric Feel: The fabric feels very buttery soft and slightly brushed/matte. The fabric is similar to Athleta's Powervita and lululemon Align fabrics.
Fabric Performance:

They're super soft so have a generous amount of stretch.
Fabric is quick drying and dry wicking.
Fabric has 4-Way Stretch and contours to the body, offering a form fitting silhouette.
Fabric will pill with wear.

Opacity: The fabric is 100% opaque! Their signature interlock knit to create the reversible fit allows for your leggings to NOT be see through.
Fabric Features:

Designed with attractive side mesh panels with crossover elastic straps
Leggings are reversible from a teal ombre to solid black
#7 When to Wear: The Chandrasana leggings are great for barre, yoga, pilates and other low to medium impact sports. I would wear these casually as well.
#8 Cost: The Chandrasana leggings range from $90 up to $120 USD depending on the design and features. This particular pair in the review cost $120 but I was able to get it at half off ($60) during their annual sale.
#9 Gusset: The Chandrasana leggings come with a single layered, triangle shaped gusset.
#10 Stitch Seam: The leggings are constructed with flat fell seams for a flat fit against the body.
#11 UPF Protection: Not disclosed.
#12 Made in Cambodia. Designed in London, Great Britain.
#13 Care Instructions: I would wash these leggings on gentle with mild detergent. Because the fabric is so soft, I recommend hanging to dry on a foldable drying rack such as this one.
Should I Buy Sweaty Betty
Yes, you should definitely buy Sweaty Betty! I am so glad I was able to try Sweaty Betty in person. The fabric is amazing quality and definitely comfortable to workout in. The leggings were advertised as being opaque and I am glad they delivered.
The design is definitely unique and very attractive. I love that it reverses to black so that if I needed to tone it down a bit, I could do that with a flip of the pants. I highly recommend Sweaty Betty!
I hope our Sweaty Betty review leads to you your next favorite leggings as it did for me!
Where to Buy Sweaty Betty
Did you enjoy our Sweaty Betty review? Please consider sharing it on Pinterest!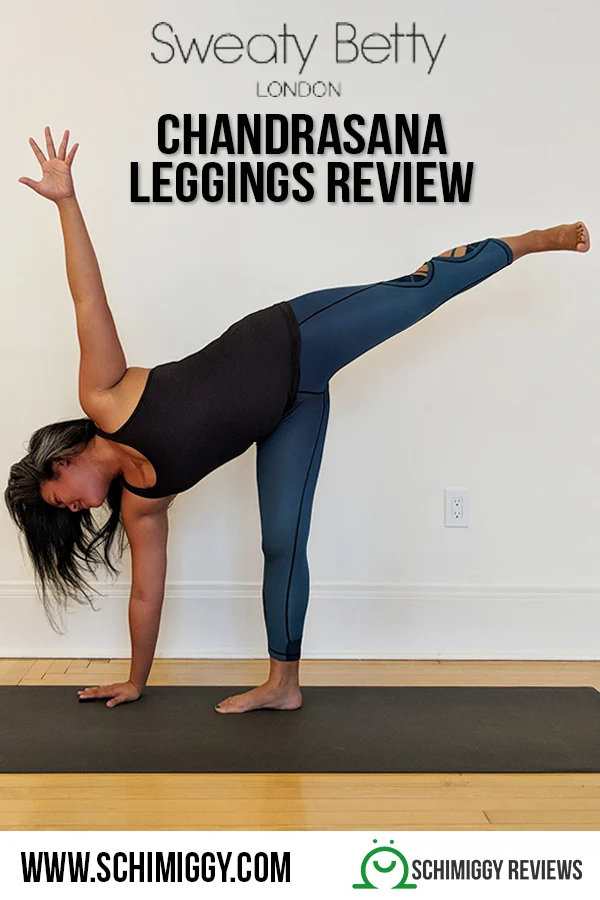 ---
Thank you for visiting today! If you found this encouraging or informative, please connect with us on Instagram, Youtube, Pinterest, Facebook or Twitter. We'd love to meet you!
Sign-up for our monthly newsletter for updates and more. We promise we won't spam you! Feel free to unsubscribe anytime.
For more fitness fashion discounts and offers, please visit our Fitness Instructor Discounts + Brands Directory or favorite brands coupon codes list.
If you're a brand and want to submit a product for us to review, please use this form to get in touch.
This site uses affiliate links. Clicking on or purchasing via an affiliate link may result in commissions for us which help keep the content flowing and lights on at Schimiggy Reviews. You may read more about this in our privacy policy.