Reading Time:
19
minutes
Updated: 9/10/2022 | Santiago Chile Travel Guide
About Santiago, Chile
Santiago is the capital of Chile and the largest city in the country. It's considered a financial center and an main tourist destination for the country. It's also the gateway to reach other destinations such as the Atacama Desert, Andean Lakes, and Chilean Patagonia mountain range.
Santiago is very developed with a skyline filled with skyscrapers and high rises. Santiago also has a great and inexpensive public transportation system and is relatively safe, making it perfect for visitors.
In our complete Santiago, Chile travel guide, we will share everything you need to know to plan your next trip to this awesome city, including what to eat, drink, and the best things to do.
How to Get to Santiago, Chile
There is only one airport in Santiago: The Arturo Merino Benitez International Airport (SCL)
It can easily be reached from Miami (MIA) and is approximately an 8-hour direct flight.
You're likely to connect to a major hub in the United States (ie. LAX, MIA or DFW) and fly with LATAM airlines to Chile.
What Currency is used in Chile?
The Chilean Peso (CLP) is the official currency and it can be easily found in exchange offices and banks throughout Santiago. Most businesses accept credit cards. The US Dollar (USD) and Brazilian Real are also accepted in some establishments.
As of August 2022, 1 USD is equal to 904 CLP.
Best Time to Visit Santiago, Chile
The high season in Santiago is in the winter (June through August). Although there is no snow in the city itself, it snows in the mountains that surround it, so the nearby ski resorts are white and receive a significant number of tourists.
Spring runs from September to December, with warm days and cooler nights, making it a pleasant time to visit attractions that do not open during the winter. The closer to December, the more the temperature rises and it means summer is coming soon.
Summer in Santiago is relatively hot, but there is almost no rain. This season is ideal for those who want to enjoy outdoor activities like hiking, going to beaches and wine tasting.
Fall invites warm-colored leaves and greater temperature variation during the day. Depending on the year, the ski season may start at the end of this quarter. This is the ideal time for those who like to travel to cooler climates yet want to avoid snow.
How Long to Stay in Santiago, Chile?
You'll be able to visit the main attractions of Santiago and its surroundings within 4-5 days. Keep in mind that if you take day trips from Santiago, it may require you to extend your stay there.
How to Get Around Santiago
Public Transportation: Public transportation is a great way to get around Santiago. Santiago has the largest metro system that includes a very good subway, train, and bus system. Using their Bip! rechargeable transportation card, you can access different types of transportation while paying less than the full fare between them. Fares start at $720 pesos (around $0.88 USD) and allow free transfers to other metro lines and buses within a two-hour time window. Metro hours are 7:00-23:00 Monday through Saturday and stop an hour earlier on Sundays.
Rideshare Apps: Santiago also has rideshare apps (like Uber) and it's fairly inexpensive to get around the city this way.
Taxis: It is best to negotiate taxi fares with multiple taxi drivers so that you are not scammed. Only ride with taxi drivers that have meters. Taxis should cost around $15,000 to 20,000 CLP from the airport to city center.
Coach Buses: There is a convenient bus service operated by TurBus for $1,900 COP one-way or $3,400 CLP return to the Central Train Station, which has a metro station. The TurBus also offers routes to other popular destinations such as the coastal towns of Viña del Mar and Valparaiso.
And as a city that attracts tourists, you can usually you can arrange tour packages and transfers to several attractions and your hotel.
Where to Stay in Santiago
What to Do in Santiago
#1 Palácio de La Moneda
One of the most visited attractions in Santiago is Palacio de La Moneda, which was used as the Chilean Mint until 1929 when it became the headquarters of the Presidency of Chile.
Palacio de La Moneda was the scene of some of the country's historical events and is typically the first stop as part of Chile's free tours. We highly recommend checking out Strawberry Tours or Tours 4 Tips to book free city tours.
While here you'll want to wait to see the changing of the Chilean Army guards. Don't miss it!
#2 Plaza de Armas and the Metropolitan Cathedral
The main square of downtown Santiago is called Plaza de Armas and is also where the city was founded in 1541.
Several trees, statues, and historic buildings surround the plaza, making it a nice place to hang out. You'll also find the Santiago Metropolitan Cathedral (circa 1748) which has a beautiful exterior and interior. It is free to enter.
#3 Visit the Central Market (Mercado Central) of Santiago
On San Pablo street, close to Plaza de Armas, is the Central Market of Santiago which has been in business since 1872. Here you'll find a huge selection of fish and seafood vendors. You'll also find many spice and pepper vendors.
While here, you'll also want to try one of their many restaurants. We highly recommend finding a restaurant that serves a king crab called centolla that is typically in season between the winter months of July through September. The ceviche or clams au gratin is also really good.
The Central Market is open every day, but the vendors and restaurants keep different hours. You'll want to get there early in the morning if you want to see the market at its busiest and be sure to get there before 5 if you hope to get a table and eat.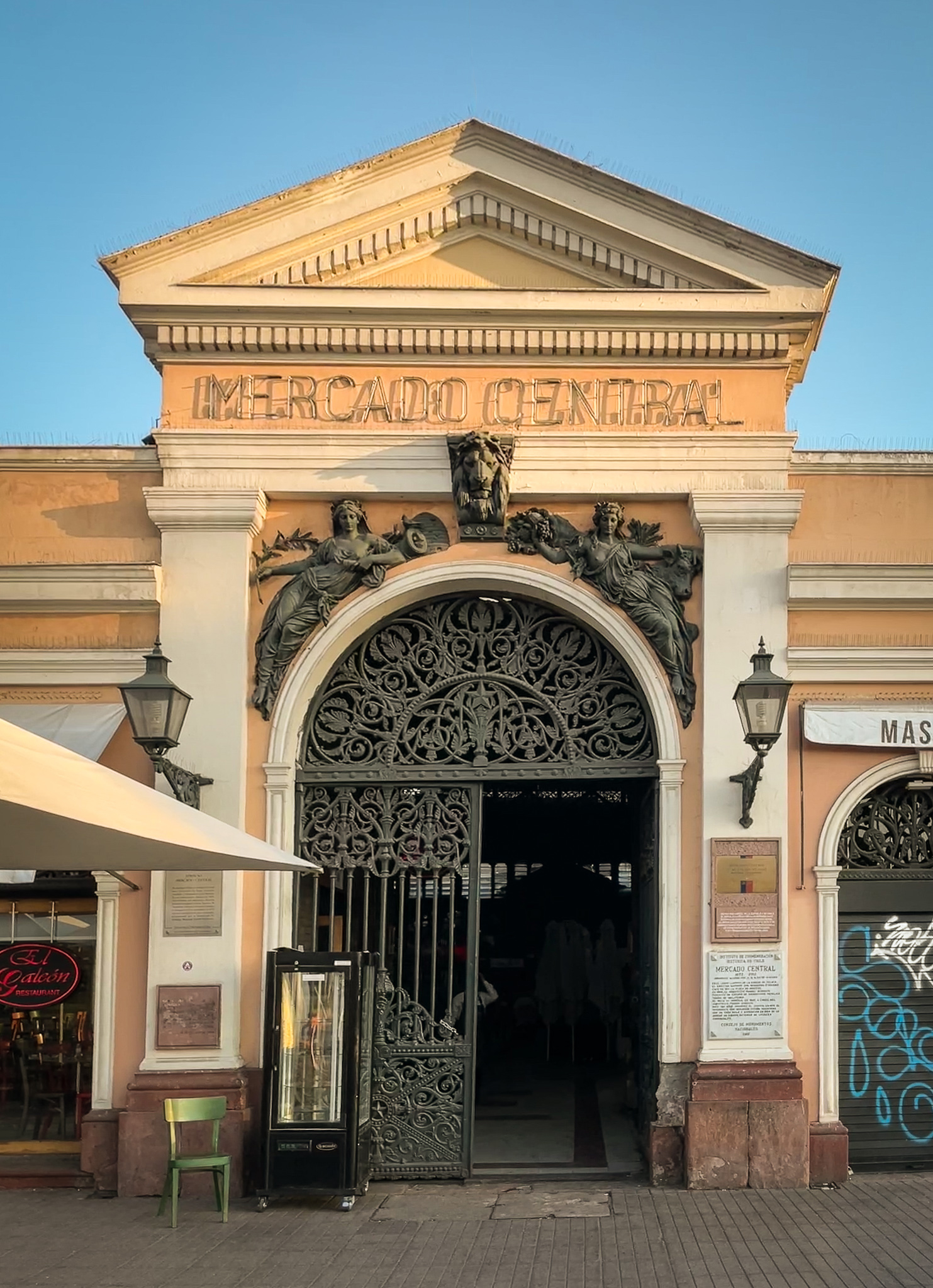 #4 Ascend Cerro San Cristóbal
The Cerro San Cristóbal is the highest point of the city and it is located inside the Metropolitan Park. The 300-meter-high viewpoint can be accessed by foot, by bike for free, by car, and by cable car (or funicular).
The cable car has 46 cabins and the capacity for 6 bicycles for those who want to ride through Cerro San Cristóbal.
Aside from the view, the park has several attractions such as the Sanctuary of the Immaculate Conception at the highest point, public pools, a Japanese garden, and the Mirador & Pablo Neruda Amphitheater. Up top, you will also see the statue of the Virgin Mary which can also be seen from many parts of the city.
#5 Ascend Sky Costanera + Gran Torre Santiago
Holding the title of highest viewpoint in Latin America is Sky Costanera. This 300-meter (984 feet) high tower stands out in the landscape of Santiago.
The observation deck is at the top of the Gran Torre Santiago, which is part of the complex where the Costanera Center Mall is located and provides a 360º view of the city from the 61st floor.
Tickets are sold at the box office and are $5,000 CLP cheaper on weekdays for adults and free for kids on weekends and holidays.
#6 La Chascona House
La Chascona, the house museum of Pablo Neruda, Chile's Nobel Prize-winning poet. It's a must-visit for anyone who enjoys culture, poetry, and love stories. It's one of three homes that belongs to the beloved poet. La Chascona means, in Quechua language, "tangled" or "disheveled," in reference to Pablo's lover, for having red and "unruly" hair.
It is located in the Barrio Bellavista, Chile's bohemian quarter, at the base of Cerro San Cristóbal. The museum houses personal objects of the poet including a collection of African artifacts and works by other various artists.
The quirky architecture and vivid colors are indicative of Neruda's unique style, making it a fascinating attraction for all of those who are interested in learning about the writer's life as well as the history of the house.
The cost to enter La Chascona is 7,000 CPL and includes an audio tour.
#7 Cerro Santa Lucia
Climbing this 70-meter-high hill in the middle of Santiago will require some walking upstairs, but the view from Cerro Santa Lucía is worth it.
Located between the subway stations Santa Lucía and Catholic University, it is a lovely park with buildings dating back to 1872 and great for those who enjoy taking beautiful pictures. On the grounds, you'll find Neptune's Fountain (Fuente Neptuno), Castillo Hidalgo (Hidalgo Castle), and a dreamy church surrounded by lush vegetation.
The attraction is free to guests and is open every day.
#8 Visit a Museum in Santiago
Pre-Columbian Art Museum: Also close to Plaza de Armas, there is the Museum of Pre-Columbian Art and is worth visiting. It has a well-preserved collection, by which it is possible to better understand the customs and culture of the ancient people who lived in Central and South America. It has three floors. Admission is free on the first Sunday of each month.
National Museum of Natural History: Still in the center of Santiago, the National Museum of Natural History tells the story of the country's fauna and flora, including Easter Island, featuring replicas of animals that once inhabited the region, the highlight the skeleton of a whale and the lyophilized body of a little boy from Cerro el Plomo, an 8-year-old child offered as a sacrifice more than 500 years ago. Admission is free.
Museo de la Memoria y de Los Derechos Humanos: The Museo de la Memoria (The Museum of Memory and Human Rights) is a recent addition to Santiago's collection of museums. It opened in 2010 to celebrate the 200 years of Chile's independence, it commemorates the victims of human rights violations during the 17-year dictatorship commencing in 1973. The museum is free and offers much information about Pinochet and his government, which is enlightening but powerful and emotional. However, if you are not comfortable with reading a lot of Spanish, it is advisable to pay a minor fee for an English audio guide to ensure you get the full experience.
Museo de Bellas Artes: Located in the Parque Forestal is the main art gallery in the country, the Museum of Fine Arts, also referred to as the Museum of Contemporary Art. Here you can view an extensive collection of Chilean art as well as a broader collection of South American pieces, covering the 19th century to the present day. This is the oldest gallery on the continent, first established in 1880 and later moved to its current building, which has an impressive façade. Entry was made free in March 2015 to allow everyone to enjoy a sample of Chile's art culture.
#9 Visit One of Santiago's Many Parks
Bicentenario Park – This is Santiago's "Central Park" and has restaurants, vendors, a government building, a lake, and even pink flamingos! It's a great place to relax and festivals and community events are held here.
Titanium Park – A huge well maintained park in a business complex. It has a nice long designated bike path. Come here to see the Llama statue by Portuguese artist Bordalo II.
Parque Forestal – A long lush green park that stretches along the Mapocho River. It is an attractive, calm space, located in the historical downtown of the capital. While here, you'll want to see the Monument to Writers of Independence, the German Fountain, the National Museum of Fine Arts (Museo de Bellas Artes), and stop by Castillo Forestal for some French cuisine.
#10 Teatro Municipal de Santiago
The Municipal Theater opened in 1857 and is an attraction you can't miss.
It's the first center in the country for the performing arts and has retained its prestige and is regarded as a highly important institution in Chile for the support and development of the performing arts within the country. The breathtaking architecture and atmosphere add to the whole experience of seeing a performance in the theater, which makes for an unforgettable evening.
#11 Gabriela Mistral Cultural Center
The Gabriela Mistral Cultural Center (GAM) is another famous building in Santiago due to several changes in the socio-political scenario of the country.
After a fire in 2006, the building was renovated and returned to the population as a cultural center in 2010. The central square is already an invitation to breathe culture, with colorful stained glass and an interesting giant fish sculpture hanging from the ceiling.
GAM hosts theaters, dances, cultural events, and permanent and temporary art collections and experiences. Access to the building, BiblioGAM, Visual Arts Room, and American Folk Art Room is free.
#12 Templo de Bahá'í de Sudamérica
High above the city lies one of Santiago's most picturesque structures. The Bahá'í de Sudamérica temple looks like an upside flower waiting to unfurl and is a place of worship belonging to the Bahá'í faith and has won dozens of awards for its unique design.
From central Santiago, you can take an Uber for only $12 USD (one way) to get to the temple.
#13 Barrio Lastarria
The bohemian side of Santiago can be seen in Barrio Lastarria. It's to Cerro Santa Lucía and can also be accessed through a side passage of the Centro Cultural GAM.
As the architecture of the buildings has been preserved, walking around the neighborhood gives the feeling of being in Santiago from the past. The main street in this neighborhood is Calle José Victorino Lastarria where you'll find bustling cafes, bars, galleries, restaurants, and boutiques.
Keep an eye out for colorful murals and graffiti, street performers, outdoor craft markets on the weekends, and live music.
#14 Visit the Cementerio (Cemetery) General de Santiago
Established in 1821, Santiago's main cemetery is one of the largest in Latin America.
The space of 210 acres (85 hectares) is located in the northern section of Santiago and approximately 2 million bodies are buried here. And there is room for more! Take a two-hour-long night tour of the cemetery if you dare!
The tours cost approximately $10 USD and night tours are only offered on Wednesdays, Fridays, and Saturdays to people 18 years old and older.
#15 Visit a Chilean Winery
Chile is known for its wine production in the Atacama, Coquimbo, Aconcagua, Central Valley, and Southern Chile regions. The most popular varieties include chardonnay and sauvignon blanc for whites, and carménère, país, cabernet sauvignon, and merlot for reds, with carménère and país becoming Chile's "signature" varieties.
Here are the best wineries to visit while you're in Santiago:
#16 Visit Estación Mapocho
Just west of Mercado Central is Estación Mapocho which was built in 1912 to house the terminal of the Valparaíso–Santiago railway line. With the train service discontinued, the station is now a cultural center housing exhibitions, plays, and concerts.
Day Trips from Santiago
Vina del Mar and Valparaiso
Viña del Mar is a gorgeous coastal beach town that is very relaxing and can be luxurious. There is a malecon (boardwalk) lined with restaurants, shops, and hotels.
Valparaiso is a very colorful port town and naval base. It's the jackpot for Instagram backdrops. Wherever you walk, you'll find colorfully graffitied walls.
As you ascend the town on foot, you'll find tons of graffiti and even a funicular that you can ride to the top of the hill.
Both areas are located northwest of Chile and are easily accessible by TurBus.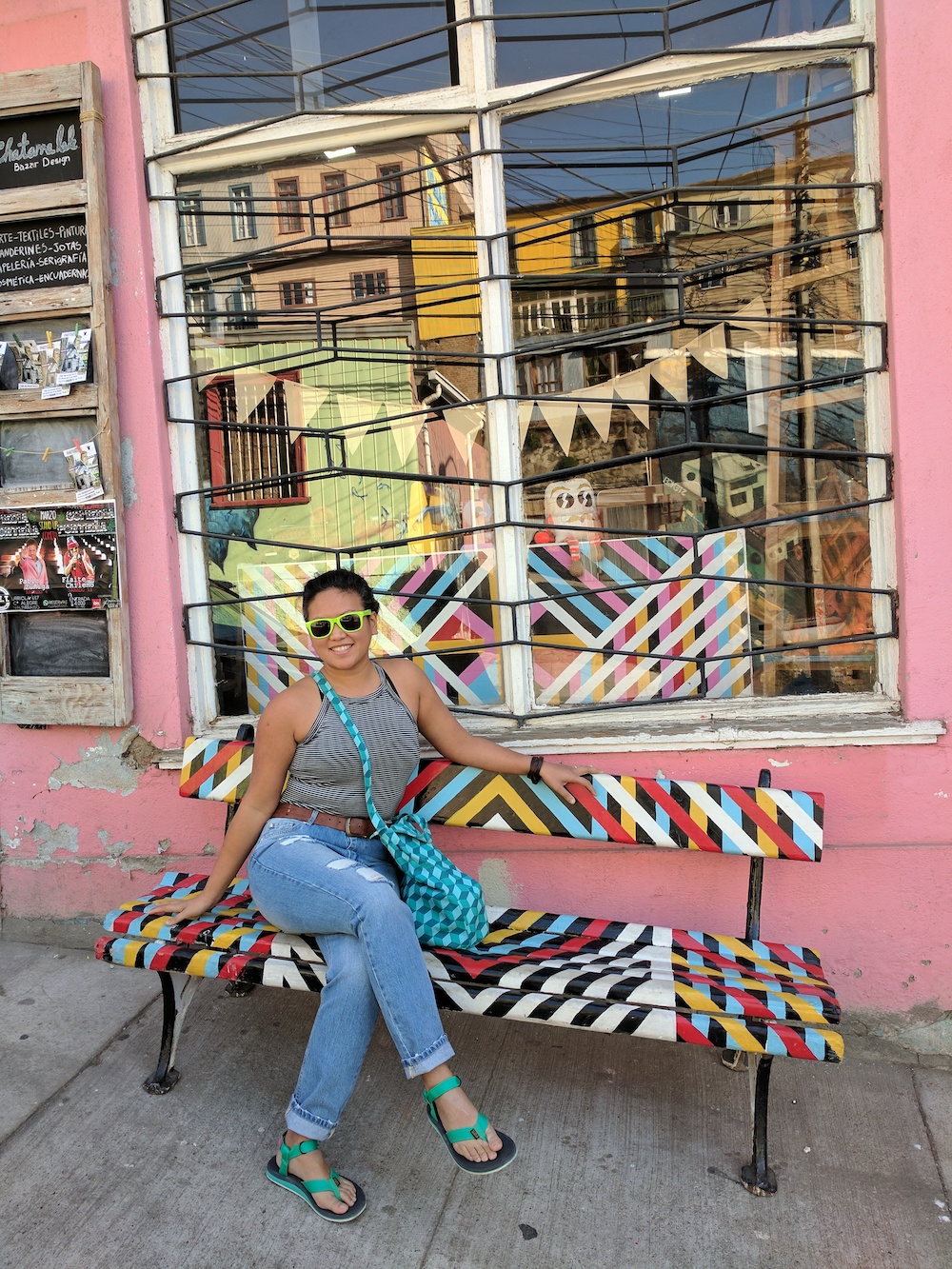 Atacama Desert
Stay in the Elqui Domos (domes) and immerse yourself in the valley of the moon.
is one of the most visited places in San Pedro and it is located at 17 kilometers of San Pedro's downtown, in the Cordillera de la Sal (Salt mountains) area, is an interesting area with stones and sand formations that per millenia the floods and the winds have given it a series of colors and texture to the desert, it presents an extraordinary attractive by its similarity with the moon surface and the natural coliseo of great dimensions. From a great dune is possible to appreciate the wonderful and surprising surroundings of this zone.
Set of landscapes of incomparable beauty that resemble a fragment of the moon landscape.
This wonderful natural phenomenon is due to the encounter of the Atacama desert with the Andes mountain range, which is produced by smooth slope changes, conformed by cones of rollings originating of the mountain bankruptcy.
The Moon Valley has dry lakes, in where the salt composition of these covers with a beautiful white mantle; escarpments of all green, blue, red, yellow colors surprising with the most diverse and surprising forms and which the sun makes vary its tones in thousand different forms during the day, specially in the twilight hours that reaches its best beauty.
On full moon nights, the valley also presents an indescribable aspect, plenary of majesty and silence, coldly beautiful and imposing.
It presents diverse saline outcrops that seem true sculptures also of a great variety of caverns.
In this place, a geologic spectacle of great beauty can be observed, in special in the evening and daybreak.
Declared sanctuary of nature by its great natural beauty and strange moon appearance to which must its name. Every year is visited by hundreds of tourists for being one of the knowest places in Chile.
Visit the Impressive Embalse el Yeso Dam
Embalse el Yeso is 2,500 meters above sea level and is a dam that receives melting snow from the surrounding mountains and supplies Cajón del Maipo and the entire city of Santiago.
Depending on the light, the water is emerald green or a wonderful blue. The water creates a mirror of the surrounding mountains and peaks topped with snow.
Termas de Colina
In the middle of the Andes Mountains, in the same valley of Embalse el Yeso, there is an oasis called the Termas de Colina, or Baños Colina. It has 7 thermal water pools that vary between 30ºC and 60ºC and are caused by the volcanic activity of the region.
It is a natural attraction, so you won't find bars or restaurants, but it is certainly worth the visit to relax in the pools overlooking the mountains. We also love to camp here and/or watch the sunset from here.
Andes Mountain Range
One of the largest mountain ranges in the world passes through Santiago and, as previously mentioned, the Andes Mountains Range is visible both during the arrival flight and through the viewpoints in the city itself: Cerros Santa Lucía and San Cristóbal and the Sky Costanera. It can also be accessed by ski resorts on the outskirts of the Chilean capital during the winter or when they are summer activities such as cycling and horseback riding.
Day Trip to Canyon of Cajon del Maipo
While there are plenty of excellent things to do in Santiago, you definitely need to carve out some time for day trips out to the natural wonders that surround the city. A trip to Cajon del Maipo is a great choice for spending a day out in nature.
This canyon in the Andes is a beautiful place to visit with captivating scenery all around. There are some great trekking opportunities here of varying difficulty, including one that brings you to a high-altitude reservoir 2,500 meters above sea level.
After a tough hike, there's nothing better than soaking in some natural hot springs, and that's exactly what you can do out here! Other activities available include horseback riding, ziplining, and whitewater rafting.
Your best bet for exploring all that Cajon del Maipo has to offer is hopping on a tour out of Santiago. There are plenty of options, including a tour that includes a bit of trekking and a visit to the hot springs for around $55 per person.
Valle de la Muerte (Death Valley)
This is an amazing place to hike, go horseback riding, or even go sandboarding. Located in the northeast of the country near San Pedro de Atacama, there are also guided moonlight walks that take you out over the rocky martian landscape.
You can rent a sand board for around 7,500 CLP or go on a sand board tour for 23,000 CLP per person. There are even tours that take you sandboarding at midnight. It's complete with spotlights and a DJ.
If you're looking to hike, check out the Corniza Trail. It's a 7-hour loop that's relatively easy and good for the entire family.
Visit the World's Largest Swimming Pool
If you're looking for some luxury and relaxation, head to the Crystal Lagoon at San Alfonso del Mar resort in Algarrobo, just an hour and a half away from Santiago.
Here, you'll find the world's largest swimming pool. The pool is the size of twenty Olympic swimming pools and is the biggest recreational swimming pool in the world. It requires 66 million gallons of water to fill.
Ski or Snowboard at Farellones
Farellones is Santiago's destination for snow activities and sports. It's Chile's first ski center and is located in the Andes mountains. If the season is right you can rent some gear and hit the slopes yourself, or just relax and enjoy the view.
Once in Farellones, you can take a day tour to visit the nearby ski resort called Valle Nevado.
What to Eat in Santiago
Eating is the best part of traveling! Check out our article for what Chilean dishes to try.
Below are our top picks for restaurants in Santiago:
Ambrosia – Created by Chef Carolina Bazán, Ambrosiá was awarded the top 50 best restaurants in the world. We also recommend Ambrosia Bistro located in the Providencia neighborhood.
Baco – Located in Providencia, Baco offers a considerable French-Italian menu. Here you can find Aligot (cheesy potatoes) and pasta dishes.
Borago – Named one of the world's 50 best restaurants, chef Rodolfo Guzmán's fine-dining establishment is credited with reinventing the Santiago food scene since it opened in 2006. Guzmán sources from the Chilean landscape to create his menu and deliver a memorable dining experience. Enjoy Italian-inspired fare.
Castillo Forestal – A French restaurant inside a castle located in Parque Forestal across from the Museo de Bellas Artes. It's an amazing vibe.
Chipe Libre – Pisco is a high-proof brandy that's made from fermented grape juice. It's definitely the most popular booze in Chile and Peru. There's an ongoing debate between Chile and Peru about who created pisco and who makes it best, but instead, we'll just point you in the direction of an excellent establishment that celebrates the pisco of both countries! Chipe Libre – Républica Independiente del Pisco! The name "Chipe" is a combination of Chile and Peru.
De Patio – Another top 50 best restaurants destination in Santiago. Brought to life by Chef Benjamín Nast, De Patio offers Asian-inspired tasting menus starting at $50 USD. Tasting menus come in 5, 8, or 11 courses. Star dishes include confit sea bass with tapioca and cuttlefish with apple. Reserve a seat at the chef's table bar top for a view of the kitchen team in action.
Dominó – They are known for their completos, the Chilean take on an American hot dog with toppings that include mayo, sauerkraut, avocado and tomatoes. Many street vendors sell completos but none are as good as the ones at Dominó. They are located all over Santiago.
El Hoyo – This place is known for serving traditional Chilean cuisine. They offer outdoor seating in the summer months.
El Huerto – This is one of the CUTEST restaurants in Santiago. They offer vegetarian food with vegan options. Their breakfast menu is limited, but their lunch, dinner, and cocktail offers are more extensive and filled with creative options.
Emporio Zunino – Come here for the best Chilean empanadas. Chilean empanadas are typically baked. The bakery is located within Mercado Central.
Fuente Alemana – Sandwich lovers rejoice! Come here for some of the biggest and most intimidating sandwiches Chile has to offer. It comes with meat, cheese, mayo, and guacamole. People line outside their doors for their sandwiches so be prepared to wait a bit. I also LOVED the escalopa y puré (schnitzel and mashed potatoes). Complete your meal with a draft (schop) beer or cherimoya beverage.
Galindo – A lively spot for food and drinks. You'll want to get chorillanas here. Chorillanas is a plate of fried potatoes topped with sauteed meat, onions and fried eggs. It's great drinking food. Afterward, you can go bar hopping and see live music in the Bellavista neighborhood.
Giratorio – We came here on 11/9 (the anniversary of Chile's military coup) when most businesses are closed or close early. The restaurant rotates so that you can have a 360 view of the restaurant while dining on the 18th floor. The food here is PHENOMENAL. Come on Mon-Fri as they have a pre-fixe menu from 12p-6p where you can get a selection of three items for the price of an entree. We loved the Lomo Colonial and Flan Casero (Homemade).
Jose Ramon 277 – Famous sanguecheria (sandwich) and choperia (beer shop) with a huge selection of meats and breads to choose from.
La Picanteria – Peruvian restaurant with delicious ceviche and Peruvian fare.
Bar Liguria – This restaurant is a great place for Italian fare and cocktails. Try the osso bucco (oxtail) here. It's delicious and very flavorful! The Merced location offers 20% off at the bar (on select months) and has 4 stories and a patio that you can explore! It's beautifully decorated and is an attraction in itself.
Muu Steak House – Delicious steak house with affordable options. They are located in Plaza de Armas.
Osaka – Craving sushi? You can get delicious sushi at Osaka along with other Japanese dishes.
Panchita – They serve anticuchos, ceviche and other Peruvian dishes.
Restaurante Peumayén – Serves ancestral Chilean food in an upscale setting.
Tiramisu – Delicious pizza, salads and tiramisu. They, unfortunately, do not have pasta.
Where to Get Dessert
Emporio La Rosa – Come here for delicious sorbets, ice creams and paletas (popsicles). Their frozen treats are some of the most natural tasting we've ever tried. Try the Cherimoya + Naranja (Orange) or Bosque de Fruitillas (berries).
Where to Drink in Santiago
Red2One – New rooftop bar located in the W Hotel. If this Bar2One is full or booked, try their other bar located on the 4th floor. The drinks are stiff yet perfectly balanced.
Bar Cosmopolitan
Bar La Providencia
Bar the Clinic – A classic Chilean bar. Now closed.
Gerber Alchemist Bar – Permanently Closed!
Krossbar – Come here for Chilean beers.
Kunstmann – Drinks beers from this famous Chilean brewery.
La Piojera – Translates to "the flea." A divey drinking and eating establishment that is known for their terremoto (or "earthquake") cocktail. It's a blend of white Pipeño wine or generic white wine, fluffy pineapple ice cream, and grenadine (optional). In its traditional presentation is in a 400 ml plastic cup or glass with a straw. Some people even add a fernet float to the top of their terremoto.
Lolita Jones
Prima Bar
Red Luxury Bar
Room 09
Siete Negronis – Who doesn't love a placed called 7 Negronis?
Santiago, Chile Travel Map
We created a Santiago, Chile travel map that you can use on your phone and desktop.
If you found our Santiago, Chile travel guide helpful, please share it on Pinterest. Thanks for your support!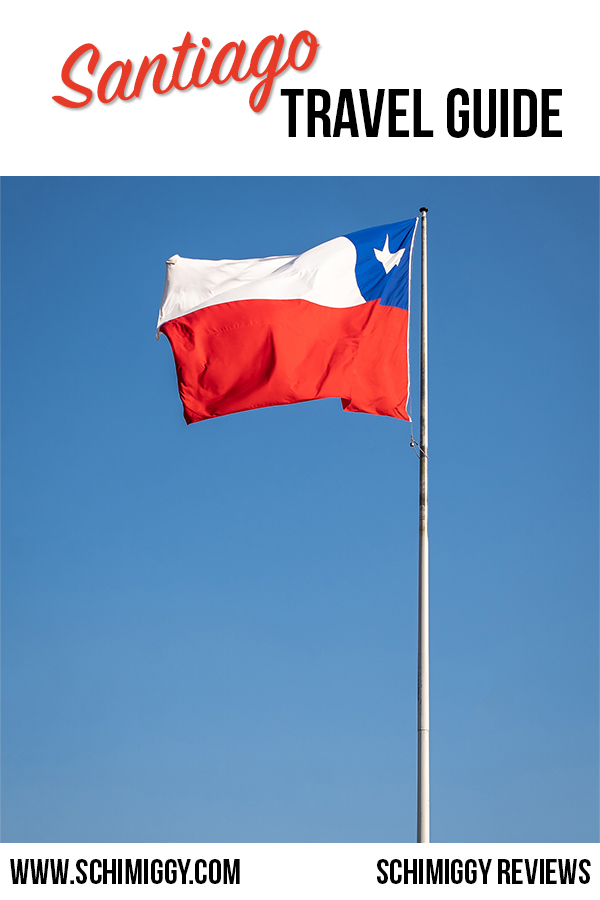 ---
Thank you for visiting today! If you found this encouraging or informative, please connect with us on Instagram, Youtube, Pinterest, Facebook or Twitter. We'd love to meet you!
Sign-up for our monthly newsletter for updates and more. We promise we won't spam you! Feel free to unsubscribe anytime.
For more fitness fashion discounts and offers, please visit our Fitness Instructor Discounts + Brands Directory or favorite brands coupon codes list.
If you're a brand and want to submit a product for us to review, please use this form to get in touch.
This site uses affiliate links. Clicking on or purchasing via an affiliate link may result in commissions for us which help keep the content flowing and lights on at Schimiggy Reviews. You may read more about this in our privacy policy.