Reading Time:
5
minutes

About No Ka'oi
Na Ka'oi is a Hawaiian phrase meaning "the best." NO KA'OI is a high-fashion activewear experience inspired by the powerful energy of Hawaii and captured with Italy's superior design heritage. Rooted in the spirit of yoga, we encourage participation in the activities that generate boundless positive energy through the seamless transition of our collections from class to café and beyond. Nature's enduring strength and timeless beauty are translated into our apparel through vibrant colors, organic patterns, and unique details. Each season is designed using the finest couture principles and hand construction techniques, to produce the best apparel, creating a cool, fearless way to be stylish in activewear. NO KA'OI is the future of activewear and fashion by flawlessly uniting the beauty of fashion and the simplicity of function.
NO KA'OI is a 'Made in Rilievi' brand. The Rilievi Group, was founded in 1991 in Bologna, Italy. It is a leading company in handmade tailoring and embroidery for the haute couture industry, working with major design houses in both Europe and America. They apply their 25 years of experience, craftsmanship and handmade embroidery to NO KA'OI.
The trademark of "Made in Rilievi" is the meticulous attention to detail applied to each garment. Rilievi works directly with creative directors to provide the best luxury product. The brand's state-of-the-art approach to hand-stitched embroidery, tailoring, and dressmaking provides a modern feel to a centuries-old artisan process of embroidery and beading. The design team at Rilievi has broken new barriers with the latest manufacturing technologies and has created uniform de-sign manufacturing with sustainable business practices which meet the highest level of safety certifications globally.
No Ka'oi Review: Kuna Leggings
In purchasing my first Na Ka'oi leggings, I thought long and hard about which design I would want. Each pant is very unique and I wanted a pair that I would wear often. I opted for the Kuna leggings. The flattering side stripe reminded me of Mudd jeans from back in the 90's.
#1 Size: I bought a size 2 which is equivalent to a medium in US sizing. I am usually a size 6 in lululemon and the mediums fit perfectly. I would size up in this brand.
#2 Style: Na Ka'oi makes long leggings, bras, tops and jackets. They also make accessories such as yoga mats and bags. I reviewed their long leggings in this post.
#3 Inseam: A 28″ inseam allows leg opening to sit over the ankle. The leg openings are banded and sit comfortably on the ankle area. Leggings are not meant to be worn over the heel.
#4 Rise: All their leggings are high waist, sitting at or over the navel. The rise is sewn with flat fell seams and gave me camel-toe. This is usually an issue with my leggings so I try not to let it bother me. It's just the way I was born.
#5 Waistband: Leggings are made with a 2 1/3″ wide waistband. The waistband is constructed with an elastic band inside for a waist hugging fit.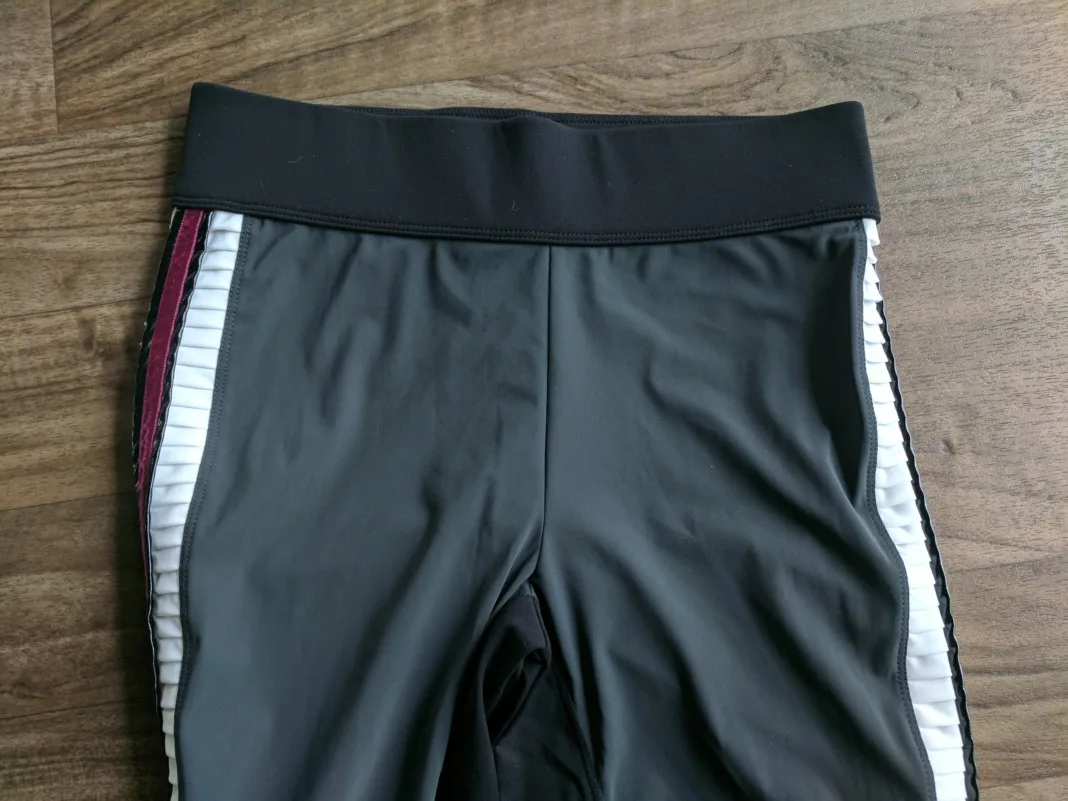 #6 Fabric
Fabric Content: 71% Polyamide 29% Elastane, a high quality Italian fabric blend
Fabric Feel: The fabric feels thick and velvety. The quality is excellent and the pants feel very durable. The thick Italian sport fabric feels very luxurious against the skin. The design on the side of the pant was very well made and looked amazing (photo below). I would compare the fabric to Carbon38's Sayang Collection, Jonathan Simkhai X C38 collections, and P.E Nation fabrics. It's also very similar in price to the three mentioned brands.
Fabric Performance:

The fabric is quick drying and has antimicrobial properties.
The fabric is very lightweight and fits like a second skin. The leggings contour to your body shape. Depending on the size you choose, the fabric may be compressive or just form fitting.

Opacity: The pants are NOT white back and are 100% opaque.
Fabric Features:

Ruffled detail on side of leggings give it a couture look and feel.
The manufacturer tags (see gusset photo below) inside the pant are very long and if not removed may itch during wear.
There are no pockets in the pants.
#7 When to Wear: No Ka'oi is definitely made for high to low impact sports. They're versatile and can be worn casually as well. It would be difficult to mix and match as each piece is so unique in material and style.
#8 Cost: No Ka'oi leggings range from $250-$350. They're very expensive but the quality of the pant reflects exactly that.
#9 Gusset: No Ka'oi leggings don't exactly have gussets and each pair is different. The Kuna leggings are made with an H-shaped gusset.
#10 Stitch Seam: Plain seams are used throughout the construction of the pant. sc
#11 UPF Protection: Not disclosed but due to the high quality of the fabric, I am sure there is some protection.
#12 Made in Italy.
#13 Care Instructions: Instructions in the pant advise you to "wash separately and remove promptly." I would hand wash the leggings and then hang dry to preserve the design and fabric. I hang to dry on a foldable drying rack such as this one.
Should I Buy No Ka'oi?
If you have the means and want unique activewear, then Na Ka'oi is the brand for you. The quality is definitely reflective of the hefty price tag. I love the fabric feel and performance. I really appreciate all the details that come into the design and creation of each pant. I would definitely splurge on Na Ka'oi once in a while, and even more so when the price is right!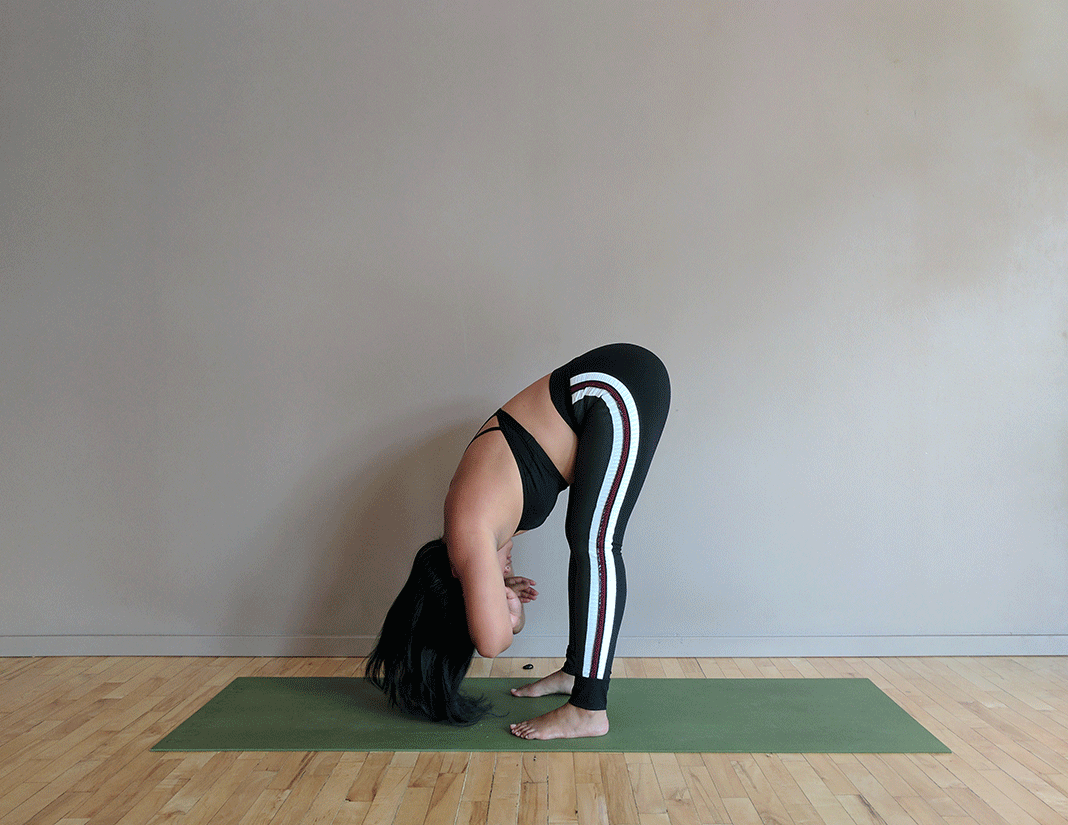 Lovin' my No Ka'oi Kuna leggings! Worn with a lululemon Free to Be Wild (FTBW) sports bra.
Where to Buy No Ka'oi
---
Thank you for visiting today! If you found this encouraging or informative, please connect with us on Instagram, Youtube, Pinterest, Facebook or Twitter. We'd love to meet you!
Sign-up for our monthly newsletter for updates and more. We promise we won't spam you! Feel free to unsubscribe anytime.
For more fitness fashion discounts and offers, please visit our Fitness Instructor Discounts + Brands Directory or favorite brands coupon codes list.
If you're a brand and want to submit a product for us to review, please use this form to get in touch.
This site uses affiliate links. Clicking on or purchasing via an affiliate link may result in commissions for us which help keep the content flowing and lights on at Schimiggy Reviews. You may read more about this in our privacy policy.