Reading Time:
4
minutes

Updated: 2/25/2021 | Los Cabos Travel Guide
Los Cabos is an area of Baja California that includes the cities of Cabo San Lucas and San Jose Del Cabo. Los Cabos is located on the southernmost tip of Baja California and is an awesome place to visit if you love beaches, sun, outdoor adventures, and Mexican cuisine.
We typically travel during the Winter season when it's cold, rainy, and dark in Seattle, Wash. We consider ourselves snow birds, or people who travel to warmer climates when it's unbearable back home.
Things to Do in Cabo San Lucas
See Lovers and Divorce Beach. Take a $20 per person boat ride out to this landmark. From there you can spend some time on the beach and see Pelican Rock and the seals. The boats will also rent out snorkel gear. We arrived to Cabo and Maria Bonita approached us in the parking lot. We recommend parking in the Manta Ray Tours parking lot (should cost around $5 to park for the entire day). She initially offered us $40 per person but we were able to talk them down to $30 per person with snorkel gear.
Snorkel the whale sharks in La Paz. Just 3 hours north of Cabo, you can book a boat ride out to snorkel with the whale sharks. Make sure to bring a light meal with you. They'll provide drinks, gear and a guided tour.
Belandra Beach. Located near La Paz. When we went the main road leading to the beach was closed. We drove over to the Playa el Tecolote and then veer closer to the rocks towards Balandra Beach. From there we hiked up and over to Hongo de Balandra. From the top, you can carefully trek down to the beach. We couldn't really see Belandra Beach but the view was still awesome. Bring a beverage, snacks and watch the hopeful pelicans dive for fish. It's really entertaining. Don't forget to check out Playa Escondida on the way out.
https://www.instagram.com/p/CI0YQFShFIo/
Best Restaurants
In Los Cabos
Flora Farms
Las Guacamayas
Los Tres Gallos
In Todos Santos
Loncheria La Garrita – Delicious baja mexican fare in a casual outdoor setting. It was super busy but service was quick.
Miguel's Restaurant – Come here for the best chile rellenos.
Jazamango
Ristorante Tre Galline – Amazing handmade pasta and made from scratch sauces.
In La Paz
Claros Fish Jr. – Great selection of seafood items that are exotic and popular. We had swordfish tacos.
Sorstis – Fine dining with an amazing selection of European-inspired dishes. And if you're lucky, you might be able to order some sliced Iberico ham.
Where to Party in Cabo San Lucas
We went during a pandemic and did not get to party. Most of the parties are happening on Squid Roe in Cabo proper. Might be very different during a pandemic though. I'll definitely go back for a do-over!
Lodging in Cabo San Lucas
While there are plenty of hotels and hostels in Cabo, we decided to stay in Todos Santos where it is more secluded. We had an amazing view of the ocean from Casablanca Villas.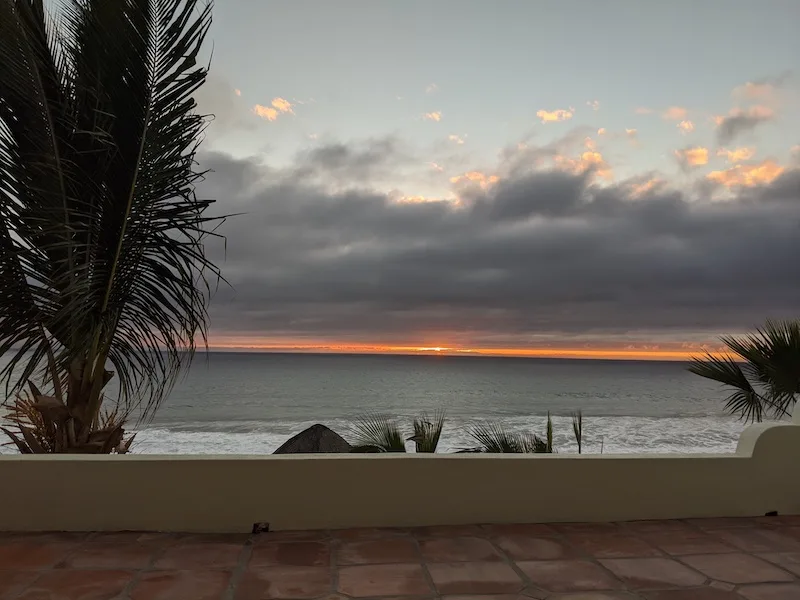 How to Get Around Los Cabos
It's super easy and cheap to get around Los Cabos. Here are some ways you can get around.
Use Uber
Sign-up for Uber rideshare and call your car whenever you need it. Make sure you wear your mask or the Uber driver can cancel your ride.
Rent a Driver
My friend recommended a private driver. If you'd like to use his services on your next trip, contact
Rent a Car in Cabo San Lucas
We HIGHLY recommend hitting up Luis at Cactus car rentals. They have an easy car rental process and the cost includes liability insurance. Simply pick-up your car 1/2 a mile from the airport (via a shuttle bus) when you arrive. Our cost for an economy-sized car was only $300 USD and included liability insurance.
If you rent from big companies like Budget or Alamo, they may charge you more for liability insurance and this can end up costing you over $500+ USD.
We recommend calling to book with Cactus. They will offer you the best rates over the phone.
Check out our sweet ride! Thank you, Cactus!
If you enjoyed our Los Cabos travel guide, please share it on Pinterest. Thank you!
---
Thank you for visiting today! If you found this encouraging or informative, please connect with us on Instagram, Youtube, Pinterest, Facebook or Twitter. We'd love to meet you!
Sign-up for our monthly newsletter for updates and more. We promise we won't spam you! Feel free to unsubscribe anytime.
For more fitness fashion discounts and offers, please visit our Fitness Instructor Discounts + Brands Directory or favorite brands coupon codes list.
If you're a brand and want to submit a product for us to review, please use this form to get in touch.
This site uses affiliate links. Clicking on or purchasing via an affiliate link may result in commissions for us which help keep the content flowing and lights on at Schimiggy Reviews. You may read more about this in our privacy policy.