Reading Time:
3
minutes
Updated: 5/30/2022 | How to Make a Toiletry Kit
When traveling, a toiletry kit is super helpful! It allows you to keep all your self-care and beauty needs in one place. It also makes living out of a suitcase much more enjoyable.
When you have everything you need to practice good hygiene, you'll be set to go anywhere in the world!
How to Make a Toiletry Kit
Here are some easy steps you can take to assemble your toiletry kit.
Step 1: Pick a Toiletry Bag
Picking the right toiletry bag is important. The size of the toiletry bag you choose will determine what you can bring and what you'll need to leave at home.
Different Types of Toiletry Bags and Cases
After you've found the perfect toiletry bag, it's time to figure out what goes in it.
Step 2: Create a Toiletry Kit Checklist
A checklist is a great way to ensure you have everything you need with you in your toiletry bag.
We created a toiletry kit checklist that you are welcome to use to get an idea of what you'll ultimately need in your own kit.
You can also create your own checklist!
Step 3: Purchase or Assemble Your Toiletries
Leave your big bottles at home and separate them into smaller portions when traveling.
We typically purchase our toiletries online (often at Amazon) or use these refillable silicone travel tubes to separate bigger toiletries we have at home into convenient travel sizes.
We highly recommend keeping your liquids below 3.4 fl oz or 100 mL, as this is what most airline security teams will allow on your person or carry-on. Buy small when you can.
If you have liquids that might explode in your bag, we recommend using reusable silicone bags by Stasher to capture any leakage.
Step 4: Keep Your Toiletries in Your Suitcase
We keep our toiletry kit in our luggage so that it's easily accessible when we need it for traveling. There is no guesswork as to where we left it when we designate the same place to leave our toiletry kit.
While traveling, we try to pack our toiletry kit somewhere it is easily accessible, usually at the top of the suitcase near the zipper. You never know when airport security is going to need to see your toiletries.
If you found our post on how to make a toiletry kit helpful, please share it on Pinterest. Thanks for your support!
Thank you for visiting today! If you found this encouraging or informative, please connect with us on Instagram or TikTok.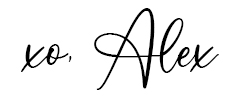 Sign up for our monthly newsletter for updates and more. We promise we won't spam you! Feel free to unsubscribe anytime.
If you're a brand and want to work with us, please visit this page to get in touch.