Reading Time:
5
minutes
Updated: 6/15/2022 | Hotwire Review – Is It Worth It?

Disclaimer: This is a sponsored post by Hotwire. All thoughts and opinions are mine and 100% honest.
What is Hotwire
Hotwire is a travel booking site that helps find deeply discounted rates for hotels, car rentals, airfare, and vacation packages. Travelers can look up travel information on the website or through the mobile app.
They are owned by Expedia, a reputable travel company.
The company advertises the ability to connect you with four-star hotels at two-star prices, and it partners with leaders in the travel industry, such as Hilton, Hyatt and most major car rental companies and airlines.
What's the caveat? You won't know what you're booking until you've confirmed your booking payment. You get all the details after you book. And another caveat? Because their pricing is deeply discounted, your bookings are non-refundable.
So how do we know if something we're booking will be worth it?
Luckily for you, our team at Schimiggy has used and reviewed Hotwire's booking services! We'll let you know if it's worth using or if you should just book with another booking service or with the hotel directly.
Hotwire Review
Hotwire requires that you be fairly flexible with your travel plans.
I needed a room for two nights in Paris, France. I used Hotwire to find the best deal in the areas I was interested in.
Their search feature allowed me to search by area or by arrondissements (a municipal of Paris).
I made my search and found a deal for $99 a night. I clicked on the button to "show me hotels"
and the price jumped to $114 per night! I saw three hotels listed that weren't even the one I received when my booking was completed. I quickly cleared my cookies and re-did my search.
I went to book my lodging for $98 a night and after processing my booking, I was given a stay at the Novotel Paris Tour Eiffel hotel! 😀
I was SUPER stoked! I search their website and found that rooms were normally 142 EUROS (or $160 USD) per night without taxes and fees. Two nights would cost me $370 USD with taxes and fees. With Hotwire, I received my 2 day stay at the Novotel for only $237 USD including taxes and fees. That's 36% off!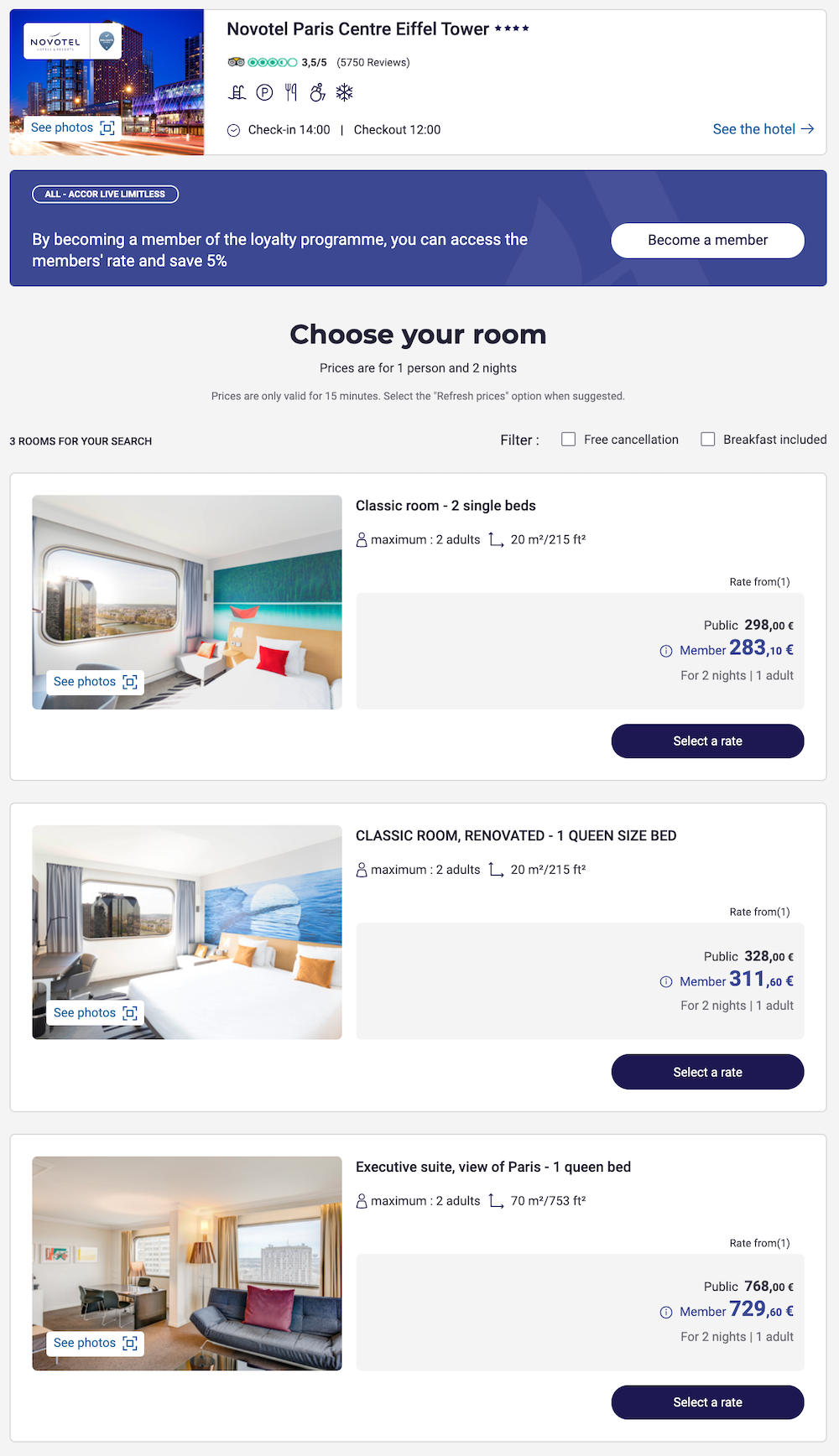 I also searched on Booking.com (their competitor) to see what deal I got. The price I was getting on Booking.com was $351 for two nights (taxes and fees included).
The deal I got through Hotwire was by far the best.
Hotwire Pros
Persons with Hotwire accounts will get better deals. So, we highly recommend that you create an account prior to booking.
Receive deeply discounted rates of up to 50% off hotel, flight, car, and vacation package deals! The deal was great for what I received.
Search by area feature. I LOVE this feature because it allowed me to search for the specific areas I wanted to stay in and doesn't throw me results from all over the map. This made it fairly easy to narrow down which mystery deal I wanted to take my chances on. And luckily for me, it paid off significantly!
Download the App for better last-minute travel deals.
Access 24/7 customer service.
Hotwire Cons
All deals are non-refundable. You'll have to work directly with the hotel, rental car agency, or airline if you want any credit or to make any changes to your reservation.
You won't find out where you are staying or what you are booking until payment is made. After you have finalized booking your reservation, then you'll find out your booking details.
Hotwire requires that you be fairly flexible with your travel plans. If you're a person that needs to know exactly what you're booking, this service may not be for you.
Prices change as you click to reveal more details of each offer. The best way to avoid this is to just book, or use an incognito tab when searching. Make sure you are not logged in when searching.
Not all destinations have deeply discounted deals. The places I wanted to stay at in certain cities were far from the city center. And at times, the deals within or near the city center were not really great deals at all. They only offered me less than 10% off, which I ended up booking directly with the hotel, with another service, or by using my points.
Should I Book with Hotwire?
Yes! I have booked with Hotwire two times now. And each time I've been hooked up with a hotel deal that was better than I could have hoped for.
Hotwire should still be compared against other hotel booking sites such as:
How to Book With Hotwire
So how does Hotwire work?
Booking with Hotwire is fairly simple. You go to their website, add your location (I typically choose the location with "city center" in the destination name), input your dates, number of guests, and then run your search.
You'll get a search results page similar to this one.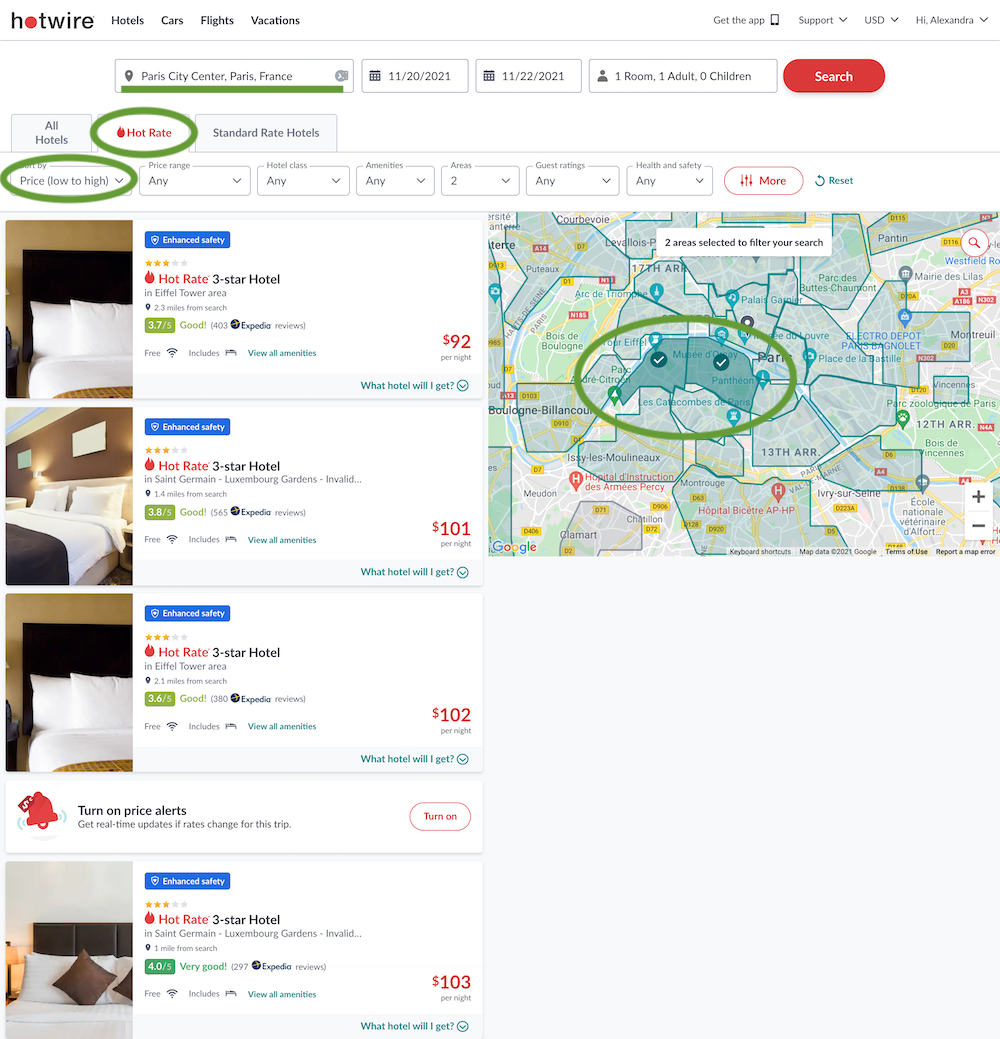 BEFORE you click on anything, I need to mention that if you do click on the text that reads "What hotel will I get?", the HOTEL PRICE INCREASES. You'll need to take a leap of faith here (or use an incognito browser or clear your cookies).
Here's an example of what I received when I clicked the "What hotel will I get button?" NONE of these hotels were what I actually received. What I received was much better than what I anticipated.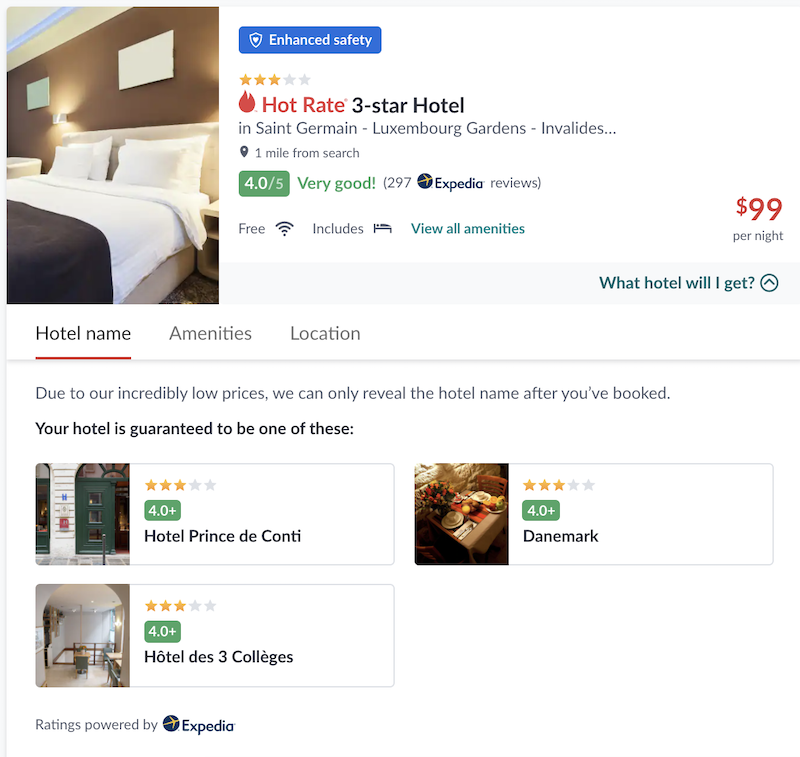 I also like to filter my offers by going to the Hot Rate tab and then filtering by Price (low to high). On the map, I also choose the locations that I prefer to stay in. I wanted to stay near the Eiffel tower, because WHY NOT?!
Take your chances and book. You'll get a sneak peek of what your room will look like (it might not be the exact room) but what you can do is save the image and do a reverse image search in Google and do some sleuthing to figure out what the hotel you may be staying in.
And once you book, remember that the fee is non-refundable due to the great deal you're getting.
Ready to book your next hotel stay with Hotwire? Click here to book.
If you found our Hotwire review helpful, please share it on Pinterest! Thanks for your support!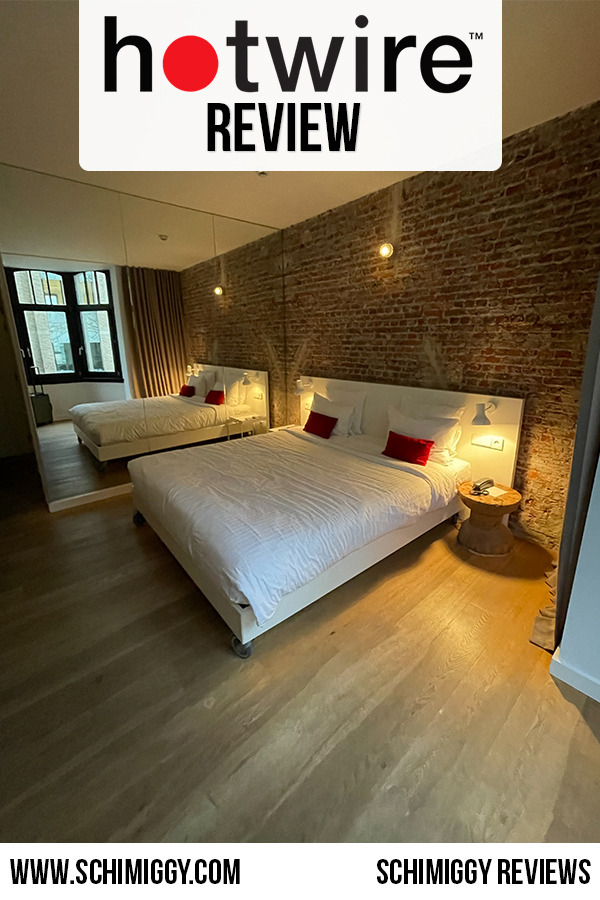 Thank you for visiting today! If you found this encouraging or informative, please connect with us on Instagram or TikTok.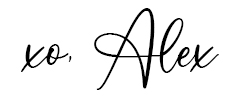 Sign up for our monthly newsletter for updates and more. We promise we won't spam you! Feel free to unsubscribe anytime.
If you're a brand and want to work with us, please visit this page to get in touch.