Reading Time:
2
minutes
We love drinking kombucha. From the benefits of probiotics and bring able to enjoy a fresh fizzy beverage on a hot summer day, we knew we needed a regular supply of kombucha in our household.
Kombucha contains approximately 1% alcohol as a by-product of the fermentation process. It is fine for both children and adults to drink. Just don't finish the pitcher in one sitting. People with alcohol sensitivities should be aware of the presence of alcohol in the beverage.
Kombucha is super easy to make. All you need is a scoby, tea, water and sugar. The scoby will ferment the sugar and tea concoction to create a fizzy beverage that is packed with flavor and health benefits.
We use the Quadro 57.25 oz pitcher to brew our kombucha. We use a bandana that we had on hand to cover the pitcher while it ferments.
As for the scoby, I was actually gifted my scoby by my roommate. If you can't get one from a friend, you can buy one from Cultures for Health and even Amazon.
The scoby is slimy and looks like something from a horror movie. It's rubbery, slippery and has a subtle sour smell. As your brew your kombucha, the scoby will take the shape of the your container. If you use circular mason jars, it will be disk shaped. Ours are rectangular.
Scobys also grow! Within 2-4 weeks, you should have extra scoby that you can cut off and gift to someone to start their homebrewed kombucha journey.
When handing scoby, make sure your hands and jars are CLEAN. You do not want any soap or dirt to contaminate the scoby.
Ready to make your own kombucha? Follow our recipe below to make your own homemade kombucha within 7-10 days.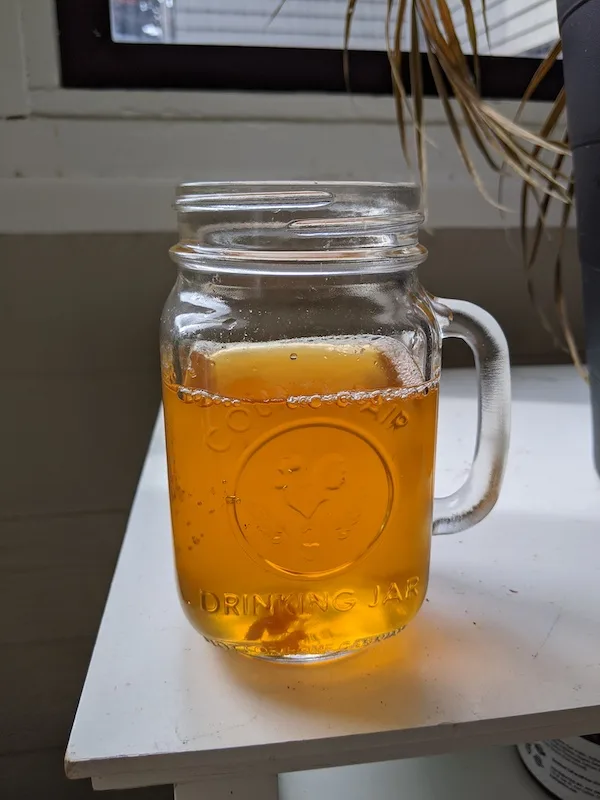 Yield: 1 Liter
Homemade Kombucha Recipe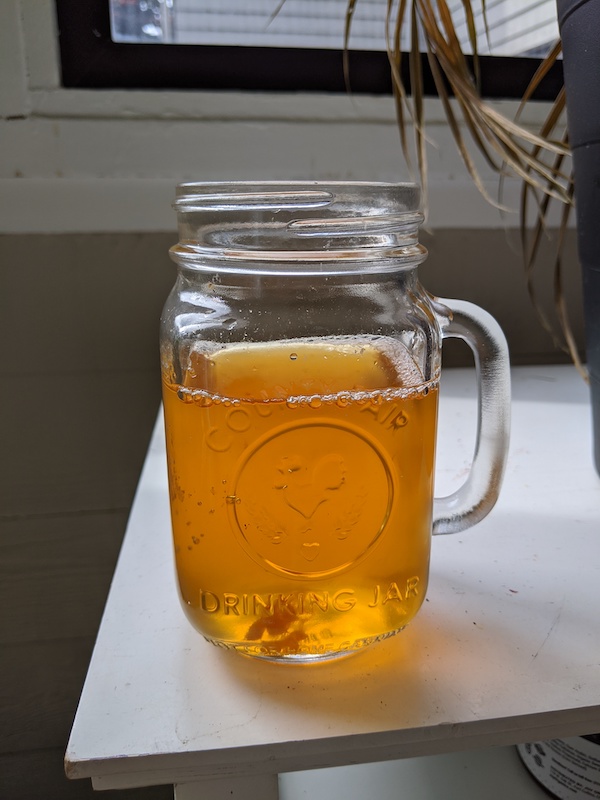 Here is a quick and easy kombucha recipe that you can easily follow at home. It makes a liter worth of kombucha that should last you for a week.
Ingredients
Scoby and Starter Tea
4-6 green or black tea bags
24 oz of hot water
24 oz of room temperature water
1/3 to 1/2 cup of white sugar
1 x 32 oz Swing Top Bottle
1 Quadro 57.25 oz Pitcher
Instructions
Add Scoby and starter tea to a glass pitcher.
In glass bowl, brew the tea bags in the hot water for 8-10 minutes.
Remove tea bags and add the sugar. Use a spoon to dissolve the sugar.
Add room temperature water into the hot tea water to cool it down. Let it sit for few minutes.
Add the liquid tea and sugar mixture into the pitcher with the scoby and cover the pitcher with a cloth and rubber band. We find that a cotton bandana works best.
Place the pitcher in a dark cupboard and away from sunlight for 7-10 days.
After 7 days, check on your kombucha.
Pour a little into a cup and taste it. It should be carbonated due to the scoby eating the sugars. If you want it fizzier, let it brew for a few more days.
If it is tart and carbonated enough, drain the kombucha using a funnel into swing top bottles. Leave 1/4 of the liquid in the pitcher. Repeat steps 1-7 to make more kombucha!
Add more sugar (to your liking) to the bottles of kombucha and allow it to ferment in a dark cupboard for 2-3 more days.
Afterward, move the kombucha to the fridge and enjoy! At this point, you can also add cinnamon, fruit or more sugar to flavor your kombucha to your liking.
Notes
If your kombucha is not fizzy, you should add more sugar and allow it to ferment for longer
Avoid using steel, as it will impart and affect how your kombucha will taste if it comes in contact with your scoby.
You can also flavor your kombucha by adding fruit or cinnamon to the bottle after draining the kombucha from the pitcher. Leave it in for 4-6 days to flavor and ferment furtner. Strain the kombucha again and enjoy!
I make my kombucha in two (2) Quatro 57.25 oz pitchers and stagger their brewing time 4 days apart. You can use any pitcher or jar you'd like.
Recommended Products
As an Amazon Associate and member of other affiliate programs, I earn from qualifying purchases.
Did you enjoy our homemade kombucha recipe? Please share it on Pinterest!
Thank you for visiting today! If you found this encouraging or informative, please connect with us on Instagram or TikTok.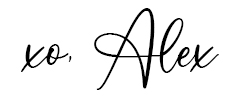 Sign up for our monthly newsletter for updates and more. We promise we won't spam you! Feel free to unsubscribe anytime.
If you're a brand and want to work with us, please visit this page to get in touch.