Reading Time:
11
minutes
Updated: 8/31/2023 | Fine Dining Review of Herbfarm in Woodinville, Washington
About Herbfarm
Herbfarm is a fine dining establishment located in Woodinville, Washington.
Woodinville is a 30-minute drive north of Seattle and a 2.5-hour drive south of Vancouver BC. Woodinville is known as the wine destination of Washington and is home to over 100 wineries and tasting rooms. We like to dub it the adult Disneyland.
The Herbfarm is in a small and very cozy restaurant on the property of Willows Lodge. It's conveniently located right across the street from the Chateau Ste. Michelle Winery.
Since 2002. The Herbfarm has been designated a AAA Five Diamond award-winning restaurant and has been critically acclaimed by almost every culinary publication.
How Does the Herbfarm Work?
Herbfarm is a unique farm-to-table dining experience. Almost everything they source is grown on their farm just down the street or (when possible) locally within the state of Washington.
After 10 years of living in Seattle, we finally decided to celebrate our 11th-year anniversary at the Herbfarm.
The Herbfarm offers just one seating each night, Thursday through Sunday. The experience starts about 30 minutes before dinner is served when you are invited to come in and tour their wine cellar and enjoy a specialty-crafted cocktail. The cellar holds 25,000 bottles including an 18th-century Madeira, one of the oldest drinkable wines in the world. You'll see the cellar as you walk toward the restrooms.
The restaurant has been operating since 1986 and as of 2021, is owned and operated by Chefs Chris Weber and Jack Gingrich.
The Herbfarm was previously co-owned by husband and wife team Carrie Van Dyck and Ron Zimmerman. Ron Zimmerman has since passed away but still leaves his slow food legacy behind with Herbfarm.
The atmosphere of The Herbfarm is warm, romantic, and inviting with an eclectic collection of furniture and decor. The restaurant has high ceilings and stained glass windows. It's a combination of traditional, old-world, rustic, and eccentric sprinkled throughout. While you're here, try to find the stuffed Jackelope. There are so many artifacts to explore in their intimate space.
The Herbfarm also offers overnight suites at Willows Lodge for guests wanting to make it your home away from home.
The menus are seasonal and based on specific themes that completely change every few days to even hours before guests arrive. Each course showcases different herbs harvested from the farm.
Each night's menu features 9 courses served in sequence with 6 conscientiously matched wines. The 9-course menus change approximately 26 times a year. Their menu of the day is posted on the website each day.
History of Herbfarm
Ron's parents owned an herb farm in Fall City, Washington, and sold chives along the side of the road. He and Carrie opened up a restaurant on their farm in a garage and named it The Herbfarm.
In the beginning, they served 6-course dinners and were consistently booked. In 1997 The Herbfarm burned from a fire caused by an electrical short and during the course of the next 4 years, they continued serving in a large tent nearby on the farm and then at a local winery. In 2001, they finished building what is now the current location and home to Herbfarm.
The Welcoming
We were welcomed by the warm staff upon entering.
The doors opened and we entered a dining room with high ceilings lit with table lanterns and candles. Classical guitar music filled our ears immediately along with the sounds of the chefs preparing and plating dishes in the open kitchen.
Music was provided by the talented Patricio Contreras on an acoustic guitar. Patricio is originally from Chile where he began to play the guitar at age 6. He trained at the Madrid School of Conservatory and now lives in Seattle where he teaches guitar at the Seattle Central Community College and at his own music academy.
He has been playing regularly at the Herb Farm since 1988 and his soothing tones and sophisticated style help set the mood for the evening. We heard a mix of modern and classical guitar songs including Can't Help Falling in Love by Elvis Presley, a handful of Beatles songs, and Spanish Romance.
The large dining room contained Pacific Northwest and European collectibles as with the rest of the space.
On the table was a miniature frame with our names printed on it. Our table setting included beautifully printed food and beverage menus enveloped by a folded napkin and sprig of rosemary.
We were poured our first of 6 wines of the night along with still water and given an ice cube that was stamped with the word "Herbfarm" along the side.
Upstairs is a cozy library with a small table that is available for dinner guests to enjoy.
What We Ate at Herbfarm
Date and Time of Visit: Thursday, July 27, 2023 at 7 PM
Menu: Valley of Eden
Course #1: At Last
We started the evening with Red Robin space tomatoes grown in their garden. The tomatoes, along with lovage and mint, were diced into a salsa fresca and then blanketed with silky and slightly translucent sheets of Albacore tuna caught along the coast of Washington.
The space tomatoes are made from NASA seeds that were given to the farm to harvest and use in their cooking. The tomatoes are said to be more resilient and able to hold nutrients and flavor better.
And with the first course, we were blown away. The albacore paired with the Flaneur Wines Sparkling Brut had already made its way to our core memories.
Shortly afterward, Chef Chris Weber and Sommelier TJ Rutter draw curtains on the open kitchen and the two of them walked through the entire menu and wine pairings of the evening. They explained the ingredients, the farm, and their approach to cooking. They also went into brief detail about why the ingredients are being used and how the dish is being prepared, and what the intentions were.
The wine was explained by ways of the winemaker's approach, the tasting profile, and why it was chosen to pair with the intended dish. It was also explained that you could upgrade your pairing to international wines, the main pairing is all Washington State wines.
Afterward, they invite out the entire kitchen and wait for staff and introduce them and thank all diners, and wish everyone a wonderful evening. This is all done while the bread service is being presented to guests.
Course #2: Looks Like Grain
Their bread service is phenomenal. The Jersey hand-churned butter is soft and flavorful. The herbed wood oven flatbread paired perfectly with the butter. The Renan wheat sourdough bread is cooked to perfection. It's crunchy on the outside and soft on the inside.
Still hungry? You can order another serving of their bread box if you ask nicely.
Course #3: Lamb, Part 1
The lamb part 1 came to surprise our taste buds. The lamb tartare was made with a savory and tangy sauce and gently boiled potato cubes. This pairing was my favorite.
The dish was served with 2022 Brooks "Amycas" Field Blend from Willamette, Oregon. A white wine with lamb? We'll take it.
Course #4: Sweet Corn Moon
This rendition of a soup was made from sweet corn finely blended with corn cob broth with lemon and then poured over crab footlong pasta and sprinkled with thyme.
For me, this refreshing dish epitomized summer in the Pacific Northwest. It was purposely delicate yet memorable.
Course #5: King of the North
The first of our mains is a sliver of Columbia River King Salmon, gently prepared and then showered in a light salmon head broth with braised lettuce and springs of crunchy anise hyssop.
We were surprised that this fish dish was paired with a red wine, the 2021 Cristom Mt. Jefferson Cuveé from Eola-Amity Hills, OR. They obviously know what they're doing here.
Course #6: Lamb, Part 2, for Ewe
Our second lamb course included tender slivers of Jeff Roger's lamb along with a slice of apricot, zucchini, and a stuffed squash flower all connected by a tangy and savory sauce. You can eat the morsels alone or combine them to transform the flavor of each component.
Course #7: Milk and Honey
The start of our desserts involves walnut-Roman rosemary pides paired with a slice of Brooks plum with Sous Chef Brianna Paris' fresh goat cheese.
We matched this delightful pairing with the Hanami Sakura and Sencha Saison (an additional $25 for a pour) from Fair Isle. The saison immediately transformed the pides into a warm apple pie in our mouths.
We were not sure if the wizardry here was intentional but it was very serendipitous.
Course #8: The Berry Patch
Prior to receiving desserts, we were given a hot drinks menu. You get to choose from a very interesting list of coffees, and local herbal and root teas. They also offered geisha coffee (at $35 a serving) and their special blend of coffee curated by Café Vita.
We opted for a regular cup of Joe which was a superb way to end our meal.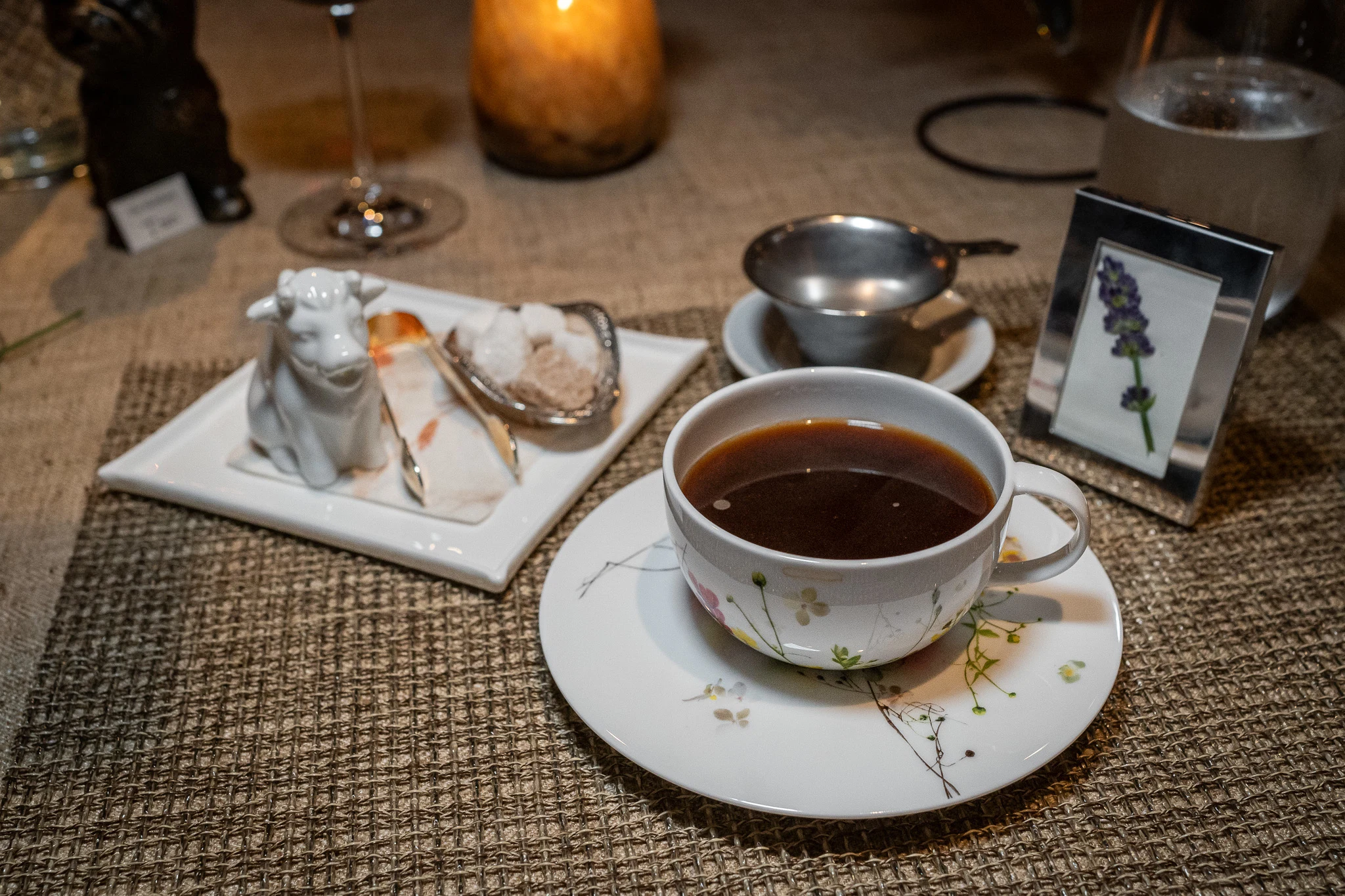 Then came the blueberry crostada with tangerine gem marigold cream. This flaky pastry paired perfectly with their 2022 Kiona Ice Wine. Ice wine is reminiscent of a port to me, but the crostada was not sweet and was perfectly balanced by the wine.
For those who prefer something more chilled, the blackberry-lemon thyme ice cream and fireweed tea, and raspberry parfait were delightful! We lapped up every single drop.
I am not usually a dessert girl, but their Berry Patch was more welcoming than I anticipated.
Course #9: Artisanal Chocolates
Turns out our server, Robert Rhoda, is also a chocolatier. For our last bite, we enjoyed perfectly shaped domes of mint chocolates made with fresh mint from the farm. My partner, who is strongly averse to mint chocolate-flavored anything, devoured these immediately.
Herbfarm Review
Below are our pros and cons about dining at Herbfarm.
Herbfarm Pros
Extremely Attentive and Friendly Service – I was thoroughly impressed with the attention to detail and service. There is no one truly dedicated person to your party. The chef, wait staff, and sommelier all rotate and serve every table. Wine is served and poured by a few folks as well, all equally knowledgeable about the wines. Every person was equally friendly, engaging, genuine and down to earth, professional, passionate, and knowledgeable. It was consistent service even when it was not one dedicated person to your table, also quite well paced.
You will get full! By 11 PM we are stuffed, slightly buzzed, and very happy. We received our miniature dinner frames as a departing gift.
They will top you off! If you happen to finish your wine quickly, they will pour some more into your glass.
Sustainable Fine Dining – Herbfarm is truly a farm-to-table dining experience and nothing goes to waste. We were impressed by their use of the entire salmon from the head, to the eggs, and meat.
Well Paced – The pace of dinner was perfect. Servers constantly had their eyes on us and would pause food delivery and fold our napkins when we were away from the table. Plates for each table were served simultaneously. Our water was never empty. We felt truly cared for.
Extensive Wine Selection – If none of the wines in the pairing or even upgraded pairings suit your taste, you can request their extensive wine list and order from there. On the way to the restroom, you'll notice a massive wine cellar with over 25,000 bottles.
Herbfarm Cons
Expensive – Expect to spend around $400 per person. This cost includes the tasting menu and standard wine pairing. The All Around the World Alternate Pairing will cost you an additional $175. All other supplements will run you anywhere between $20-$300.
No cocktails to order. Instead, you can select from various beers and wines on their beverage menu.
Should I Dine at Herbfarm?
We highly recommend Herbfarm! We are remiss that we did not come here sooner after having lived in Seattle for over 10 years.
A dining experience at the Herbfarm is truly an extraordinary event. Due to its excellent food quality and impeccable service, it continues to gain applause from some of the highest circles: it is an AAA 5 Diamond recipient, a James Beard Foundation Award winner as well as many other awards from Zagat, DiRona, Fodor's and National Geographic Traveler, among others.
Reservations are essential and we would recommend booking a month or two in advance as the restaurant is small. Have a light lunch that day as you will get plenty of food that evening! Also, a taxi, town car or designated driver is a very good idea as well. The Herbfarm provides you with 6 glasses of wine and they are very generous when comes to topping up your glass!
The experiences cost $205 – $265 per person (depending on the theme and the day of the week), plus tax and service, and are prepaid via credit card so you don't have to deal with a bill at the end of the meal.
It was a very fun, memorable, and decadent evening. I would return again to try other seasonal menus. The service and attention to detail here really blew me away.
All wines were fantastic and a great showcase of the quality produced by Washington State wine producers. The ambiance feels as if you're transported to Europe or a fairy tale destination.
Dining here is a tad steep for the final per-person price tag, but it does include beverages and impeccable service. I also love that it's not too far from Downtown Seattle. I would recommend staying at Willow's Lodge and making it a romantic getaway to Woodinville.
Watch our dining experience at the Herbfarm in real life! 🙂
View this post on Instagram
How to Make Reservations at Herbfarm
Bookings open 4 months in advance. Each day's menu is finalized hours before dinner and is paired with wine, beer, or hand-crafted non-alcoholic beverages. The menu is posted on their website. We recommend checking the menu if you're curious to know what's being served. For those more adventurous eaters, you can also go in without knowing what's on the menu and allow the evening to unfold.
Use this form to make your reservation. We recommend making reservations 1-2 months ahead and during months when the harvest is most abundant such as Summer and Fall.
Dinner lasts around 4 hours and we have a single seating each night at 7 pm Thursday, Friday, and Saturday and at 4:30 pm on Sunday.
Alternatively, you can also e-mail the team at reservations@theherbfarm.com and someone should get back to you within 24-48 hours.
Location: Willows Lodge, 14590 NE 145th St. (148th Ave. NE), Woodinville, WA 98072
Phone: 425-485-5300
View Website
If you found our Herbfarm review helpful, please share it. Thanks for your support!
---
Thank you for visiting today! If you found this encouraging or informative, please connect with us on Instagram, Youtube, Pinterest, Facebook or Twitter. We'd love to meet you!
Sign-up for our monthly newsletter for updates and more. We promise we won't spam you! Feel free to unsubscribe anytime.
For more fitness fashion discounts and offers, please visit our Fitness Instructor Discounts + Brands Directory or favorite brands coupon codes list.
If you're a brand and want to submit a product for us to review, please use this form to get in touch.
This site uses affiliate links. Clicking on or purchasing via an affiliate link may result in commissions for us which help keep the content flowing and lights on at Schimiggy Reviews. You may read more about this in our privacy policy.