Reading Time:
6
minutes
Update: 6/13/2022 | What to See and Eat in Singapore
Nothing beats escaping the humdrum of everyday life by packing a bag and hitting the road. And Singapore is just one of the many destinations in the world you can do just that. Sure, it can be expensive but if you know exactly where to go and how to book the right flight, you can explore the Lion City without making a heavy dent on your savings.
Here are our top picks for the best places to see and eat in Singapore.
What to See in Singapore
#1 Chek Jawa
If you're all about being one with nature, Chek Jawa is just the place for you. It is known to be one of Singapore's richest ecosystems, acting as a melting pot for six major habitats. The wetland is a large nature reserve that is only a quick ferry ride away from the city. Once you get to the island, you can rent bicycles or simply go on foot to explore the park.
#2 Gardens by the Bay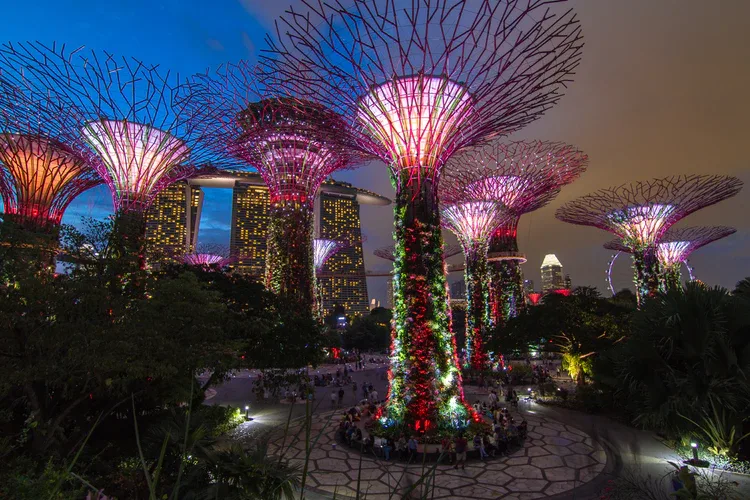 Gardens by the Bay lets you in on a different kind of skyline with its vertical gardens that resemble massive trees. Attached on 25- to 50-meter supertrees are all sorts of exotic plants too many to mention. The best part about this wonderful tourist spot is that the admission to the garden is free.
Every night there is a Garden Rhapsody light show at 9 PM. Don't miss it!
#3 Botanic Gardens
The Botanic Gardens is a tourist favorite for its chill atmosphere and clean air. It's the perfect spot to have a nice picnic with your family and to meditate. Inside, you can feast your eyes on beautiful botanical and horticultural attractions.
If you're lucky, you can even catch a free concert by the Singapore Symphony Orchestra. The Botanic Gardens is also home to the famous Tembusu tree, which is printed on the country's $5 bill.
#4 Pulau Ubin
If there's any place in the world where every inch of it is worthy of Instagram, it's Pulau Ubin. It's located northeast from the mainland and is filled with a variety of natural flora and fauna. We recommend this place, especially for birdwatching enthusiasts, as it supports many migratory birds that are endangered. Pulau Ubin gives you a sense that the whole island is stuck in time, as it is devoid of fancy infrastructures and whatever sophisticated technology you'll find in the city.
#5 Sentosa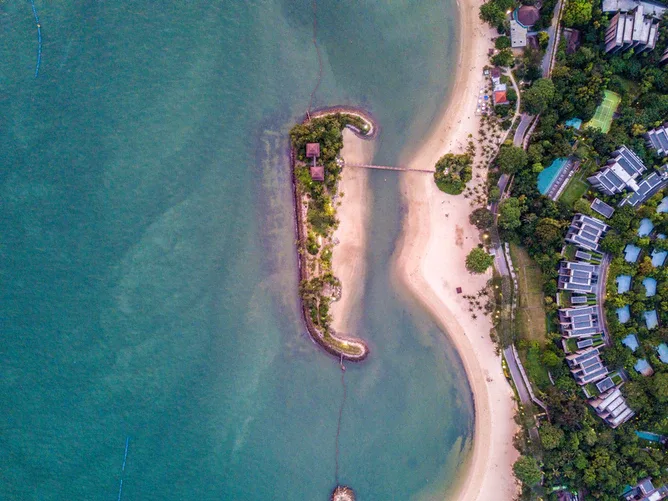 While Sentosa is highly recognized for its grand fountain shows and extravagant attractions, a cheap way to bask in its glory is to head to its beaches. The Sentosa Boardwalk is newly renovated and brimming with calming vibes. Don't forget to pack your best travel photography camera and take a snap of the picturesque scenery as you enjoy a 10-minute stroll along the shore.
#6 MacRitchie Treetop Walk
If you want a little thrill, try braving the MacRitchie Treetop Walk. The attraction features a free-standing suspension bridge that stretches 250 meters from Bukit Pierce to Bukit Kalan. When we said you have to brave it, it's because you'll be 25 meters off the ground for the hike. The latest you could go to MacRitchie Treetop Walk is at 4:45 in the afternoon as its gates close AT 5:00 PM sharp.
#7 Buddha Tooth Relic Temple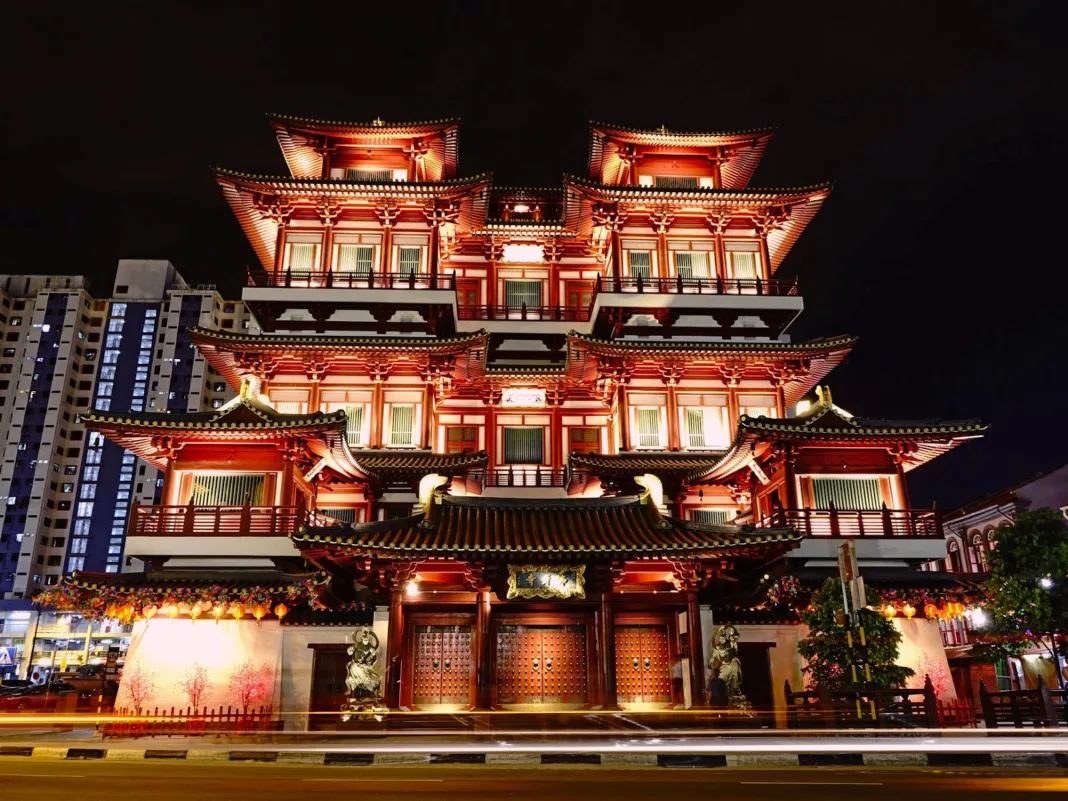 The Buddha Tooth Relic Temple brings you back to the age of the Tang dynasty with its intricate architecture. This tourist destination is a popular choice among Buddhists as it claims to be in possession of a tooth that belonged to Siddharta Gautama—the founder of Buddhism. But even if you're not a devotee, the temple is still a great place to gain cultural experience and admire its beautiful aesthetic.
#8 Singapore Zoo
If you have a couple of bucks to spare, save it for the Singapore Zoo and its Night Safari. The entire place is an open-air zoo, which lets the animals roam (almost) free and sometimes from exhibit to exhibit. We recommend you stay for their night tour to catch a glimpse of their nocturnal animals and to see some of their paid shows. Admittedly, this pick isn't a cheap one, but we stand by putting it on the list because it's worth every penny.
We were able to get discounted tickets through a mobile tourism assistant called Handy. Our hotel came with a Handy phone that I used while getting around Singapore. It's a free service that allows you to make reservations and book attractions. Call your hotel to inquire if they have Handy phones in their rooms.
#9 Haw Par Villa
Haw Par Villa is a theme park that has over one thousand statues from Chinese folklore and mythology. The park is divided into multiple sections, with each one depicting a different kind of story. Their most sought-after attraction is their exhibit highlighting the Ten Courts of Hell, a representation of what hell is envisioned to be in Chinese mythology.
#10 Merlion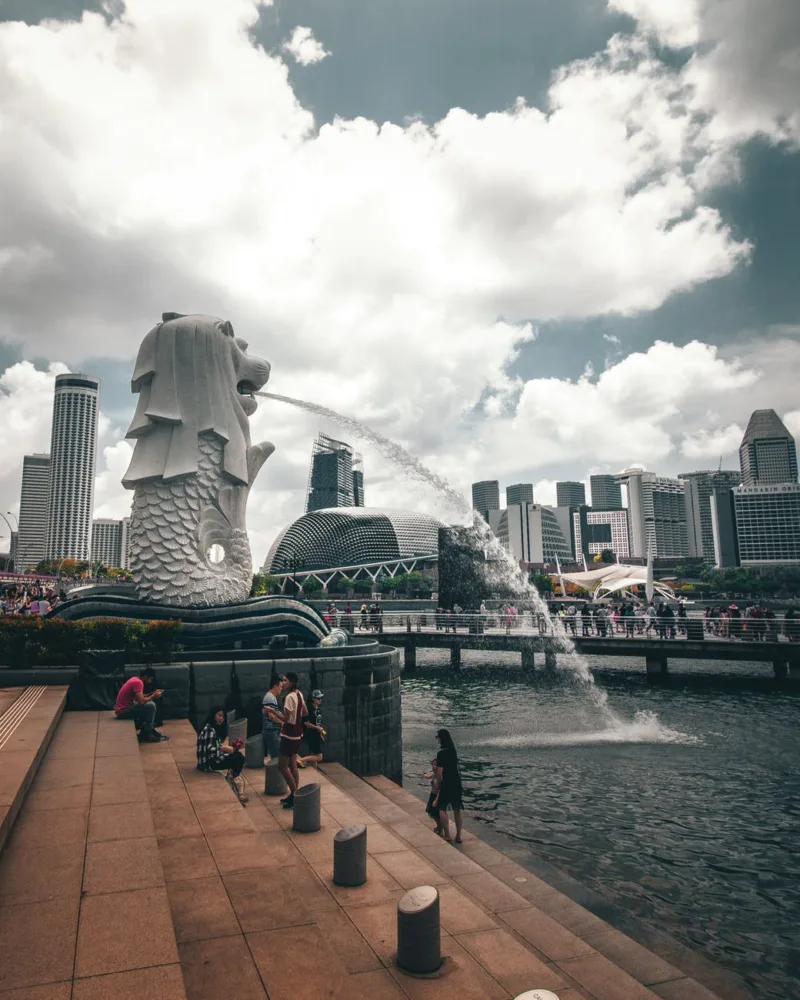 Of course, you can't leave Singapore without taking a picture with the famous Merlion. This mythical creature is half fish, half lion, which is considered as the perfect personification of Singapore itself. There are actually eight Merlion statues in the country (five are official).
A fun activity we would suggest is to take a snapshot with all eight somewhat like a scavenger hunt. They're also fun instagram-able spots within Singapore.
What to Eat in Singapore
#1 Killiney Kopitiam
Killiney Kopitiam has been around since 1919. They serve kaya toast (sweet buttery bread) with coffee and egg. I love their laksa (curry noodle dish) too. We had this for breakfast every day while in Singapore.
#2 Tekka Centre
Teeka Centre is a famous hawker stand known for its delicious Indian food. Above the hawker stands is an Indian flea market where you can buy clothing and other Indian inspired goods.
#3 Chan
We had some delicious soya chicken and rice at a hawker stand called Chan. You can see the glistening chicken through the windows. There's a long queue to dine here so get there early.
I also recommend checking out Liao Fan Hong Kong Soya Sauce Chicken and Rice Noodle. We didn't have a chance to stop here to check out the Michelin starred restaurant.
#4 Crystal Jade Golden Palace
If you want to get a little fancy, we recommend Crystal Jade Golden Palace. The restaurant holds one Michelin star. Order from the set menu or a la carte. You won't regret it. They have plenty of seafood options.
The a la carte menu is pretty lengthy, if you need recommendations we suggest getting a dish of each protein. We loved all our dishes and it motivated us to visit the Crystal Jade Palace restaurant in Hanoi, Vietnam.
Related: Fine Dining Review: Crystal Jade Palace – Hanoi, Vietnam
#5 Changi Airport Lounges
And lastly, if you have a Priority Pass, we highly recommend checking out the airport lounges in Changi Airport. They do not mess around with their food. Many of the lounges offer laksa noodles or kaya toast. Enjoy an ice cold beer while you're at it!
Final Thoughts
Singapore is truly a wonderful place to get to explore. If you're fortunate enough to have the time, money and energy to fly to a different country, it'll definitely be one you wouldn't want to miss. With or without a budget, the key to enjoying the trip is to keep an open mind and be receptive to unfamiliar cultures.
We hope you enjoyed our article on What to See and Eat in Singapore! Let us know what were your favorites!
Singapore Travel Guide Map
Use our Singapore travel guide map to help you find the best things to do and see, the best places to eat, and the best places to drink.
If you found our Singapore travel guide helpful, please share it on Pinterest. Thanks for your support!
---
Thank you for visiting today! If you found this encouraging or informative, please connect with us on Instagram, Youtube, Pinterest, Facebook or Twitter. We'd love to meet you!
Sign-up for our monthly newsletter for updates and more. We promise we won't spam you! Feel free to unsubscribe anytime.
For more fitness fashion discounts and offers, please visit our Fitness Instructor Discounts + Brands Directory or favorite brands coupon codes list.
If you're a brand and want to submit a product for us to review, please use this form to get in touch.
This site uses affiliate links. Clicking on or purchasing via an affiliate link may result in commissions for us which help keep the content flowing and lights on at Schimiggy Reviews. You may read more about this in our privacy policy.