Reading Time:
6
minutes
Updated: 1/24/2021 | Leopard Print Leggings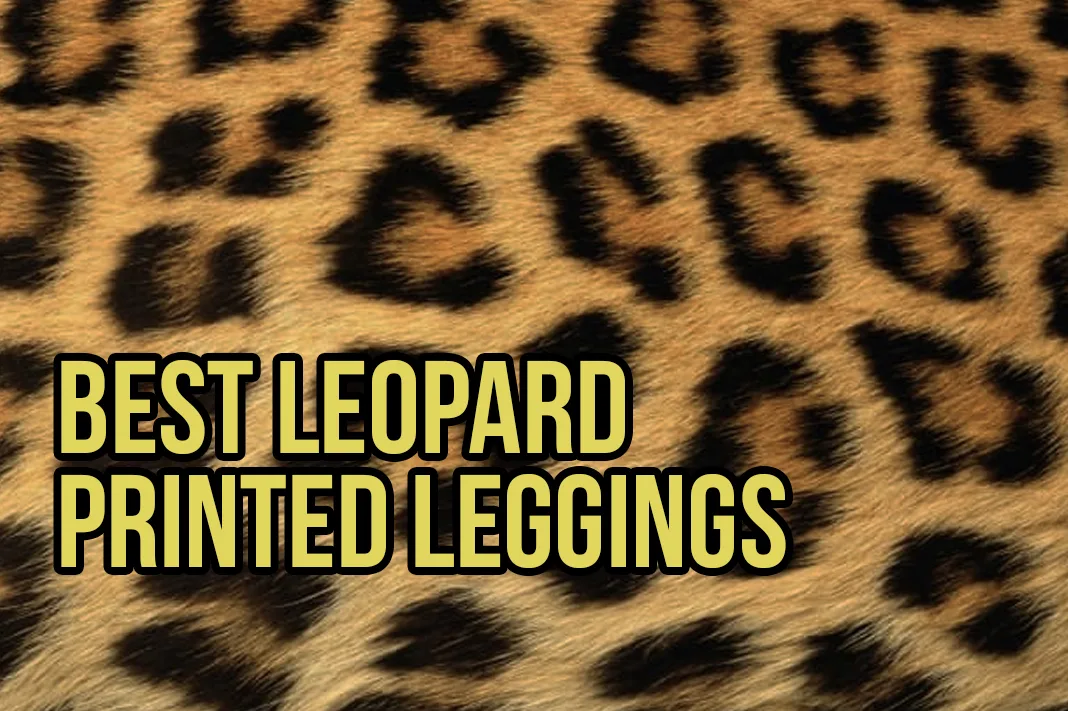 Animal prints add flair to any outfit. They are loud and make a statement in the studio. If prints are too loud for you, I usually contrast my leopard activewear with a solid dark or neon top for a casual look that I can wear anytime and anywhere.
Here are our best picks for leopard print leggings and activewear.
When we make our list of best leggings, we rate them on eco-friendliness, cost, design, performance and fair company ethics (fair pay, equal opportunity, etc.). We only want to share the best for us and our environment with our readers.
Best Leopard Print Leggings & Activewear
#1 Onzie
Onzie is a US-based activewear brand that makes awesome prints. Their leggings are super compressive and come in medium and high waist. They run true to size.
Buy Onzie on SimplyWORKOUT and Nordstrom.
#2 Good American
Good American (GA) is the clothing brand by Khloe Kardashian. GA is size inclusive and the quality is great. Their printed activewear sells out quickly. You can always get on the waitlist to be notified when products are restocked.
#3 The UPSIDE Sport
The UPSIDE Sport is an Australian brand. The UPSIDE runs small, so size up.
You can buy The UPSIDE on Carbon38 and Bandier. Clicking on both retailer links will give you a 25% off coupon code towards your first $100+ purchase.
#4 Strut This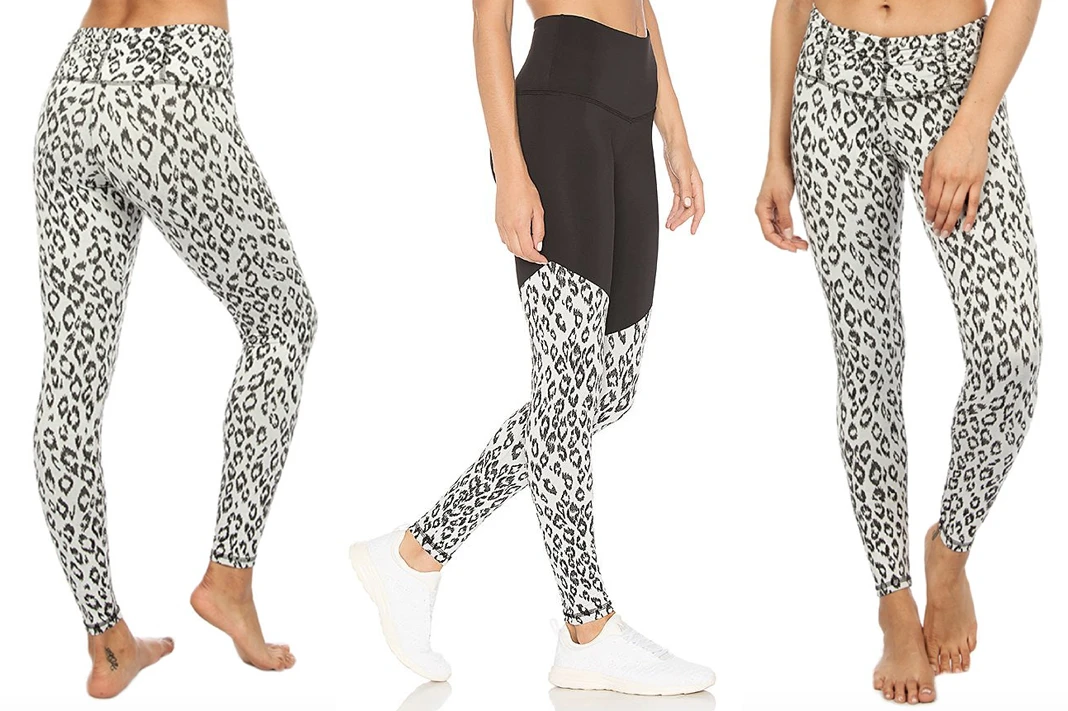 Strut This is a SoCal based activewear brand that has recently included inclusive sizing. Their leopard prints are eye-catching and beautiful. Get 20% off your Strut This purchase with this link.
#5 Constantly Varied Gear (CVG)
Constantly Varied Gear (CVG) is known for their squat proof activewear! Their leggings come in crop and long length and have side pockets that are great for going hands-free.
We recommend sizing down if you are between sizes.
Use code SCHIMIGGY for 10% off your orders at CVG. Shop now.>>
#6 K-Deer
K-Deer leggings are the bomb diggity! Their flat front panel design ensures that you won't ever experience camel toe. Their high waist design ensures that your pants don't slide down. They have an awesome Signature Stripe collection that benefits US-based charities.
Buy K-Deer on Carbon38 and K-Deer. Use code SCHIMIGGY to save 10% off at K-Deer.
#7 Sunzel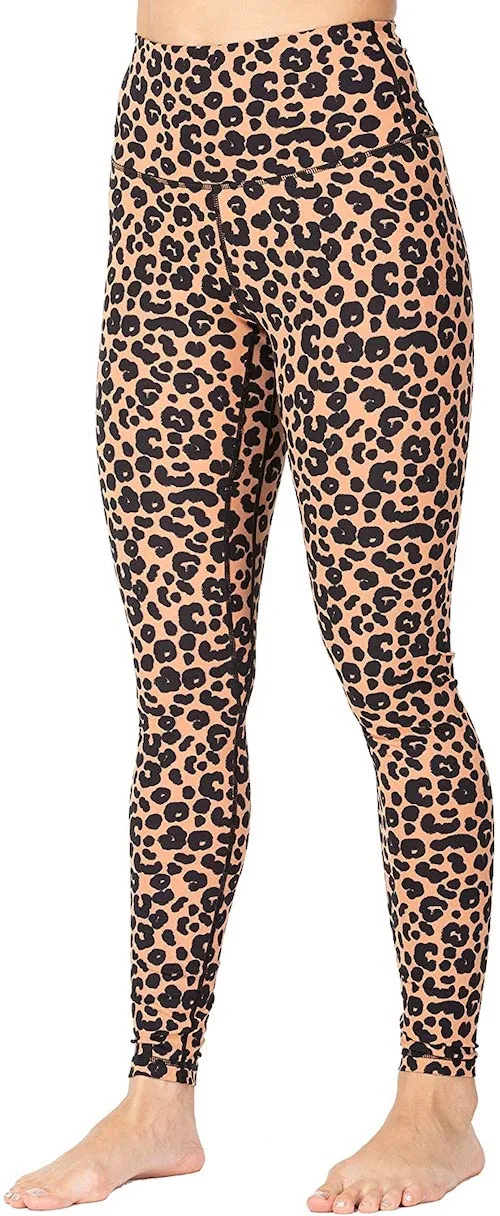 Sunzel leggings are affordable, buttery soft and run true to size. We LOVE their yellow leopard print leggings that fit like a second skin.
The 4-way stretch fabric and high waistband will keep your leggings in place all day long. The fabric feels very similar to lululemon's Luxtreme fabric.
Related: lululemon Fabric Guide + Cheatsheet
#8 Colorful Koala

Colorful Koala makes these awesome leopard printed leggings with a high waist and stretchy buttery fabric. You'll love the fit and style of these leggings.
#9 Liquido
Liquido Active makes Brazilian style leggings. They've produced a handful of printed leopard and cheetah pairs that are now out of stock (OOS) and highly coveted.
#10 Goldsheep
Goldsheep makes sexy printed leopard leggings in various fun colors. I have not had a chance to try this brand. I would definitely snag the green leopard ones. They're a bit pricey, so save your pennies! You can buy them on SimplyWORKOUT for 20% off with this link.
#11 Varley
Varley makes tons of activewear with cheetah and leopard prints. I love their fabrics because they don't pill and hold it all in. Buy Varley no Carbon38, SimplyWORKOUT, and REVOLVE.
#12 Adam Selman
Adam Selman activewear is sexy sexy sexy. I would not DARE to wear the hosiery looking ones (left), but kudos if you can pull it off. I love the leopard high waist design to the right.
They quickly sold out on Carbon38. You can also buy Adam Selman at Bandier, Carbon38, REVOLVE, and Nordstrom.
#13 Niyama Sol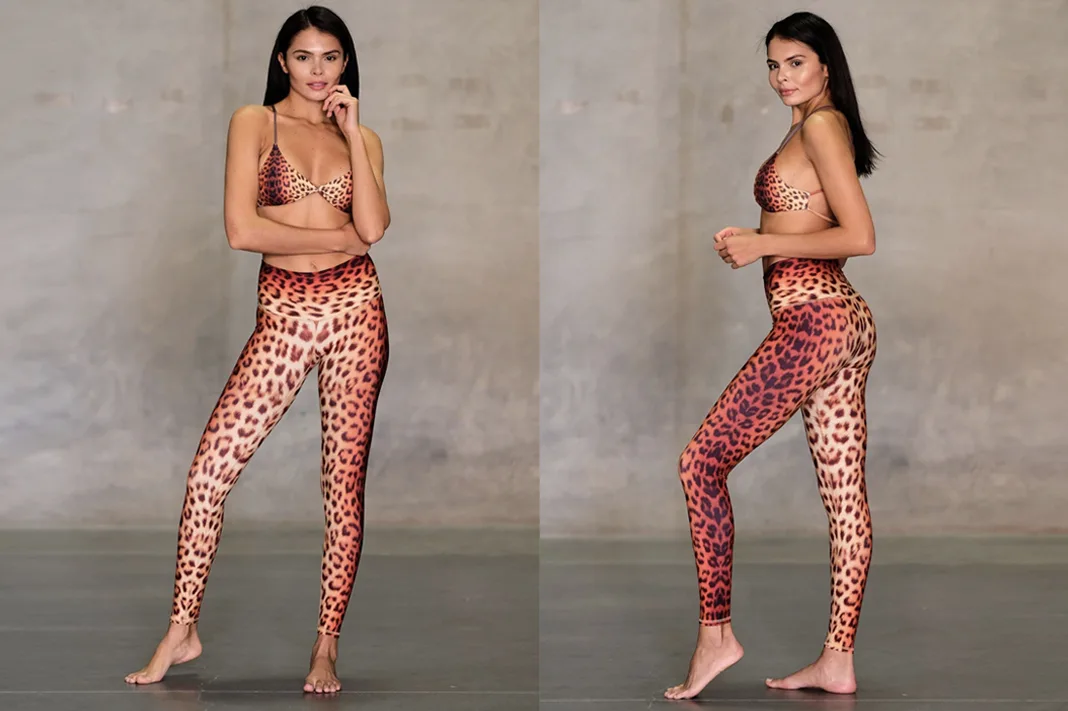 Niyama Sol is one of my favorite activewear brands! Their leggings are made with super soft fabric and a high-waist design. The designs are just jaw-dropping. Their leggings are great for low-impact exercises and wearing casually.
Use this link for 20% off your first order at Niyama Sol. Alternatively, you can use code SCHIMIGGY for 10% off all your orders.
Read our Niyama Sol reviews here.
#14 Beach Riot
Beach Riot is awesome. Their lightweight fabric comes in all types of prints and patterns. Beach Riot leggings stay up and out of your way while you're working hard at the gym or studio.
Buy Beach Riot on Shopbop, REVOLVE, Carbon38, and Nordstrom.
#15 LNA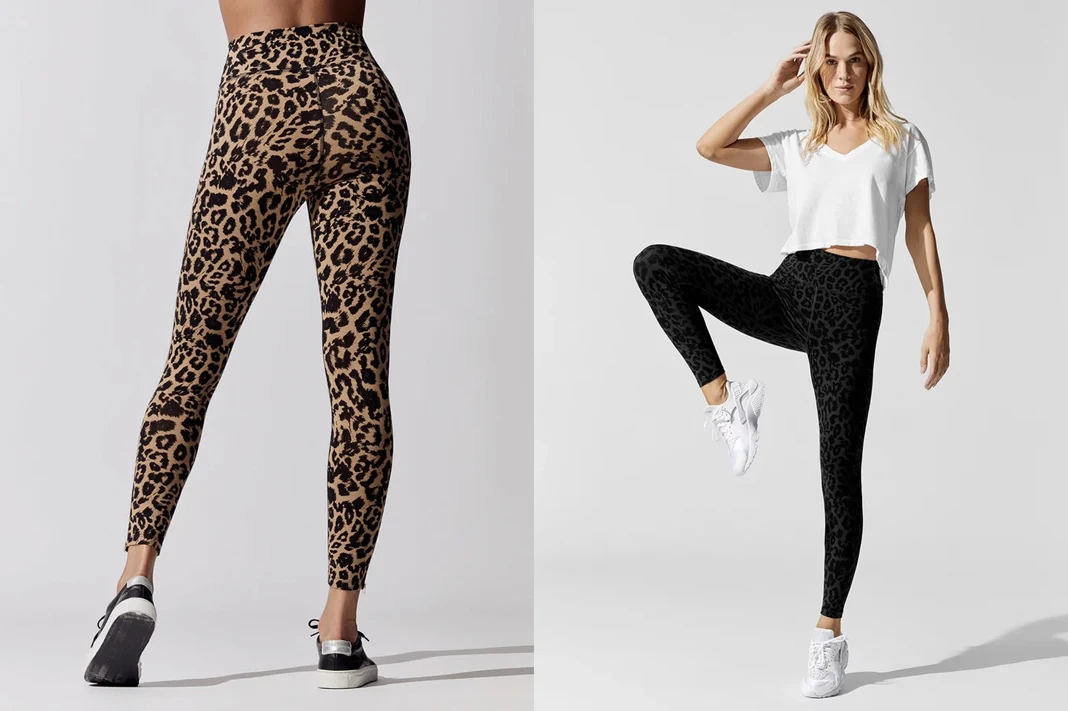 LNA is known for their asymmetrical shirts and comfy sweats. They also make awesome cotton brushed leggings. Their lightweight fabric comes in different prints and patterns and a reflective of a casual-cool style.
Size up when you shop LNA: Amazon | Bloomingdales | Carbon38 | LNA | REVOLVE | Shopbop
Buy LNA on Carbon38 and use code SHMGY25 to save 15% off your first two orders.
#16 lululemon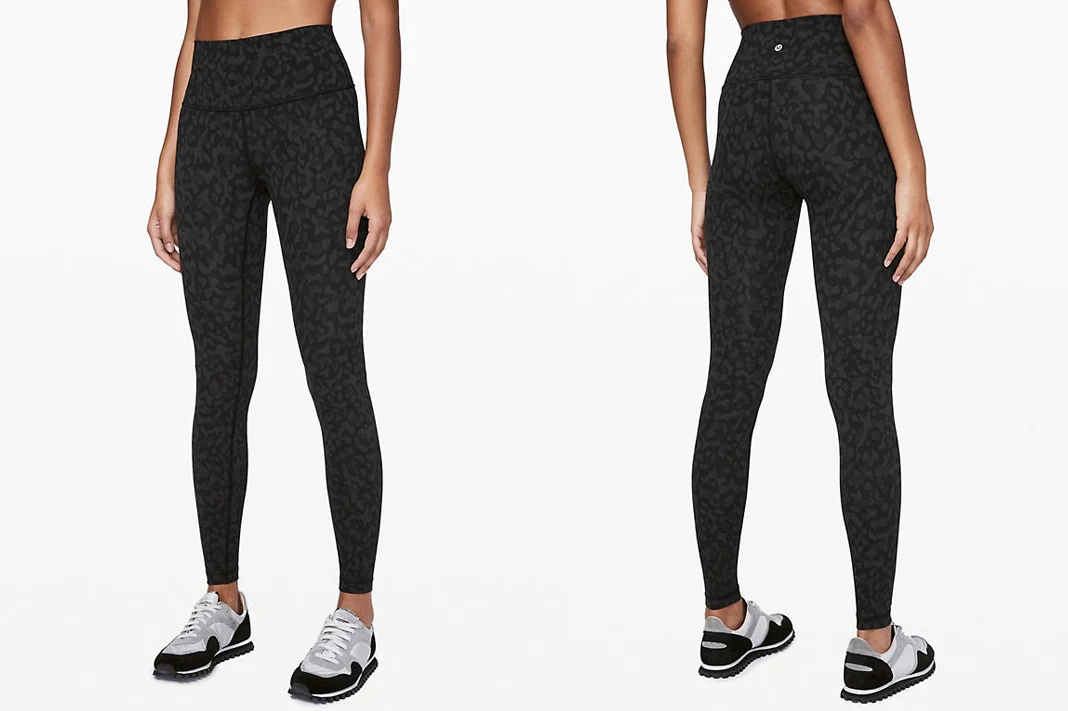 lululemon's Formation Camo in deep coal looks like a leopard print. And I am not mad.
The print comes in Align legging ($98), Wunder Under Pant ($98) and even Tracker Shorts ($58) style. If you've never tried the Align legging before, you should! The buttery soft Nulu fabric is great for lounging around in and doing light exercises in such as barre and yoga. Read my lululemon Align legging review here.
#17 Carbon38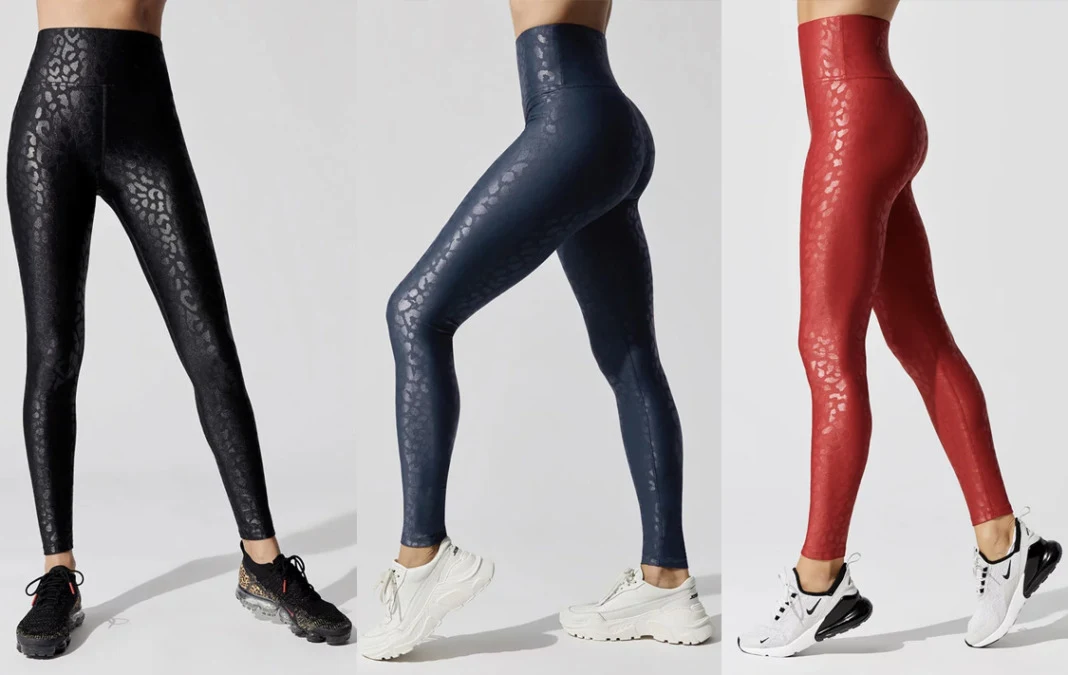 And last but not least! Carbon38 released their leopard printed Takara leggings ($109) in 2019 and everyone rejoiced! The leggings come in various colors, high and medium waistbands and are super sexy to wear anytime and for any reason.
Use code SHMGY25 to save 25% off your first purchase at Carbon38.
#18 WERKSHOP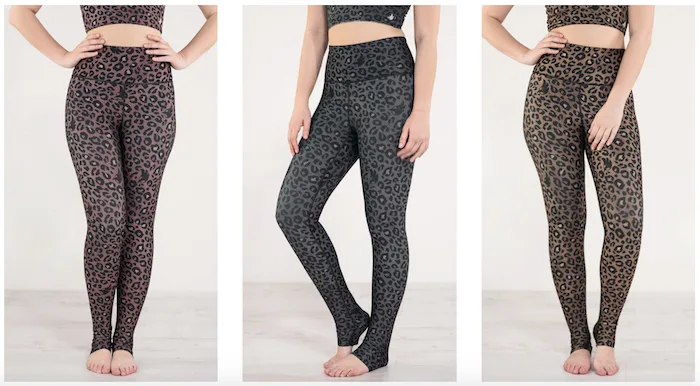 We love WERKSHOP's rendition of the leopard print. It's made with their super soft Athleisure fabric and is REVERSIBLE! It's like getting two leggings for the price of one.
Use code SCHIMIGGY to save 10% off your first order at WERKSHOP.
BONUS: For a matchy-match outfit, check out these Phantom Techloom Leopard Calf Hair Shoes by APL. Check out my APL review here. You can buy APL on Carbon38 (use this link for 25% off) and direct from APL.
What are some of your favorite prints? I'd love to try out more printed activewear. Tell me in the comments below. Thanks for reading!
Thank you for visiting today! If you found this encouraging or informative, please connect with us on Instagram or TikTok.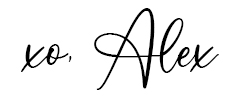 Sign up for our monthly newsletter for updates and more. We promise we won't spam you! Feel free to unsubscribe anytime.
If you're a brand and want to work with us, please visit this page to get in touch.