Reading Time:
4
minutes
Current Athleta Deals:
Celebrate Black Friday + Cyber Monday and enjoy 20% OFF everything + FREE SHIPPING. No code needed. Shop now.>>

Next up is my Athleta Sculptek denim review. I just bought my first pair of their Sculptek denim jeans and I'm hooked. Athleta is killing it with their recent women's active and casual wear releases!
I disliked wearing jeans for a long time because the fabric I found was always thick and stiff. I tried to resist Sculptek for a while because I had already found the perfect jeans. I've been hoarding FRAME denim jeans because they are a perfect fit for my body and feels like wearing leggings. FRAME is a women's French clothing brand that is sold at Nordstrom. FRAME is known for their super soft and stretchy denim fabrics and super cool printed sweatshirts. The only problem is, FRAME denim jeans are two to three times the price of Sculptek. A pair of FRAME jeans costs somewhere between $200 to $300. With that being said, I wanted to be nicer on my bank account and decided to try something new.
Athleta Sculptek Denim Jeans Review
I purchased the Sculptek Skinny Jean in the Carbon Wash. I would describe the Carbon Wash as a grunge black denim color and not a true black. The Carbon Wash color goes with just about everything. I love wearing it with leather moto jackets and oversized sweaters. It also goes great with French tucked shirts (where only front lip of your shirt is tucked in the pant). Did I also mention they're super stretchy and comfortable? Let's get into the review.
#1 Size: Athleta's Sculptek denim runs large. I opted for the size 6, my true size, because they fit comfortably. A size 4 provided a slimmer fit. I could go both ways. I also tried the denim jeans in a grey wash and the fit was tighter in my true size. I ended up having to size up in the gray colorway. My guess is sizing is dependent on the fabric or maybe there were some manufacturing issues. I wear a size SMALL in Athleta's activewear collection for reference. Sculptek comes in petite, regular, and tall lengths. Their sizing ranges from XXS to 2X, making them size inclusive. Athleta has always been an inclusive brand for all ages, shapes, and sizes.
#2 Style: Athleta's Sculptek jeans are long length and fit over my ankle. I am 5'5″ for reference.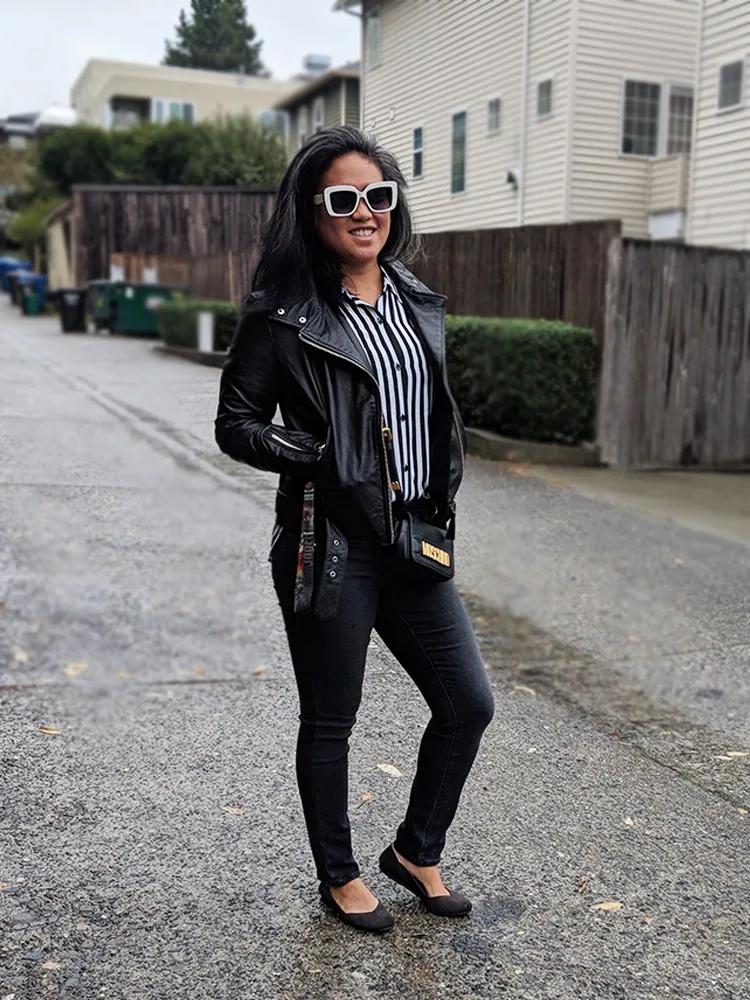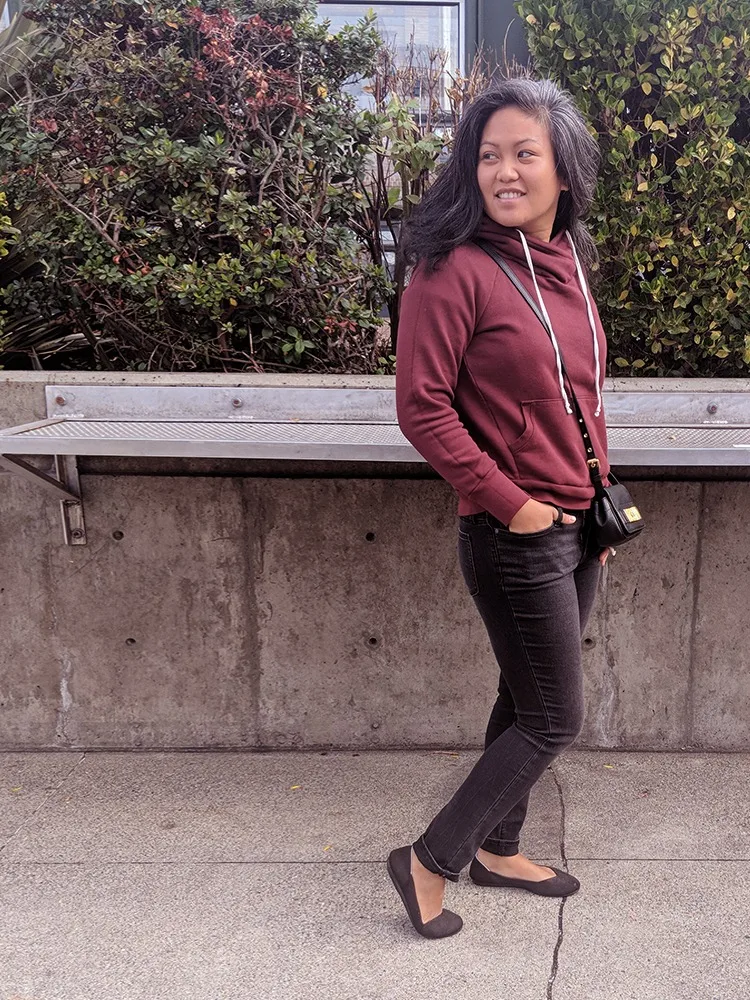 #3 Inseam: I purchased the regular inseam jeans in-store. They had slim pickings in tall and petite length. Majority of their size range is offered online.
#4 Rise: The leggings have a high rise. The rise sit just below my navel.
#5 Waistband: All Sculptek jeans are made with a standard waistband. The pants close with a button and zipper.
#6 Fabric
Fabric Content: 69% Cotton/29% Polyester/2% Spandex
Fabric Feel: The fabric feels like super soft and stretchy denim. The Sculptek is the closest I've felt to FRAME denim quality.
Fabric Performance:

4-Way Stretch so you can move in all directions.

Fabric Features:

5 pockets

2 front pockets lined with stretchy mesh so that they are not bulky and stretch to fit all your belongings.
2 back pockets and one front key pocket on the right hip side

No outward logos. Only Athleta engraved on the fly button.
#7 When to Wear: These jeans can be worn anytime and anywhere. The fabric is very stretchy and form-fitting. Sculptek promotes 360-degree movement when worn, making them great for hiking, running, yoga, etc.
#8 Cost: Sculptek jeans are affordable. They were released at only $98, but has since increased to $118, which is still worth it if you're looking for both quality and comfort.
#9 Gusset: + shaped gusset.
#10 Stitch Seam: Overlocked inner and outer seams.
#11 UPF Protection: Not disclosed.
#12 Made in China. Designed in San Francisco, California.
#13 Care Instructions: Machine-wash the jeans inside out and use activewear detergent. Separate from your actual activewaer. Athleta states that the leggings can be machine dried, but I recommend hang drying to preserve the elastic fabric. I hang to dry on a foldable drying rack such as this one. I've washed it two times and have only noticed slight fading, but nothing too noticeable.
Fall Outfit Inspiration
1. Athleta Sculptek Denim Jeans in Carbon Wash – $118
2. Mackage Miela Jacket – $800
3. Chico's striped blouse (Purchased from Goodwill, but you can find similar ones here)
4. Zenni Sunglasses – $24.95
5. Moschino Crossbody – $800
6. Rothy's Round Toe Flats – $125
Should I Buy Athleta Sculptek Denim Jeans?
My conclusion is…If you like FRAME Denim, you'll also love Sculptek. I will definitely be buying more of these beauts in the future. The fit is fabulous and they're so easy to maintain. Getting into splits and forward folds were comfortable and possible in Sculptek fabric. The price point is also very fair. If you want 20% off, check out the discounts I've listed below.
Where to Buy Athleta
Shop using this link and receive 20% off your first Athleta order. Athleta offers FREE returns and has a customer satisfaction guarantee, even after the item is worn.
Athleta offers 30% for instructors in-store only. You will need to provide your certification along with a current class schedule. Qualified applicants will need to re-apply annually.
You can also buy discounted Athleta on these websites:
Poshmark – Use code SCHIMIGGY to get $5 off your first order!
Mercari – Use code SYVFUT to get $10 off your first order!
I love buying from reseller sites. If you do too, check out my list of sites where to resell online.
If you enjoyed our Sculptek Denim Jeans review, please share it on Pinterest! Thank you!
Thank you for visiting today! If you found this encouraging or informative, please connect with us on Instagram or TikTok.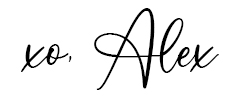 Sign up for our monthly newsletter for updates and more. We promise we won't spam you! Feel free to unsubscribe anytime.
If you're a brand and want to work with us, please visit this page to get in touch.