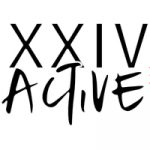 Description
XXIV Active is a women's activewear brand based out of Melbourne, Australia. XXIV means 24 in Roman numerals and represents a healthy lifestyle that should be lived and embraced all 24 hours of each day.
Sizing: I have not tried this brand.
Discounts:
Free shipping on orders over $100.
Sign-up for their emails and get 10% off your first order. Sign-up here.